Here we are, returning back to normal. The Main Street Music Series is back in person returning to Rose Hall this month and December. Catch them with a series of four Friday night concerts with audiences, with the next show on November 19 featuring Rochester's Dirty Blanket, James Vandeuson and the Rollin' Rust, and Roger Decker.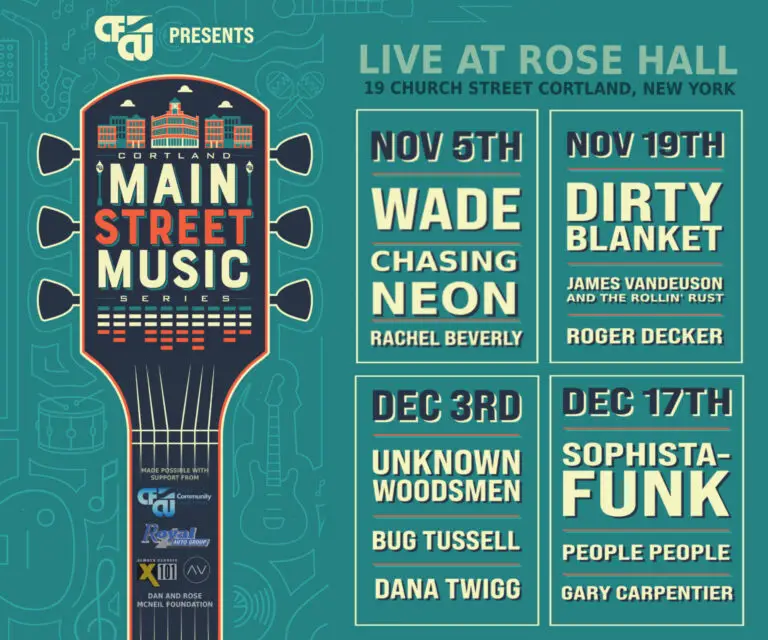 Main Street Series is committed to enriching Cortland's culture and showing a good time in Downtown. American Vintage Productions returns as the production company, providing sound, live streaming and promotional services for the series. 
We're excited to return to live audience performances after being virtual only last year. This year our concert format will return to normal with three bands at each concert. The openers will perform in Studio AV on the first floor at Rose Hall and the headlining band will be in the concert hall upstairs.

Chris Merkley, MSMS Board President
Rose Hall doors open at 6 p.m. and admission is free. Donations to support the series can be made at the door or online. Not to worry for those wishing to watch from home, the concerts will also be streamed through the AV Live Network. 
The remaining concerts in the Main Street Music Series include:
Nov. 19 – Featuring Dirty Blanket with James VanDeuson & The Rollin' Rust and Roger Decker
Dec. 3 – Featuring The Unknown Woodsmen with Bug Tussle and Dana Twigg
Dec. 17 – Featuring Sophistafunk with People People and Gary Carpentier