On Friday, November 5, John Hall of 1970s pop band Orleans ("Stay With Me," "Still the One") will kick off NYS Music in Motion Season 3, as he sits down with our host, rocker Frank Palangi.
Sponsored by Helping Friendly Hemp Company, the series brings together seasoned musicians who hail from the Empire State or have made New York their home, alongside Palangi, a Warren County native.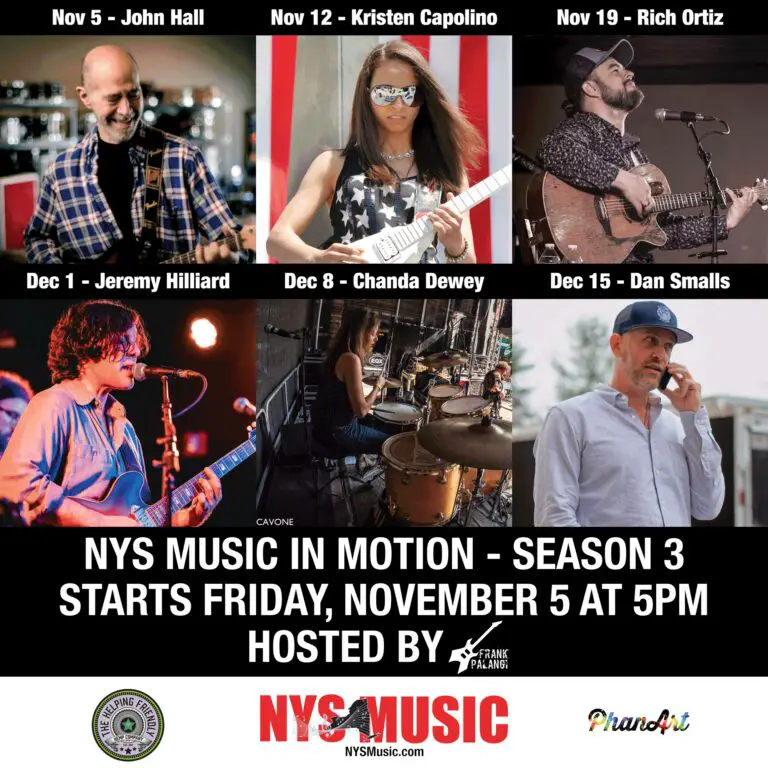 Guests for Season 3 of NYS Music in Motion include Hudson Valley guitarist Kristen Capolino, Lake George multi-instrumentalist Rich Ortiz, PEAK guitarist and front man Jeremy Hilliard, Glass Pony drummer Chanda Dewey, and Ithaca-based promoter Dan Smalls.
Tune in starting on Friday, November 5 for each installment of Music in Motion on the NYS Music YouTube and Facebook page.
Palangi will have a sit down conversation with each artist, with a lineup of musicians from across New York State. A homegrown indie rock recording artist, singer, songwriter, and guitarist, Palangi fuels his positive ambition naturally by serving up a feeding frenzy of edge heavy guitars, with a side of deep, gritty vocals. With a no-quit mentality, Palangi draws on influences from 80s & 90s rock, including post-grunge and heavy metal.
NYS Music in Motion Season 3 Schedule
November 5 – John Hall
November 12 – Kristen Capolino
November 19 – Rich Ortiz
December 1 – Jeremy Hilliard
December 8 – Chanda Dewey
December 15 – Dan Smalls