Early birds at this year's tenth-annual Governors Ball Music Festival were treated to a high-energy performance to kick off the festival's second day. That band, Brooklyn trio Nation of Language, deliver a fresh take on the synth-pop sounds that emerged in the late 1970s/early 1980s that is fun to listen to at home and even more of an experience to dance and groove to in a live show.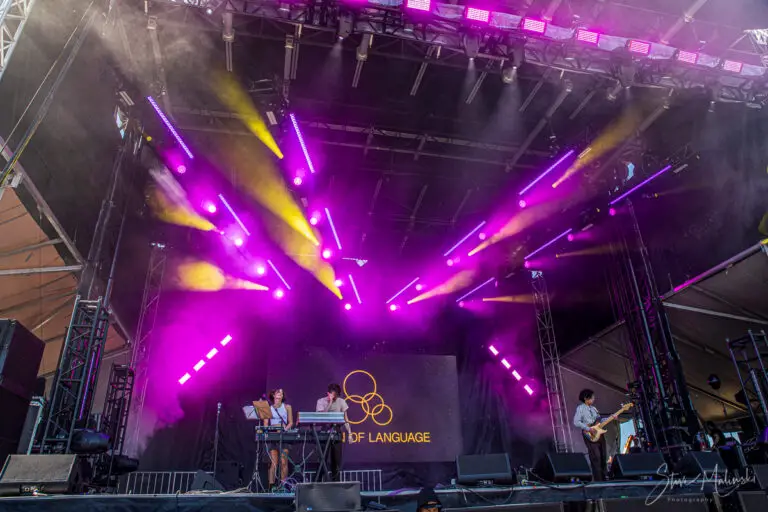 Tonight, November 4, Nation of Language are returning to their hometown for a show to celebrate the release of their second full-length album A Way Forward due out November 5. The show is taking place at Market Hotel starting at 8pm with special guest Cutouts. (Tickets and more information are here).
While NYS Music was at Governors Ball, we had an opportunity to talk to Ian Devaney (vocals), Aidan Noel (synths), and Michael Sui-Poi (guitar) of Nation of Language about their experience at GovBall and creating new music during the pandemic.
Steve Malinski: Starting off, how did you guys come together as a band and start making music in your current form?
Ian Devaney:  I started kind of as like a, just like a personal writing experiment. I've been like making guitar music for a number of years and had this sort of like an epiphany moment when the song "Electricity" by OMD [Orchestral Manoeuvres in the Dark] came on. And I was like, it's so simple, like, it's synth music, but it's so simple, and it's direct and feels like urgent. And it was just like, very exciting. So I was like, let me switch and like, see how I could make synthesizer music. And then, Mike came on and, like, helps me record the first sort of demos that we put together. And then we got some friends together and started playing around, and then the lineup changed a couple of times. And when all of our synth players suddenly moved to Los Angeles, Aiden stepped up. And she learned to play since she never, she never played music before. So she heroically saved us from my doom and gloom.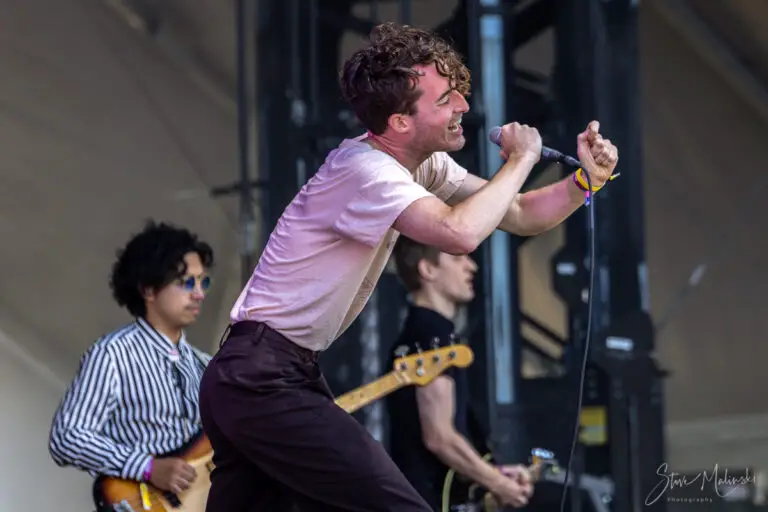 MichaelSue-Poi: Yeah, Ian and I used to be in a band together. So it was a familiar experience to do demos together. Yeah.
SM: I want to talk a bit about your newer music and some new music you have coming out. So what was that like – releasing an album at the start of the pandemic?
Ian: We were initially quite pessimistic about it. Traditionally, it felt like the live show was really how we kind of, you know, like, really would get ourselves in front of people and kind of bring people on board with what we were trying to do. And so we were three days into a tour when everything closed down. And we were like, that's it… see all these years of hard work and like, no one's ever gonna hear it because we can't play shows.
Aidan Noel: But thankfully that's not how it turned out at all. We had people at blogs that were writing about it, and at radio stations that were playing the singles. And we ended up making so many new fans over the pandemic, people that were just stuck at home listening to music. And it meant a lot to learn of  fans who found that was their soundtrack throughout those difficult times, and for us to know that it wasn't all or nothing, and that it wasn't the end of the road. Also in fact, you know, here we are, at GovBall, playing those songs. And even newer singles turned out ok!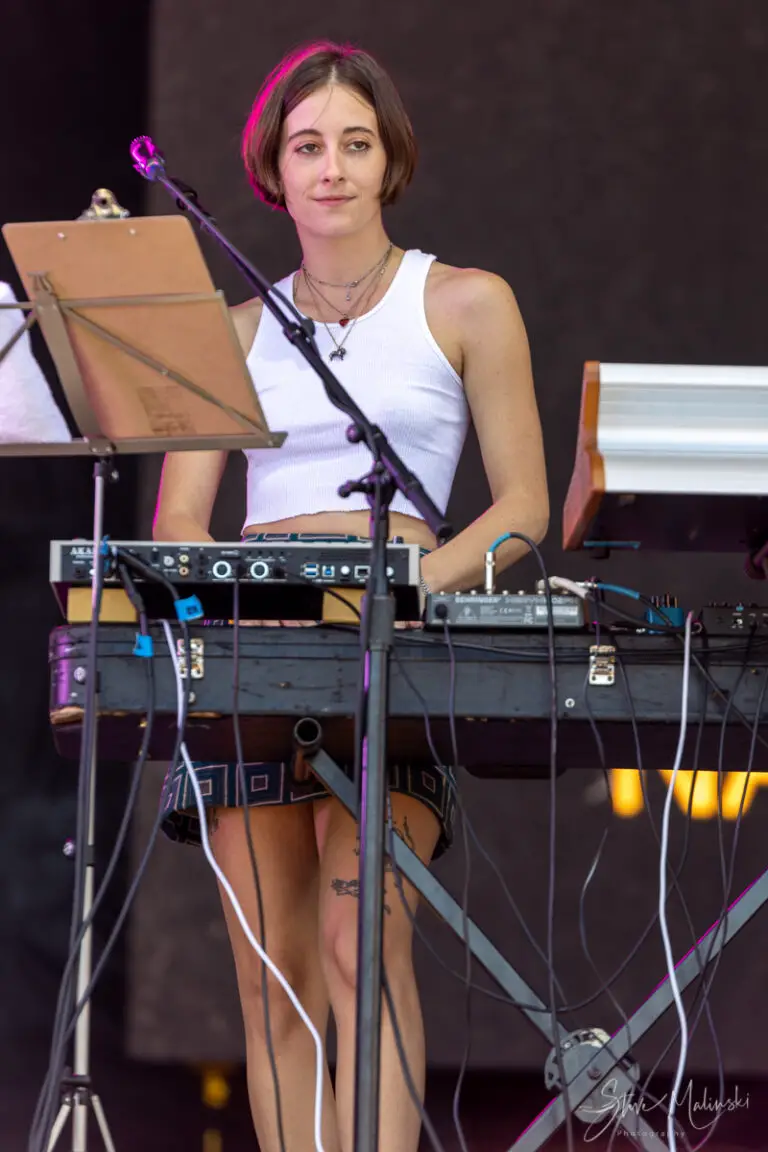 SM: Was today at GovBall your first chance to play a lot of those songs out live?
AN: No, we've actually had a couple of shows leading up to [GovBall] locally. And we played a show in Boston and Philly. So this is our fifth show back in action.
ID: Yeah. Two New York shows and then this…
AN: …getting back into the groove of live shows, it's been really fun.
ID: It's also kind of crazy, because we're getting back into kind of a different groove. Since so many of our fans basically found us during the pandemic, we haven't met any of them, which is like a strange phenomenon. So going from kind of playing smaller rooms and not selling them out to playing like a sold out show at Bowery Ballroom I was like, isn't there supposed to be something in between these two things? Just like with our set here at GovBall it's like, it's very bizarre.
SM: So how does it feel to play one of these big festivals in New York City's backyard, your hometown?
MSP: I mean, it's amazing to finally be playing at GovBall.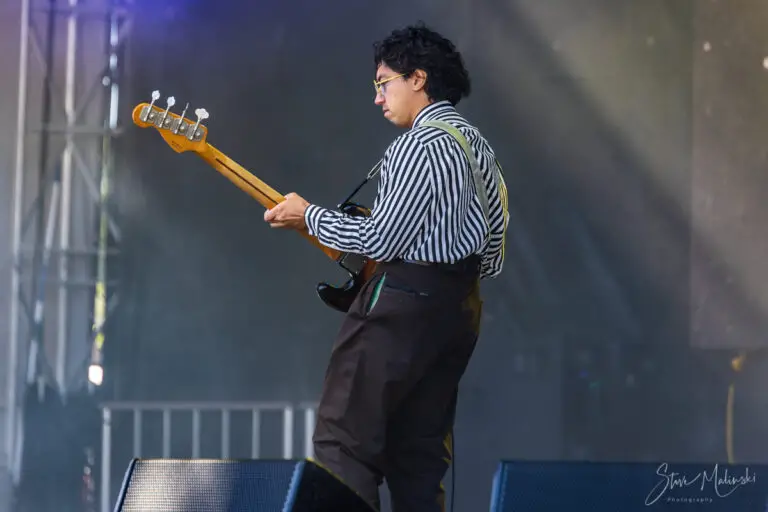 AN: I've only come to GovBall once before and it was two years ago (as a fan) and got rained out. It was like a torrential storm. They had to evacuate the grounds… it was wild. So it's cool to be here as an audience member and as a band playing this time. I would not have predicted that at that rainy show two years ago.
IN: Yeah. And like, it's beautiful. And like yeah, we came yesterday to see Future Islands and Billie Eilish and there's like a whole bunch of people that we're really excited to see today. So, yeah, it's crazy being on, like on that stage, knowing who else is gonna come on to it. And it's like, super humbling, really awesome.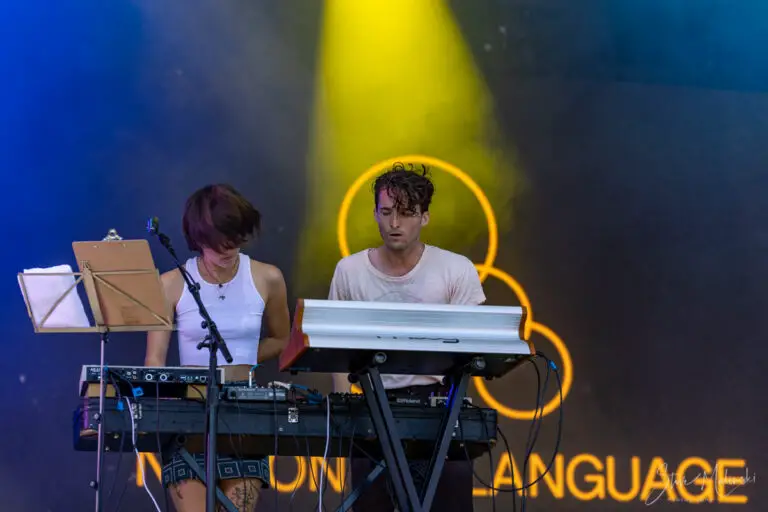 SM: Awesome. So your new album coming out this fall – did you write that in the middle of the pandemic? Or was it intended to be released earlier?
IN: Yeah, it's kind of a mix. There are a few songs that have been around for a little longer. And then some songs were like, start to finish written in the pandemic. And other ones were, you know, finding old fragments of things and piecing them together. So it was a fun, kind of a fun way of bringing together ideas from right now and trying to curate them together.