Saturday Night Live returned this week with rapper Young Thug as the musical guest. Young Thug's highly anticipated new album Punk was released in the early morning hours on Friday. Actor Rami Malek hosted the episode; Malek stars in the latest James Bond film, No Time to Die.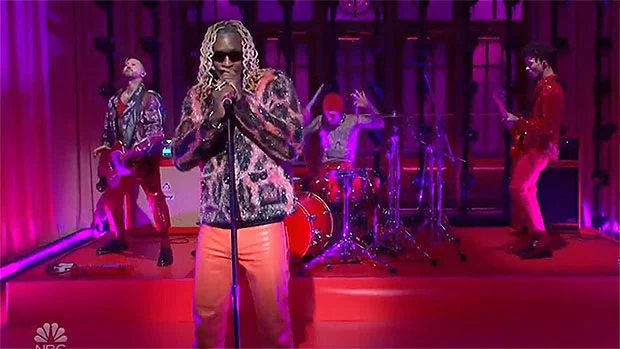 The episode's cold open featured a "Message from the NFL." Colin Jost performed as Roger Goodell, addressing coach Jon Gruden's offensive and racist emails. The skit played on the NFL's history of scandals. As a press conference passes through coaches like game-show contestants (they all resign, most in Twitter scandals), the joke settles in. 
Malek's opening monologue skewered his lack of comedy experience; after all, he usually plays villains. In fact, according to Malek, villains are misunderstood. Was the shark in Jaws not just hungry, after all? Malek's self-aware humor and strong stage presence shone through. He was high-energy and charming. 
Young Thug took the stage for his first televised performance since Punk's release. Wearing a tinseled, pink leopard-print jacket, he opened with the album's lead single "Tick Tock." From his outfit to his energy with the band,  he brought his traditional in-your-face swagger to the performance. "Tick Tock" especially benefits from a live band and drummer, elevating the laid-back trap song to a throttling punk banger. Iconic Blink-182 drummer Travis Barker jumped on the kit to support the song. 
Other sketches included Bowen Yang as a vogueing, glittery spider, and a sketch where Malek competes with Pete Davidson and guest Daniel Craig in a Prince biopic. The latter plays on the late auteur's iconic guitar licks, hollers, and thrusts. Weekend Update segment featured standout turns from Kenan Thompson and Mikey Day as an erring hypnotist and his subject. 
Young Thug returned for his second track accompanied by protege Gunna and FUN! Frontman Nate Reuss. They debuted their collaboration from Punk, the syrupy love song "Love You More." Though Travis Barker again stood out on drums, the song felt lackluster. On top of that, the performer's energies didn't match; while Ruess worked too hard to hype the crowd, Gunna never moved from his perch on a bright red grand piano. Though Thug's voice sounded smooth as ever, his sweeping new project has stronger tracks. 
Next week, Brandi Carlisle will take the SNL musical guest spot, with Ted Lasso star and long-time former cast member Jason Sudeikis hosting.