Trey Anastasio Band officially closed out their fall tour with back-to-back shows at Radio City Music Hall over Saturday, October 2nd and Sunday October 3rd. It was the group's first performance at the legendary venue since 2018's " A Concert for Island Relief," where TAB teamed up with Dave Matthews Band and more to raise money for hurricane relief efforts in Puerto Rico.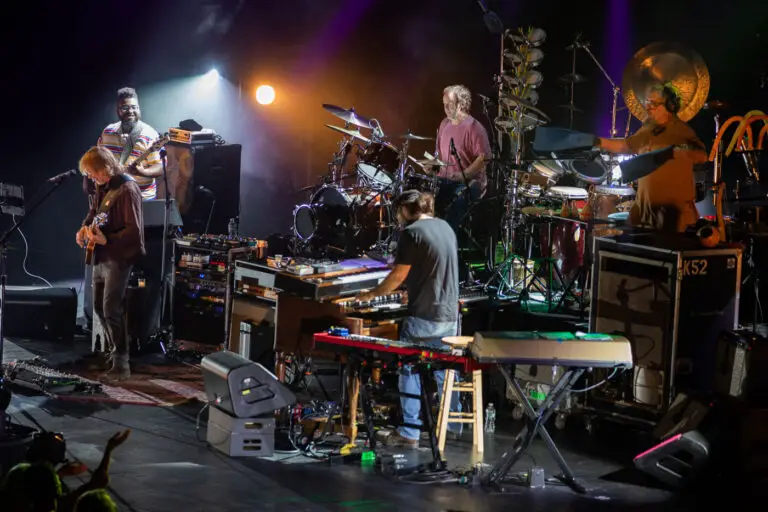 This year's Radio City shows arrived during a similarly turbulent time for both the world and Trey Anastasio Band. Despite the band' precautions, the lineup was drastically affected by COVID – 19. First came the loss of Jennifer Hartswick to a mild case of the virus, which put the rest of the brass section in quarantine. Then, shortly before a Columbus, Ohio show, Russ Lawton tested positive as well. Thus, on Saturday night, TAB performed as a five piece, with Jon Fishman again stepping in for Lawton.
As Ray Paczkowski put it:
We thought about it like, half the band is TAB, half the band is Phish. And we want it to sound like something that isn't quite either.
Though powerhouses like Hartswick and Russ Lawton were impossible not to miss, the tapered-down nature of the band allowed TAB the freedom to improvise. The set stayed playful and experimental throughout, and Jon Fishman's presence behind the drum kit felt familiar while adding a layer of mystery. 
Furthermore, a smaller band gave newer members an opportunity to shine. Bassist Dezron Douglas joined the band this fall with enormous shoes to fill after the tragic loss of Tony Markellis. Markellis, who joined Trey's earliest solo project in 1998, was a force of nature and a steady heartbeat within the band. Though Markellis remains one-of-a-kind, Douglas' jazz roots and dexterous abilities add a new element to TAB. Reportedly, Russ Lawton specifically requested working with Douglas as the band sought a new bassist for this tour. 
Douglas, who studied at the Hartford Conservatory of Music with Hartswick, brings the life and freedom of jazz to his masterful electric bass work. A classically trained double-bassist who first heard Phish in high school, he embodies the timeless quality of TAB's music. No matter how many times TAB has performed a song, it never feels the same. Their music, like their ensemble, grows and changes as the years go on. 
With their rendition of "Mr. Completely" thoroughly embodying their ability to rejuvenate old classics. Highlights included Douglas' perfect syncopation on bass to Cyro Baptista's insane percussion break, where he built a beat out of bird calls as the rest of the band went silent. The energy in the audience marked a TAB show at its very best; fans of all ages focused on letting a rhythm take them, dancing their hearts out together. For some 20-odd minutes, the harmony rang throughout the audience.
Despite setbacks along the road and the constraints of touring during COVID-19, the TAB live experience was fully intact at Radio City. After their hiatus from the venue, TAB offered a little bit of everything, from a heartwrenching Paczkowski/Anastasio duet of "Shade" to crowd favorite "Twist." The packed house got a joyous and poignant set that honored those missing and welcomed new (and familiar) faces back again. As Paczkowski said, the goal was to create something a little TAB, a little Phish, but also new and singular. By the time TAB landed on classic closer "First Tube," the crowd dancing madly in the aisles, it was clear that job was done. 
Setlist via Phish.net
Trey Anastasio Band – Radio City Music Hall, New York City – Sunday, October 3, 2021
Set 1: 46 Days, Tube, In Rounds, Gotta Jibboo, Cayman Review > Blaze On
Set 2: Party Time > Ghost > Mr. Completely, Shade > Twist
Encore: When the Words Go Away*, Theme From the Bottom*, More*, First Tube
* = Trey Anastasio solo acoustic
Sunday review by Matt Romano
The final evening of Trey Anastasio Band's 2021 tour was a Sunday to remember. The revolving cast of musicians included Trey Anastasio and Jon Fishman's first time together on the infamous stage at Radio City since Spring of 2000. It's important to understand the level of composition versus improvisation Trey's music takes on for whomever joins him on stage. Keyboardist Ray Packzkowski, percussionist Cyro Baptista and bassist Dezron Douglas were all the right cats to join in the moment at Rockefeller. 
A nod to the NYC subways helped the show open with "Get Back on the Train." Having Cyro add another layer of percussion to Fishman's grooves all night was reminiscent of Phish's Halloween's shows in Atlantic City 2010 with Giovanni Hidalgo and Atlanta 1996 with Karl Perrazo. Dezron Douglas' bottom end locked in with them served up the funkiest "Moma Dance" to date that clocked in over 20 minutes. "Undermind" also included heavy drum grooves with Jon and Cyro exploring all of the skins in front of them. "Ocelot," "Set Your Soul Free" and a chilling set closing "Dark and Down" helped wrap up a complete jam heavy 6-song set. 
The second set opened the Art Deco venue with Tony Markellis' infamous bass line to "Sand" This ensemble really had all three mezzanines grooving immediately. Paczkowski's rig sounded as if it was coming from Radio City's organ in the main theatre, the largest instrument ever built by the Wurlitzer company. "Everything's Right" served up the longest layer of improvisation clocking in at over 35 minutes of sound stretching out to the grand foyer. Ups, downs, ins and outs… it was hair raising. Trey returned to his Upper West Side abode for "Lonely Trip" and never "Never Left Home," recorded solo during his NYC quarantine. Dezron Douglas' bass line sounds like jelly jam to Trey's lyrics on this. "Oh, I'll never be halted, I always shall roam. Oh, scaling the cliffs and enjoying the view" The band then closed the show with a dark and extended "Carini."
The encore was full of special dedications and moments to TAB members current and past. Trey let the crowd know that members Russ Lawton, Jennifer Hartswick, Natalie Cressman, Coachema Gastelum and James Casey were all in good health and on the mend despite their absence. A soul Sunday nod to Markellis was sent out to the theater as well. Trey appropriately performed "Strange Design" and "Backwards Down the Number Line" on the acoustic guitar to reference all these friends as part of the tour's ever changing ride. 
He then invited special guest James Casey to the stage in hand with alto soprano sax for backing vocals on the last three songs. "Evolve" "Rise/Come Together" and "Life Beyond a Dream" Casey's sax blew like Branford under the great proscenium arch that sits above the stage. All three songs' message is saturated in positivity and optimism towards whatever life can throw at you. Love is the message here. "We're all looking for a little more love to shine a light and lift us up," "Don't give up hope. Keep on dreaming." 
Setlist via Phish.net
Trey Anastasio Band – Radio City Music Hall, New York City – Sunday, October 3, 2021
Set 1: Back on the Train > The Moma Dance, Undermind > Ocelot, Set Your Soul Free, Dark and Down
Set 2: Sand, Everything's Right, Lonely Trip, I Never Left Home > Carini
Encore: Strange Design [1], Backwards Down the Number Line[1], Evolve [2], Rise/Come Together [3], A Life Beyond The Dream[3]
[1] Trey solo acoustic.
[2] With James Casey on saxophone.
[3] With James Casey on additional vocals and saxophone.