On October 5, 1990, Phish performed at Skidmore College in Saratoga Springs, an overlooked show that was part of the group's formative years as they hit college markets across the Northeast. The Skidmore Gymnasium, today a part of the Williamson Sports Center, served as the venue for this all-ages show, which was part of Skidmore's Oktoberfest Weekend.
The numbered tickets for the show read "Oktoberfest Weekend 1990 Continues!! The Class of 1991 Presents: Phish In Concert with Conjunction Junction," and cost $10. For $15, you could also see NRBQ perform the next day, along with Projectile of Love, all part of the same week-long event. The fall Friday afternoon brought college students and their friends to Upstate New York for the show.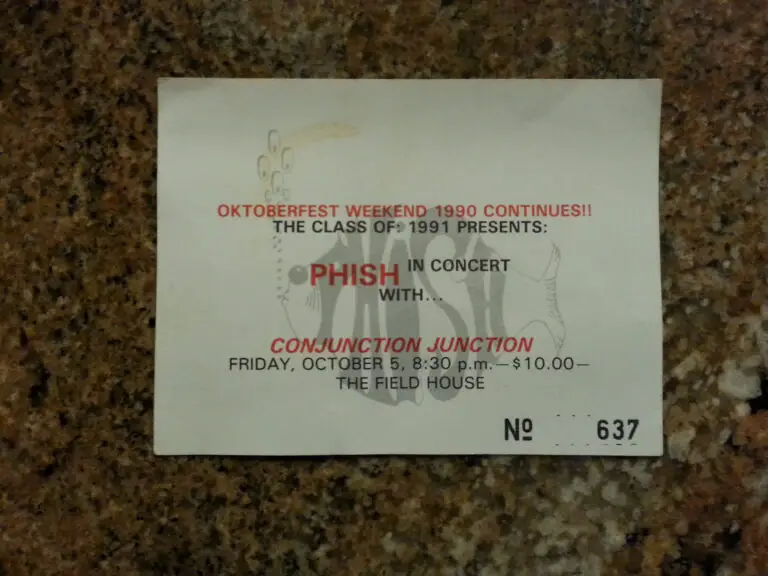 Phish was slowly making their way out of Vermont and into New York State, stopping in Saratoga Springs for the first time in March of 1990 to play at Aikos, then located on Caroline Street. For those in the know, and perhaps those who caught Phish at Pauly's Hotel in May 1989, it was becoming obvious that Phish was a band whose reputation was building fast. By the fall, they had begun to play college gyms around the Northeast. And for the crowd of 300 or so fans, they had plenty of room to move around, but still had to deal with the gym getting warm due to to heaters in gym being on – you can hear calls for air conditioning that can be heard after "Stash."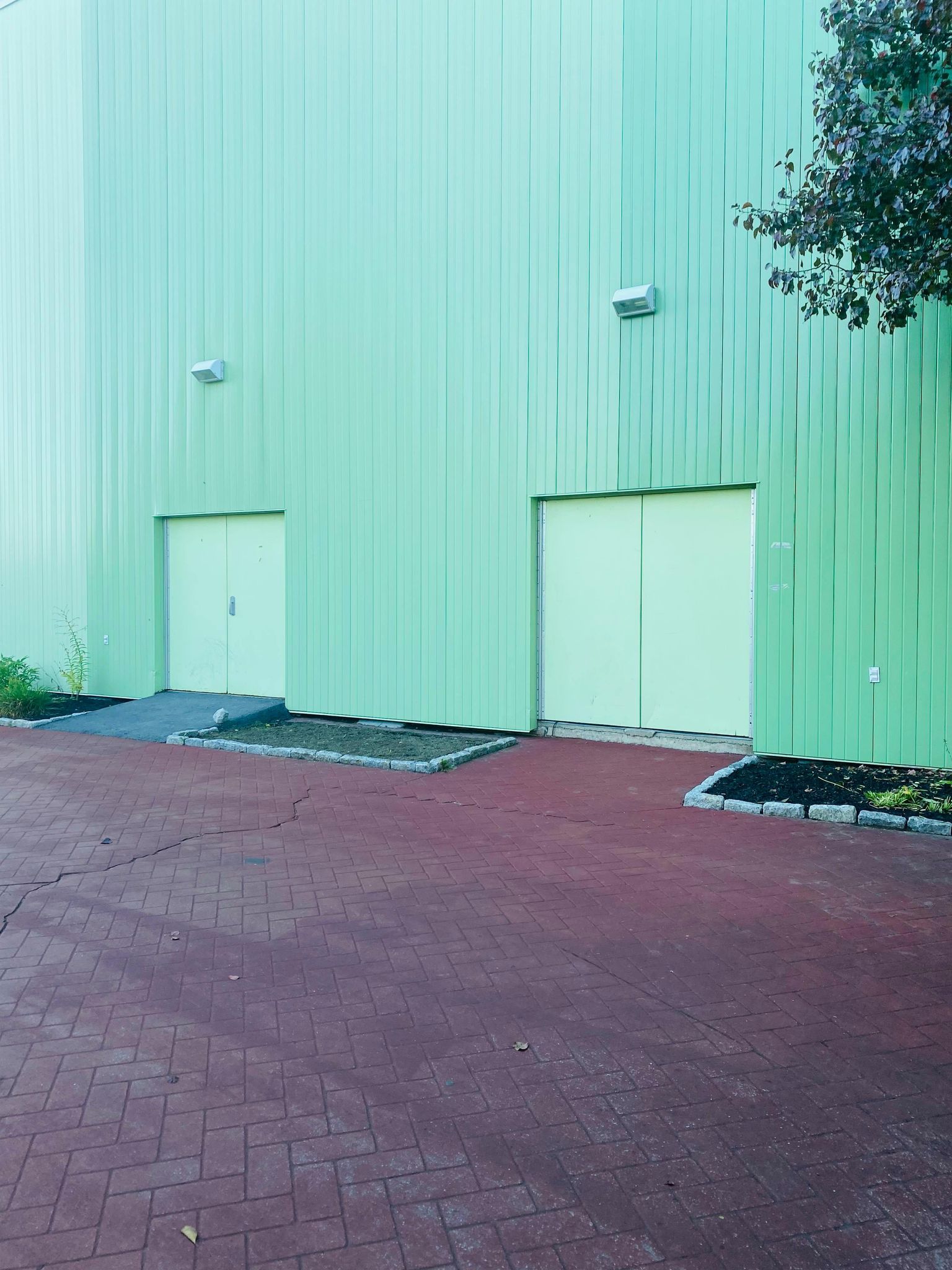 While the show doesn't spark much discussion or replay, there are a few notable aspects to the show. The opener "I Didn't Know" jumps out as a random opener, but the song would open sets as early as 1988, sometims with Fishman on trombone instead of vacuum. If you were ever looking for the lyrics to "I Am Hydrogen", the line "I walk awakening on the misty fields of forever" is included in the intro, while both "Ya Mar" and "Alumni Blues" each have extended guitar intros. One lucky fan who was calling the Phish hotline all summer, asking them to play "The Curtain" at Skidmore was rewarded for their persistence.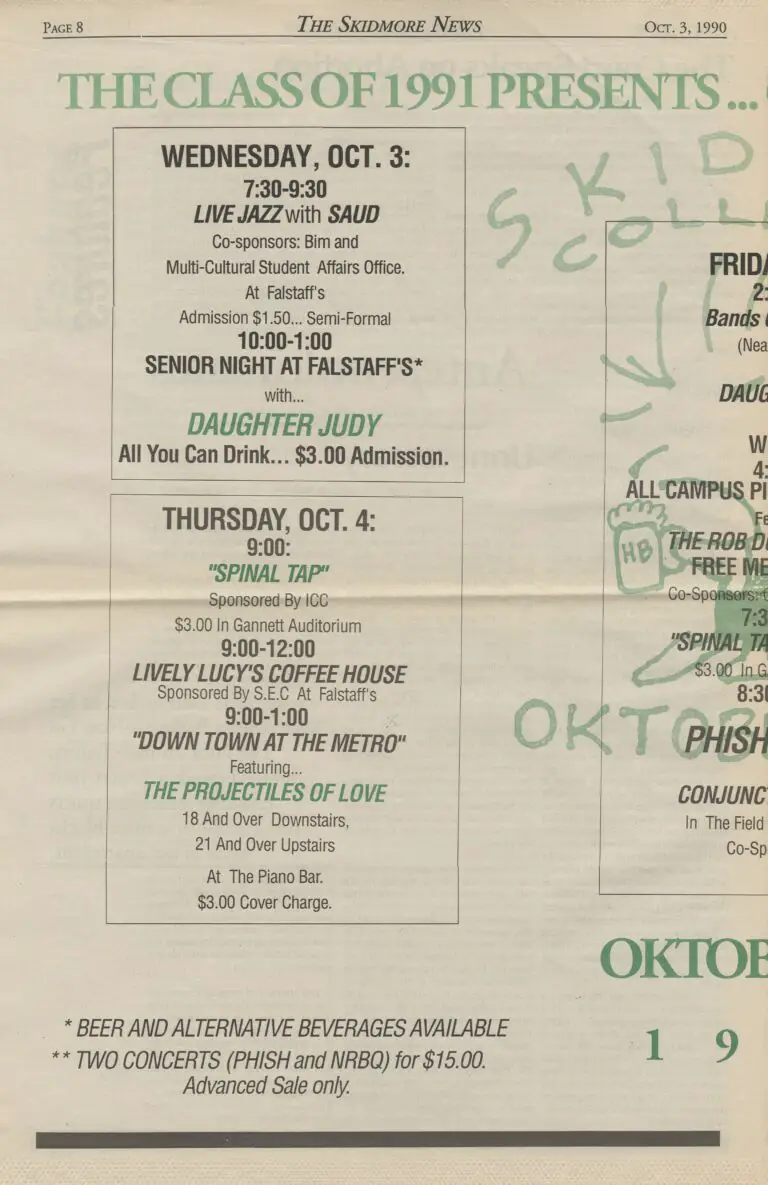 Mike Hogan attended the show, and shares his recollections of the night:
It was a beautiful fall afternoon and some of my friends traveled from various parts of New England to come see the show with me in Saratoga at Skidmore college. The show opened with an oddly placed "I Didn't Know," followed by a lively "Mike's Song/Weekapaug" with the additional lyrics as I always thought they were, "I walk awakening in the misty fields of Rather," although the show notes say otherwise. Other highlights included "Fee" and "The Asse Festival" and "Possum."

Looking back on the setlist, a very solid show that I've always enjoyed listening to. A few years back, Kevin Shapiro (Phish archivist) had asked me about this show. He had Trey's date book and all that was written in it was Saratoga. It had no sense of the venue or setlist. I was able to provide him a bootleg copy.

One final thought on the ticket stub above. They took everyone's ticket upon entry. After the show they had simply dropped them on the floor next to the door and I reached down and grabbed one. I wish I had grabbed a handful.

Matt Hogan
Just three years later, Phish would be playing their first show at Red Rocks in Colorado.
Phish – Skidmore Gymnasium, Skidmore College, Saratoga Springs, NY – Friday, October 5, 1990
Set 1: I Didn't Know, Mike's Song > I Am Hydrogen[1] > Weekapaug Groove, My Sweet One, The Landlady, Tela > The Oh Kee Pa Ceremony > Suzy Greenberg, Stash, The Asse Festival, Bouncing Around the Room > Run Like an Antelope

Set 2: Golgi Apparatus > The Curtain > Ya Mar, Alumni Blues > Letter to Jimmy Page > Alumni Blues, Uncle Pen, Split Open and Melt, Fee > Possum[2]

Encore: Good Times Bad Times

[1] "I walk awakening on the misty fields of forever" lyrics.
[2] Charlie Chan and Popeye signals.

The beginning of Hydrogen included the lyrics "I walk awakening on the misty fields of forever." Possum contained Charlie Chan and Popeye signals.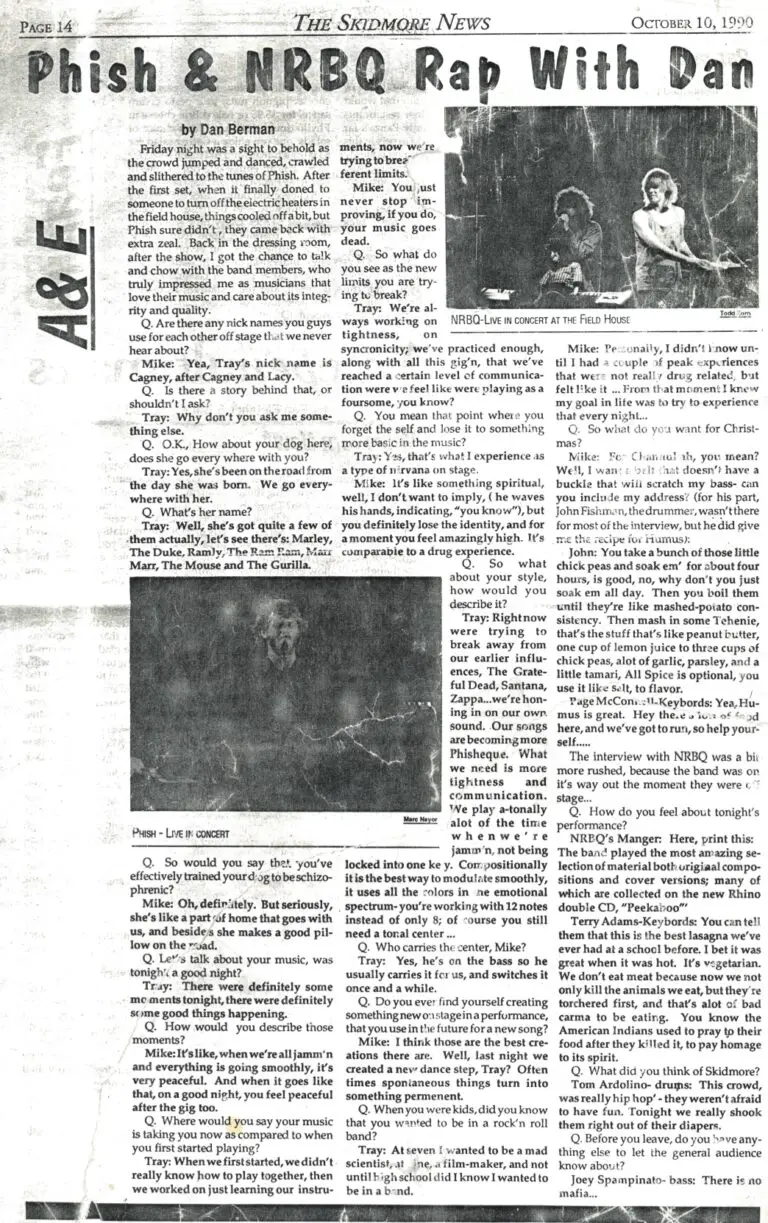 Listen below or on PhishTracks.com