Steinway & Sons have announced a five-piano concert featuring the acclaimed piano ensemble The 5 Browns, at the Naumburg Bandshell in Central Park.It's presented in collaboration with the Central Park Conservancy and the Capital One City Parks Foundation SummerStage concert series. The concert is produced by Steinway & Sons and sponsored by the Paulson Family Foundation.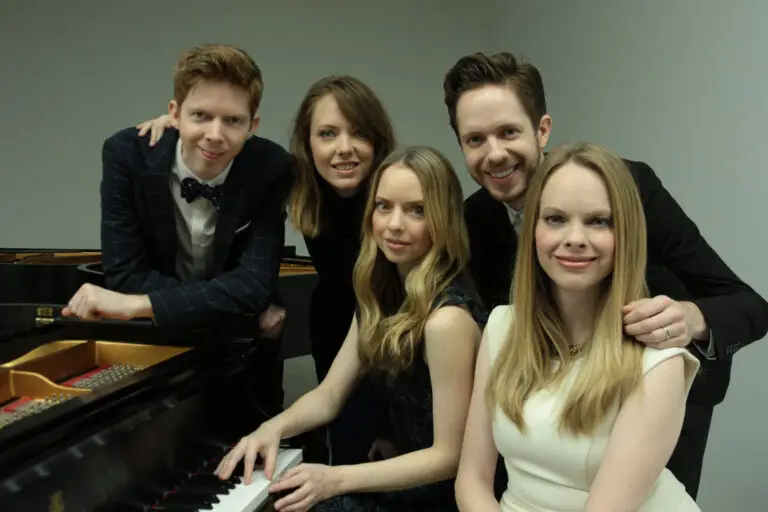 "The 5 Browns – Live in Central Park" features five Steinway concert grand pianos and eight piano pieces—from Beethoven to Gershwin to Bernstein— performed by Steinway Artists Deondra, Desirae, Gregory, Melody, and Ryan Brown. The 5 Browns were the first family of five siblings to be ever admitted to The Juilliard School, and the quintet has delivered on its word to "wake up classical music" through international tours that have brought critical and popular acclaim since 2002.
This family-friendly program is a natural outgrowth of their children's advocacy work and commitment to delivering classical music to the widest possible audience. Included in their latest album, The Little Tin Box, are musical favorites from their childhood.
The program includes:
• Symphony No.5 in C Minor, Op.67, Ludwig van Beethoven/Jeffrey Shumway I. Allegro con brio
• Malaguena from Andalucia Suite, Ernesto Lecuona Gregory, and Ryan Brown
• Scenes from West Side Story, Leonard Bernstein/Kendall Durelle Briggs
• Flight of the Bumblebee, Nikolai Rimsky-Korsakov/Jeffrey Shumway
• Star Wars: Suite for Five Pianos, John Williams/Greg Anderson
• Rondo Alla Turca, Wolfgang Amadeus Mozart/Greg Anderson
• Clair de Lune from Suite Bergamasque, Claude Debussy/Greg Anderson Melody, Desirae, and Deondra Brown
• Rhapsody in Blue, George Gershwin/Jeffrey Shumway
The concert begins at 7 PM on Tuesday, September 28. Admission is free and attendees are advised to enter Central Park via Fifth Avenue and 72nd Street, then proceed to the Naumburg Bandshell. It is set to be aired live on WQXR 105.9 FM, New York's classical music station, hosted by Jeff Spurgeon. The event follows all state and local regulations concerning large-scale outdoor events. Seating is provided for vaccinated, masked audience members.