written by Matthew Romano
The Alice Cooper Show has been going for almost 50 years, starting with horror movie-like antics on stage. The capacity crowd at Utica's Stanley Theatre couldn't file into their seats fast enough for opening act Ace Frehley of KISS and headliner Alice Cooper on September 22. The last time Cooper performed in Upstate NY was with Johnny Depp and Joe Perry of Aerosmith, for the super group "The Hollywood Vampires" at Turning Stone Casino Showroom In May 2016, where Cooper even has his own golf locker.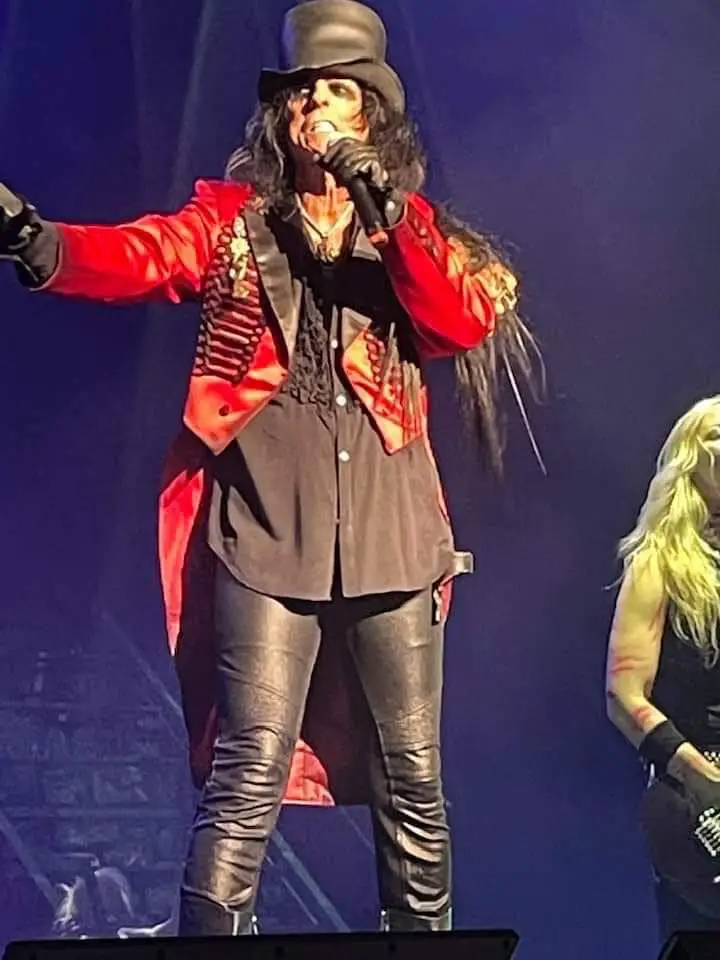 Ace Frehly felt his NYC roots in Utica and got the crowd involved singing  "I'm back, back in the New York groove" off his 1978 solo album, written on a Brooklyn subway. Ace simply said in between all tunes "Utica, you guys rock" as he continuously launched guitar picks like confetti to the crowd. 
Alice Cooper took the stage at 8:45 and opened the show with "Feed My Frankenstein," featured on the big screen in Wayne's World with Wayne and Garth's iconic experience seeing Alice live and hanging with him backstage.
Alice recounted "I used to be such a sweet, sweet thing 'til they got a hold of me" before launching into "No More Mr. Nice Guy." Backing vocalist and lead guitar player Nita Strauss was a complete stage presence to be reckoned with. She frolicked from stage left to right while soloing. It seemed as if she was committing "Frettasault" on that axe. She and Alice traded the infamous "It was alright!" vocals on the Velvet Underground classic "Rock and Roll." Alice then serenaded the crowd back to their teenage years "I got a baby's brain and an old man's heart, took 18 years to get this far" for the anthem "I'm 18."
Nita Strauss took center stage solo for an improvisational section that went for minutes and could have continued for days. She used an Eddie Van Halen style on the upper guitar neck in a way that was hair raising. Strauss has said in the past, "I do remember being a kid and hearing Van Halen. My dad was always playing Van Halen in the car."
The first haunted house of fall was the stage set up inside the majestic Stanley Theater with all sorts of cast and sleepy hollow like production throughout. The golden architecture of the Stanley transformed the venue to the old castle in the Johnny Depp movie "Dark Shadows" where naturally Alice is the night's entertainment. 
Alice's wife Sheryl Goddard was part of the "Thriller"-like Choreography cast that had her dressed like an old spirit haunting the theater stage. Alice was subjected to a straight jacket and even had his head decapitated on site. He returned to full evil carnival ring leader attire before being chained up by a giant "teenage Frankenstein" to carry him off stage.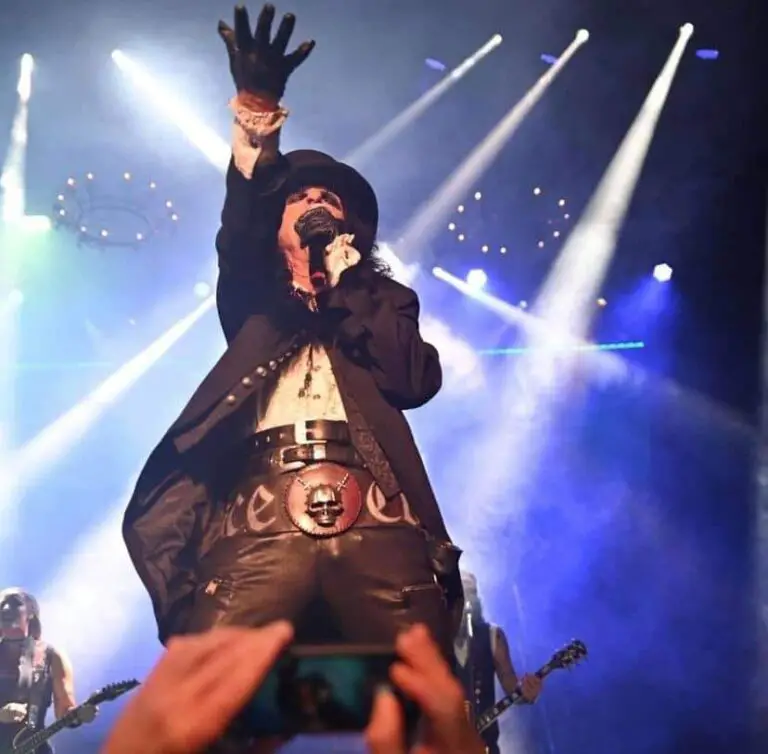 The encore was something out of a Phish New Years gag with an onstage celebration of LED light visuals, bubbles, confetti, multi-colored giant  balloons and explosions of sound. Alice came out with a spiked cane in hand and head to toe in a white suit orchestrating the celebration. Naturally the crowd and band erupted to the summer's teenage national anthem "Schools Out." Alice even referenced the teachers who beg the question, "How can you eat your meat if you don't have any pudding?" by throwing in a verse from Pink Floyd's "Another Brick in the Wall."
A lot of Alice's material represents the "Motor City" Detroit sound where he hails from, and he'll head back home this week to Westland, MI for the dedication of Alice Cooper Court, a stretch of road off Michigan Avenue by the former Eloise Psychiatric Hospital. Hopefully a stolen hellcat car doesn't drive down into a train like he references in his new song "Go Man Go."
Setlist: Feed My Frankenstein, No More Mr. Nice Guy, Bed of Nails, Rock & Roll (The Velvet Underground), Fallen in Love, Go Man Go, Under My Wheels, He's Back (The Man Behind the Mask), Social Debris, I'm Eighteen, Poison, Billion Dollar Babies, Roses on White Lace, My Stars, Devil's Food, Black Widow Jam, Steven, I Love the Dead, Escape, Teenage Frankenstein
Encore: School's Out