Gogol Bordello, the legendary gypsy-punk collective known for their high-energy shows and genre-bending music, touched down in Vermont on Wednesday, performing at Higher Ground in Burlington, VT. 
The show replaced a Montreal tour date that was rescheduled due to shifting COVID regulations. But Gogol Bordello has a long history in the Burlington area. Frontman Eugene Hutz moved to the area with his family when they first came to the states, as political refugees from Ukraine in 1992. Already an avid guitarist, Hutz formed popular local punk band The Fags before eventually moving to New York, where he would form Gogol Bordello in 1999.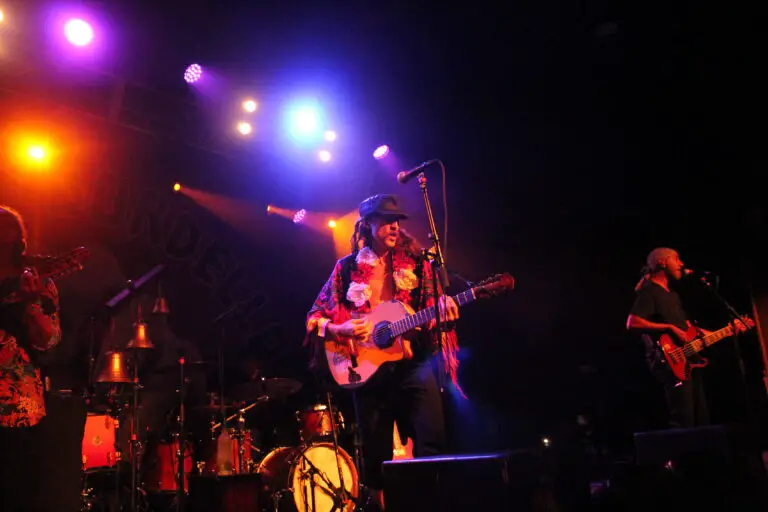 The anticipation among the crowd at Higher Ground matched that long, storied history. Concertgoers of all ages mulled around the venue, often greeting each other with a smile and asking "you ready?" A worthy question– it's hard to be fully ready for the kind of breakneck, immersive experience that is a Gogol Bordello show. 
Nu Folk Rebel Alliance, a duo of Gogol Bordello member Pedro Erazo and guitarist Leo Minimum Tek, opened the show. A frequent associate of Gogol Bordello, Nu Folk Rebel Alliance shares their passion for blending global folkloric traditions with a punk rock twist. Pedro Erazo proves a charismatic presence, as arresting on vocals and percussion as in front of a DJ table. An electro-influence cover of "Working Class Hero" cemented the band's power-to-the-people message, along with original "Fronteras," an immigration anthem which Erazo addressed to "our brothers and sisters at the border." Fronteras features a spaghetti-western guitar riff over heavy bass, nimbly blending the old with the new. The song bitingly addresses those who "wash their hands with corruption/ Making our lives miserable/ Miseducating our hoods." Sung in Spanish and English, "Fronteras" urges immigrants of all nations to rise up in international solidarity and fury.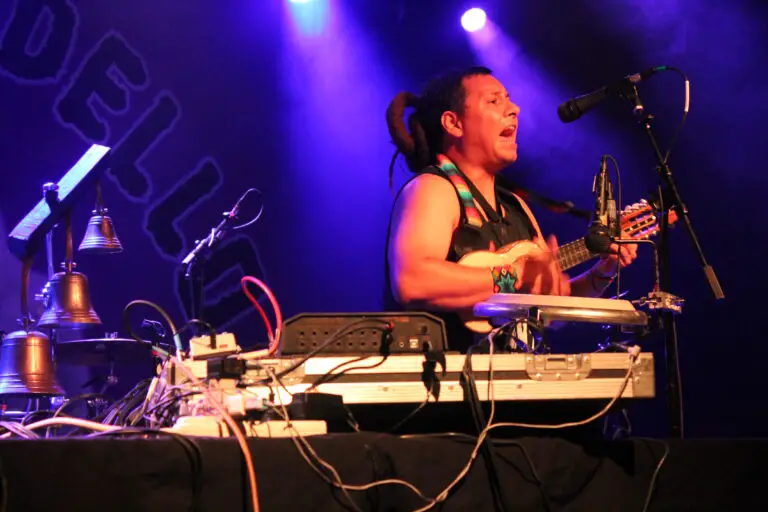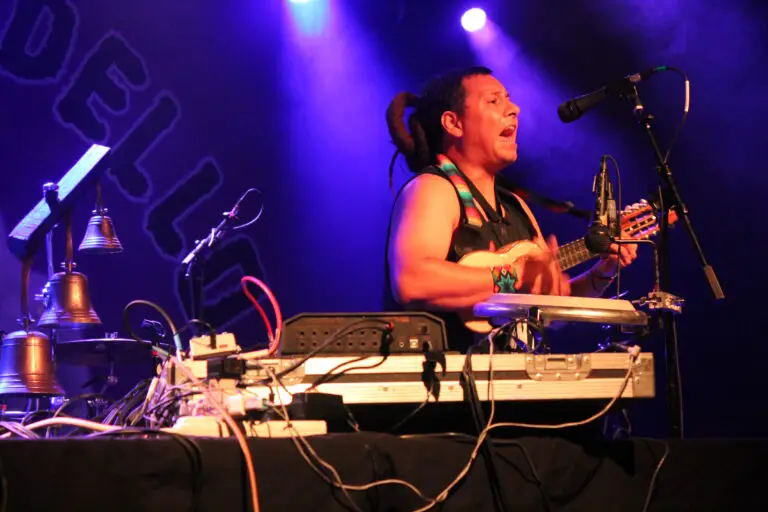 The humming Romani melodies signaling Gogol Bordello's entrance began echoing before the group even stepped on stage, mesmerizing the crowd. The longer it lasted, the more voices in the audience called for them: "We want you!" A security guard tapped me, warning "you might want to be ready to get out of the way. Just in case there's crowd surfers." What exactly was I in for? 
What I was in for, it turned out, was a rousing, electric and moving performance; a "gypsy punky party," as Eugene Hutz declared. Once they began performing it proved impossible to look away. Their musical capability is astounding; just drums, violin and an acoustic guitar can give the impression of the center of a thunderstorm. Each song seems to feature a new instrument offering the perfect final tough; bongos, or bells, or an enormous marching bass drum.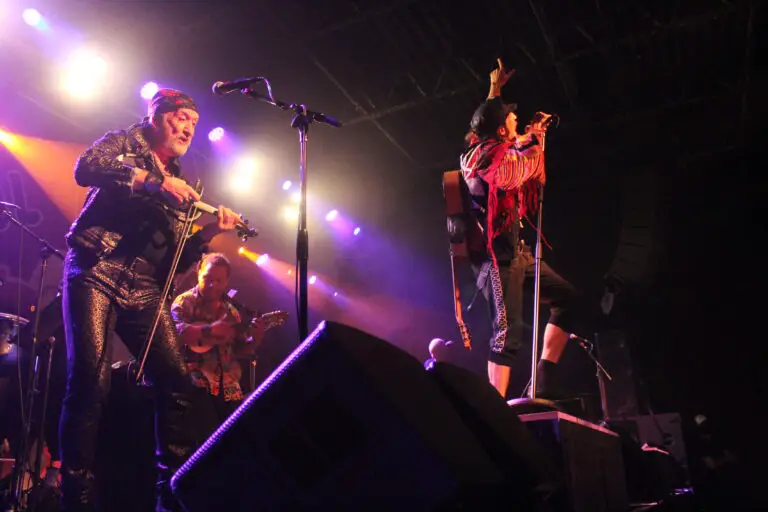 The band's unity, creativity and technical skill make thundering tracks like "Wonderlust King" and "Immigraniada" feel stadium-worthy. But the close environment of a club offered Gogol Bordello an opportunity to highlight their other grand talent: engaging an audience. Hopping from platform to platform and teetering at the edge of the stage, the band treats the stage like a playground and encourages the audience to adopt the same mentality. Many times, Hutz spun his hands as the crowd energy grew and grew, literally stirring the pot. 
What felt most revolutionary about the performance was its embodiment of the Gogol Bordello's mission: breaking boundaries, emphasizing global solidarity, and rejecting the norm. Even the band itself was somewhat shifted; Gogol Bordello announced on Tuesday members Ashley Tobias and Boris Pelekh had tested positive for COVID-19 and were quarantining. Leo Minimum Tek stood in for Pelekh with the rousing support of Hutz, whose unfettered, wiley joy seems utterly unsinkable. Waltzing across the stage in an open, tasseled bolero jacket, twirling his guitar as casually as the bottle of Brazilian rum he brought onstage, Hutz couldn't be less bothered. His demeanor of carelessness seemed to say: Hey, the world is fucked, but we can have fun with it, together. The emotion is as intoxicating as their breathless musical pace.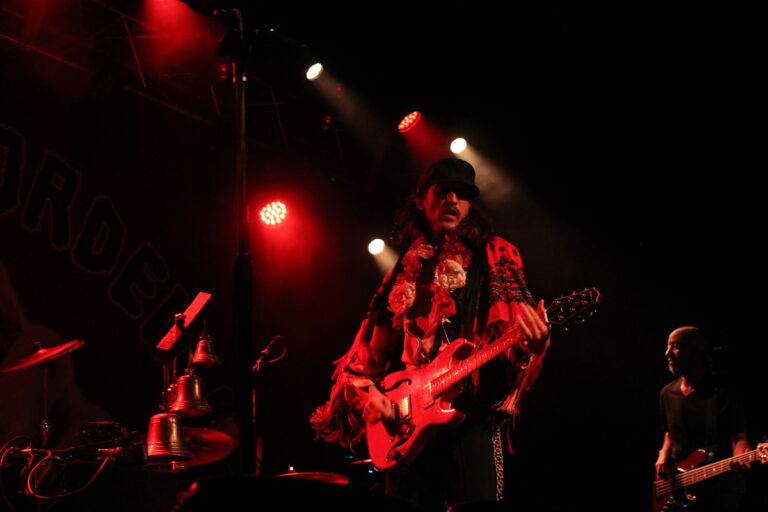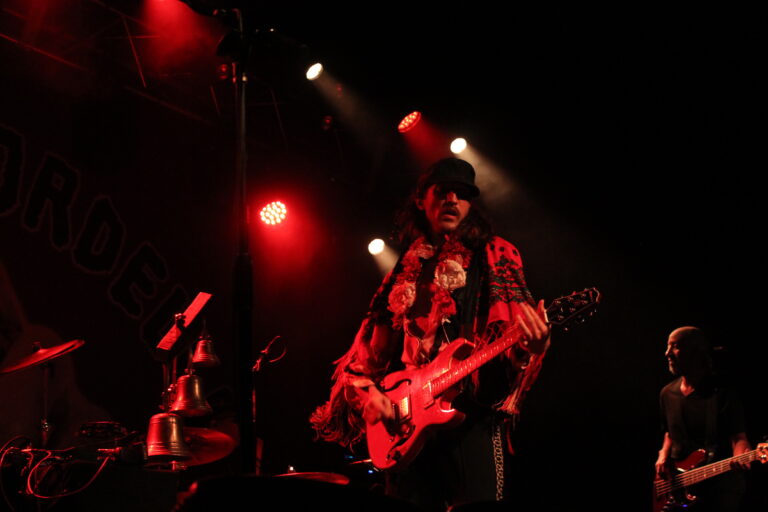 Furthermore, crowd participation isn't optional with Gogol Bordell. Hutz's gutterall yells and ad-libs always include a microphone to the crowd, and occasionally a tease to get louder. But the chaos of their music never loses you, as the mind-boggling technique kill violinist Sergey Ryabtsev specifically catches you and doesn't let go. His mesmerizing violin brings to mind a lived-out version of The Devil Went Down To Georgia, the classic tune where a musician plays for his life. Ryabtsev could surely beat the devil at this game, even in his own territory.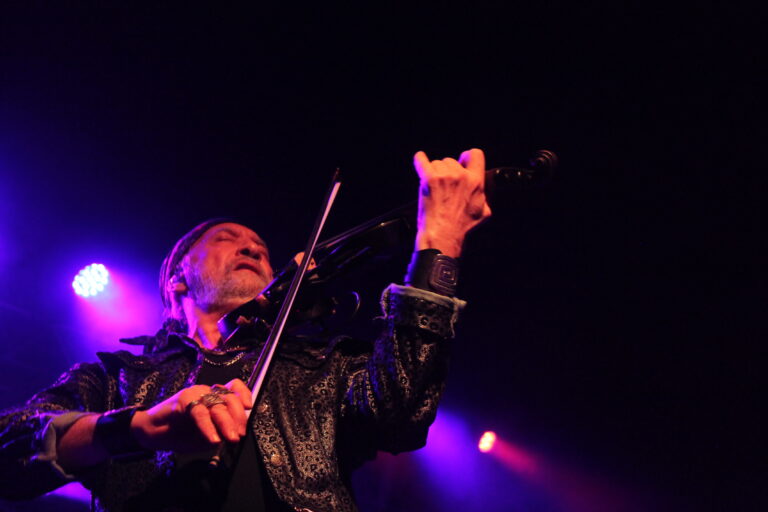 The band came out for a lengthy, rowdy encore after an hour-long set, performing classics like "Start Wearing Purple," and new track "Roaring 2020s." As wild moshing continued in the pit, a couple on the edge of the crowd waltzed together, twirling furiously. No one wanted the party to end. 
However, all parties must end, and before they headed offstage Gogol Bordello stood together, extending their arms to the crowd. Though they had been the ones to bring their wild breed of freedom, we had all shared in the moment, and they thanked us. Hutz left the audience with a final, affecting message: "Don't believe the hype, don't believe the anti-hype. Stay fucking centered." 
Bob Marley's "Redemption Song," played as the crowd trickled back out into the night. Whatever had been released in that theater left, in its place, a free and easy feeling; the performance had captured the angst, energy and possibly fleeting joy of this moment in time. When Gogol Bordello say they 'confront the jaded and the irony-deseased," they mean it. Their inspiring message of international-mindedness, righteous fury and pure fun is enough to leave the most jaded of souls with hope for the future. That is, a future with lightning rods like Gogol Bordello in it.