Billy Joel performed at Highmark Stadium in Orchard Park on Saturday, August 14 for his rescheduled 2020 date, with thousands of fans packing the Buffalo Bills stadium in a highly anticipated event that marked the return of concerts at the venue since the pandemic began.
This was the first full capacity event to happen at Highmark Stadium, and the fans were really enjoying it. From tailgating out in the lots, to everyone together in the stadium the atmosphere was nothing short of electrifying. 
The rules in place were well respected to give the best and safe experience as possible. Masks were required by all fans and staff when inside of the stadium concourses or in the bathroom. 
Shortly after 8:30pm the stadium filled in as eager fans waited for the Piano Man to take the stage. The piano sat front and center in plain sight looking immaculate as anticipation grew for the performance to start. Fans were up front holding an assortment of different signs expressing their love and gratitude to Billy Joel, one woman even holding a sign saying how she named her child after him.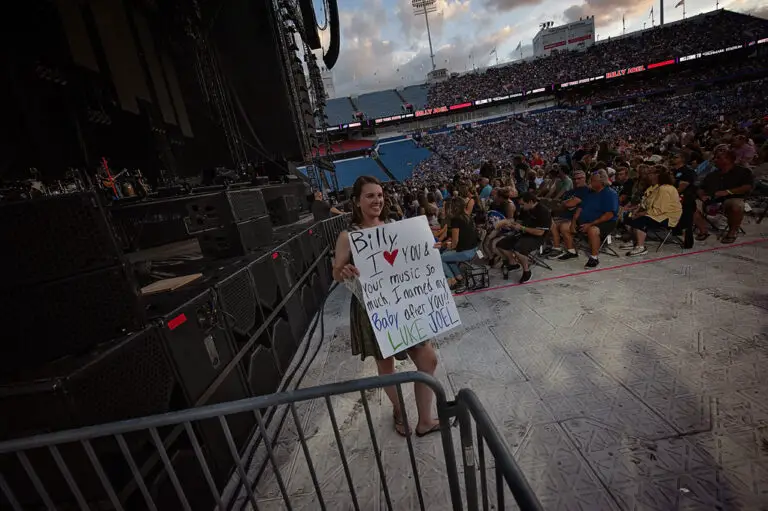 With an eruption of applause and cheers Billy Joel took the stage, giving a brief wave and smile to the crowd before taking his seat at the piano. Immediately he opened up with "Movin' Out' setting the crowd off into cheers. Billy Joel transitioned his songs flawlessly as one would expect from the lifetime of experience of performing music. Billy Joel performed "Miami 2017" and then "Pressure" before addressing the crowd with a "Hello Buffalo!"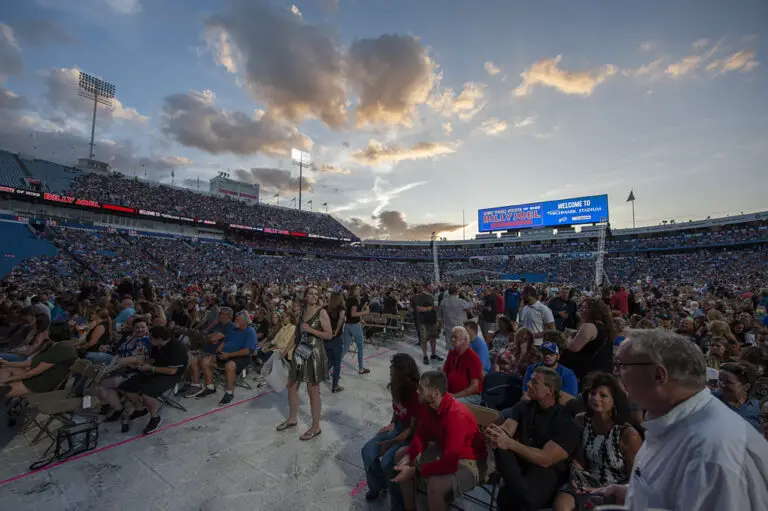 While being considered one of the greatest musicians of all time, Billy Joel also brings with him a fun and witty sense of humor. This was showcased when he informed the crowd of the origins of Buffalo's name, stating it was too difficult of a French word to pronounce, so it ended up being "Buffalo"
Billy Joel went on to perform an electrifying 24 song set that seemed to go way too quickly. Joel is known for bringing other musicians on stage with him, and it was no different for Buffalo. Introducing John Rzeznik of the Goo Goo Dolls, a Buffalo native, they performed the bands hit "Iris" This was very well received by fans as everyone in the stadium was singing along, as Rzeznik looked like he was having the time of his life.
The set consisted of many of Billy Joels top hits including "New York State of Mind", "Allentown", "She's Always a Woman", "Scenes From an Italian Restaurant" and of course to end the set was "Piano Man". But Billy Joel wasn't finished yet – coming back for a five song encore of "We Didn't Start the Fire", "Uptown Girl", "It's Still Rock and Roll to me", "Big Shot", and "You May Be Right" to finish the night off. 
Billy Joel gave a masterclass in live performance in Buffalo, and he shows no sign of slowing down. He truly is one of the greatest performers of all time, and demonstrated that with the combination of a beautiful production and his ability to command the crowd with his presence. 
Setlist: Movin' Out(Anthony's Song), Miami 2017(Seen the Lights Go out on Broadway), Pressure, Summer, Highland Falls, The Entertainer, Vienna, Zanzibar, New York State of Mind, Don't Ask Me Why, Iris(Goo Goo Dolls cover with John Rzeznik), Allentown, My Life, She's Always a Woman, Sometimes a Fantasy, The River of Dreams (With "Tush" by ZZ Top interlude), Only the Good Die Yound, Nessun dorma (Giacomo Puccini cover with Mike DelGuidice) Scenes From an Italian Restaurant, Piano Man
Encore:We Didn't Start the Fire, Uptown Girl, It's Still Rock and Roll to Me, Big Shot, You May Be Right