Brooklyn's Creek and Kills will put out their new EP "Unstitching" on Friday, August 20, 2021.  Recorded in their homes from May 2020 to April 2021, with mixing and mastering from Danielle DePalma, "Unstitching" includes remixed, rerecorded, and/or remastered versions of the band's pandemic singles plus three new tracks.  These are wild siren songs from far reaches of an urban estuary.  Creek and Kills rock out like a mermaid party in a Superfund site…a little dirty, a little dangerous, a little sexy, luring you to sink in the dark water.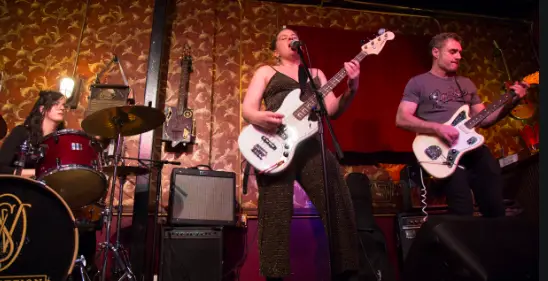 The band's first full-length eponymous album (released 2019) was praised for its "unadulterated filthy Rock rhythms," "artful alchemy," and the "striking strength" of vocals from singer-bassist, Kate Bell (A&R Factory).  Bell comes from a background in jazz. Her octet, the Poma-swank, was hailed as "one of the best offerings from the New York jazz underground" by music writer Mark Kirby, and All About Jazz described Bell as "oozing sass . . . her instrument is not only her voice, but her total self . . . and the person who is singing is someone you'd most definitely want to meet." Since Bell's switch to rock, she's worked on projects with members of the Julie Ruin, Bush Tetras, and Groovy Ghoulies. Guitarist Marc Montgomery began collaborating with Bell in late 2017, and "Unstitching" features his heartbreaking song, "Sunshine Hotel."  Drummer and vocalist Erin Harney joined Creek in Kills in late 2019, previously of the bands The Shook Ones and Femmepire.
Creek and Kills's music has been heard on the "I Art NY" podcast, in the short film Skin the Wire (NY Shorts Festival), on WPRB (Princeton, NJ), BVEW (Brattleboro, VT), and on the greatest freeform radio station in the world, Jersey City's WFMU. Creek and Kills will celebrate the release of the "Unstitching" EP with special guests, Groupie and Rest Ashore, at 18th Ward in Brooklyn on Friday, August 20, 2021, open to all, music starting at 8 p.m.