Twenty-seven years ago this weekend, Woodstock 94 took place on Winston Farm just north of Saugerties, New York. Woodstock 94, or "Woodstock II" was the next generation's attempt to rekindle the same "Summer of Love" spirit their parent's experienced at the original 1969 fest. This was the first shot at doing so, and many future attempts will completely flop, like Woodstock 50, or will end in fire-burning riots, like Woodstock 99. 1994's rendition isn't as shockingly awful, but some believe it's still incomparable to '69. This is Woodstock 94.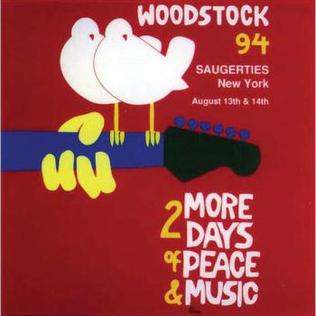 Saugerties' Winston Farm is approximately 100 miles away from Bethel Woods and Yasgur's Farm – the birthplace of "Woodstock." But, Winston Farm was supposed to be the original location for the '69 fest until the owners got cold feet. This change in location was a way of improving the flaws of the previous festival for the second time around, while still holding true to Woodstock roots.
The 1994 concert was scheduled for August 13–14, and Friday, August 12 was added after first-pool tickets sold out under 12 hours. Ticket prices hiked to $135, plus a three-day pass to the beer tent was $250 – a huge jump from 69's $18 three-day pass. Tickets were only sold in sets of four, and one parking pass was provided per set.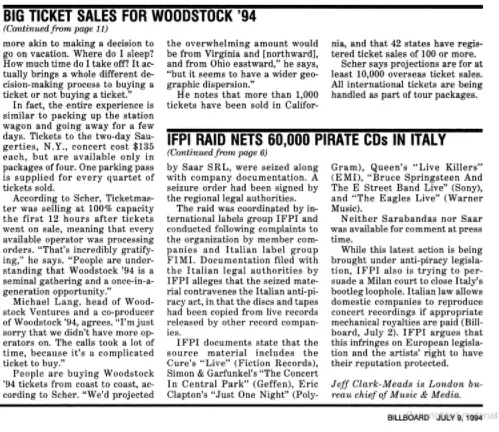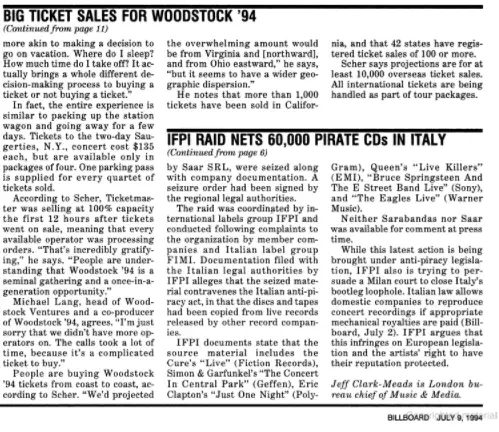 The star-studded lineup included '69 alum mixed in with up-and-coming '90s bands. Plus, the extra day allowed for many more artists to join the setlist.
Friday, August 12, 1994
Aphex Twin
Blues Traveler
Candlebox
Collective Soul
Deee‐Lite
Del Amitri
Jackyl
James
King's X
Līve
Orbital
Orleans
Peace Bomb
Sheryl Crow
The Orb
Todd Rundgren
Violent Femmes
Huffamoose
Abba Rage
Lunchmeat
Saturday, August 13, 1994
Aerosmith
Blind Melon
Candlebox
Crosby, Stills & Nash
Cypress Hill
Fight
Hot Tuna
Joe Cocker
Melissa Etheridge
Metallica
Nine Inch Nails
Primus
Rollins Band
Salt‐n‐Pepa
Suicidal Tendencies
The Band
The Cranberries
Crosby, Stills & Nash
Youssou N'Dour
Zucchero
Sunday, August 14, 1994
Cypress Hill
Fight
Hot Tuna
Rollins Band
Salt‐n‐Pepa
Suicidal Tendencies
The Band
The Cranberries
The Roots
Weir & Wasserman
Green Day
Country Joe McDonald
Porno For Pyros
Sisters of Glory
Allman Brothers Band
Santana
Red Hot Chili Peppers
Spin Doctors
Traffic
Bob Dylan
There was no Youtube back then. If you wanted your band to get big, you had to hope it came on the radio. We hadn't heard of bands like Blind Melon and Collective Soul yet, and a lot of these people (festival-goers) had never been to a concert before.

Dan Lane, Woodstock 94 attendee
The fest can be credited for the growth of many young millennial bands. Even Green Day was just finding their fame as their second album Dookie, released six months prior to Woodstock 94, would hit #4 on the charts only weeks after the festival weekend.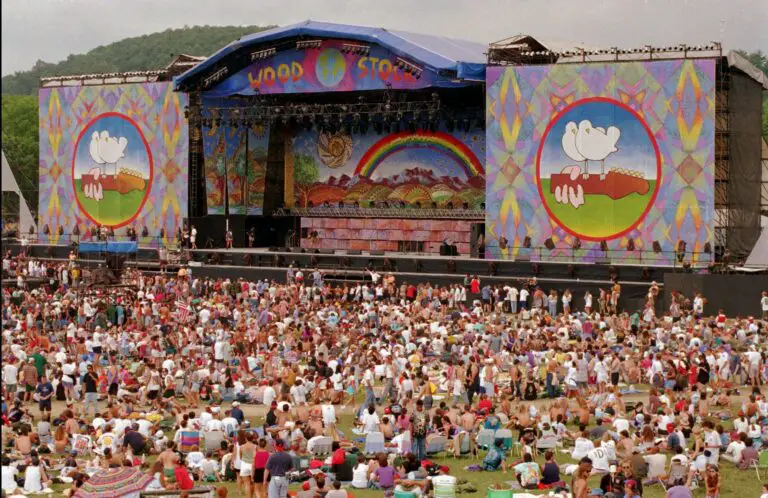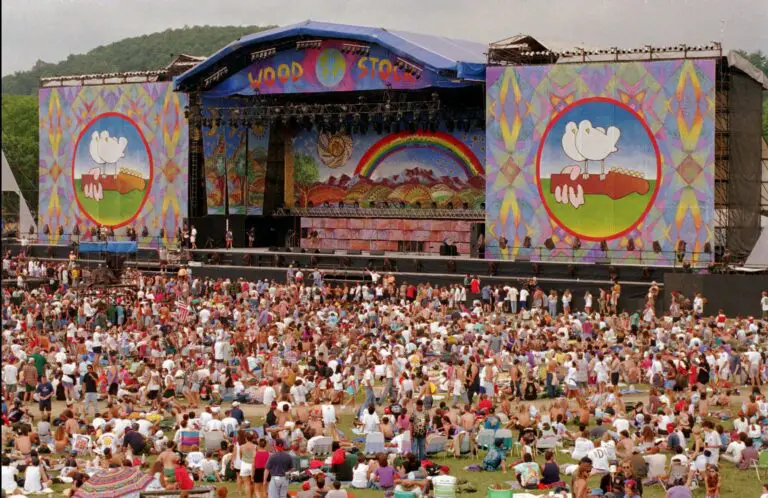 Promoters ensured the event would be secure with drug dogs, security brigade nicknamed the "peace patrol," hundreds of port-o-johns, and chain-link fence. Re-entry was not allowed, but festival-goers smuggled food and drink over fences and through bushes. There were no reports of excessive force or need for riot control like there was in 1999.
From the looks of it we thought we were gonna get strip-searched at entry, (with the dogs and officers) but it was pretty mellow, actually. I think the light security is what they tried to fix in '99 but that all went wrong.

Dan Lane
500,000 young-adults flocked from around the country in fear they were going to miss out on something great. Woodstock '69 attendees even paid a visit to see how they compared. Festival-goers did seem to enjoy the excitement of making history and there was a notable peaceful vibe across the farm. People were just happy to be there and enjoying music.
People are understanding that Woodstock 94 is a seminal gathering and a once-in-a-generation opportunity.

Promoter John Scher for Billboard Magazine
This fest was rumored to be even bigger than 1969, with two stages and constant MTV coverage. Unlike the first festival, '94 hosted two large stages with constant live music on each. There were a mix of bands playing each stage, for example, while Green Day was playing on the South Stage, Weir & Wasserman were on the North. This helped spread audiences evenly and highlighted the divide of subcultures. DJ rave sets continued the party late into the night.
Don't worry: The two stages, facing opposite directions, are about a third of a mile apart, so there'll be little chance the sound from one will interfere with the other.

An excerpt from the Baltimore Sun 8/10/1994
A rainstorm passed over the festival grounds, on top of the cooling sprinklers, leading to the notorious moniker of "Mudstock." Described by the New York Times as "a sea of mud and trash and amid evidence of anarchy," festival-goers took this opportunity to roll around, dance, and sling the wet dirt onto the stage – it did not help that Primus had their song called "My Name is Mud" on the setlist.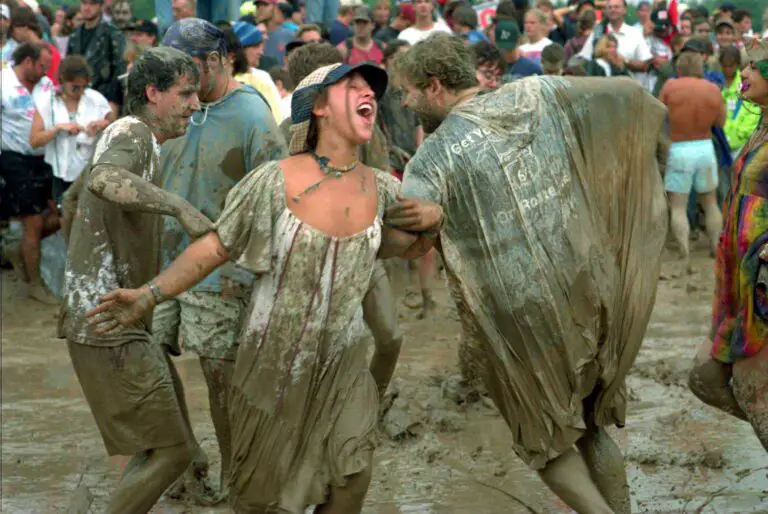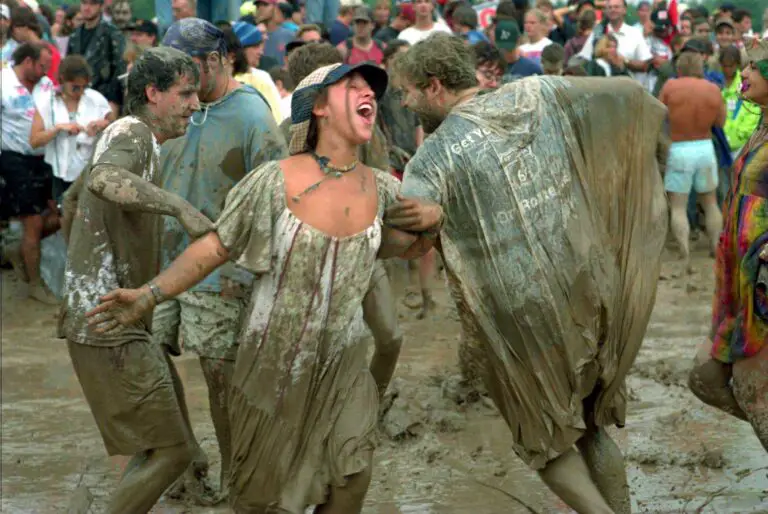 There were mile-long conga lines with half-naked people running around. You could feel them coming – they wouldn't stop either. If you were in the way, you were getting trampled by a train of muddy kids chanting "Primus Sucks."

Dan Lane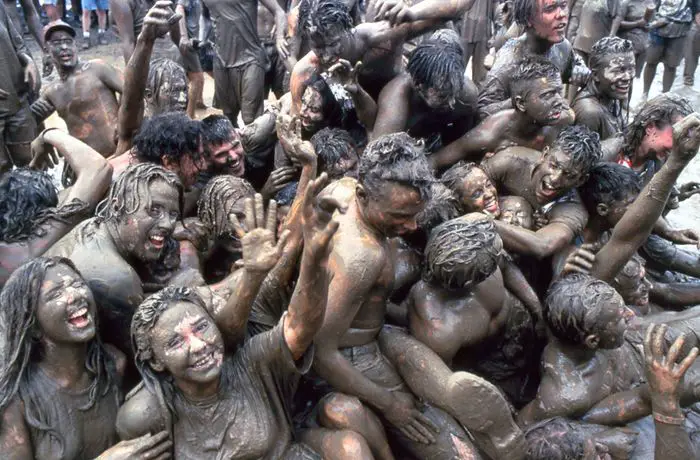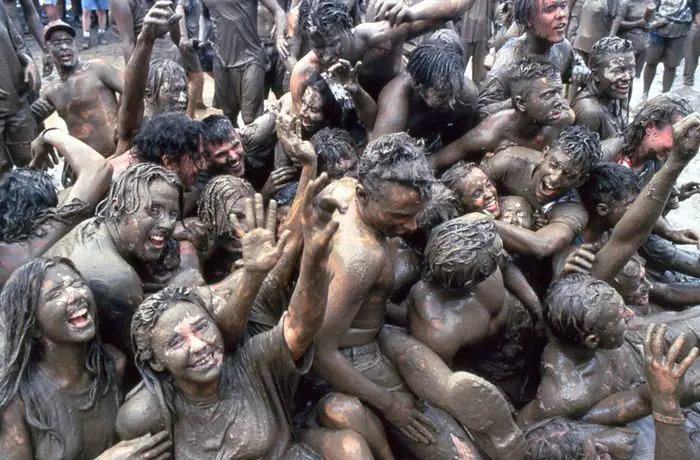 Was the hype just too much? Anything with the "Woodstock" name attached is bound to have some high expectations. At the time, some attendees complained the event was too saturated in over-commercialized gimmicks. Looking back 27 years later, It is difficult to compare Woodstock 94 to the pedestal Woodstock '69 is on. After all, even '69 was a commercialized event too, inviting the biggest names of the time to help put a spotlight on the era's changing times. Even Led Zeppelin historically turned down Woodstock '69 to make more money playing in Asbury Park on the same weekend.
All expectations aside, Woodstock 94 was just as good as fests like Lollapalooza were at the time. It's the music and the people that make it a memorable experience, not the gimmicks.

Dan Lane
The mid-90s were a very different time compared to the late 60s as well, not everyone was in the same ex-Vietnam hippie-free-spirit in the 90s. There were people holding on to that Summer of Love spirit, but others were clad in platform boots, grungy flannels and buzzcuts.
Subcultures were everywhere. You'd be walking around thinking "wow that guy has a lot of facial piercings" and the same guy will be looking at you like "wow that guy has way too much tie dye on." Like, immediately after Joe Cocker's set you had people barricading the stage for Blind Melon. It was wild.

Dan Lane
A commemorative double live CD set was released on November 8, 1994, nearly three months after the festival weekend. Titled "Woodstock 94," the two-disc set documents the best song of each of the 27 performing artists. Check out our Woodstock 94 Spotify playlist based on the album, as well as a playlist with some live footage on Youtube.
After 27 years, it seems 1994's rendition of Woodstock was, generally, pretty nice. Positive memories, crazy rumors and great music came out of it. The fest served as a cohabitation of multiple generations of music, so maybe, more peace and love came out of it than expected. Plus, Woodstock's reputation was about to get much worse in the years to come. Enjoy '94 while it lasted!
Other notable moments:
* A "protest concert" was rumored to go on at Yasgur's Farm frontlined by '69 alum, though many of the claimed attendees were playing at Winston Farm the same weekend. It is unclear if this rumor is true due to lack of media coverage.
*RHCP wore their iconic light bulb costumes for the first half of their Day 3 set, then changed into Jimi Hendrix costumes to pay homage to Woodstock '69.
* Green Day engaged in a mud slinging fight with the audience.
* Green Day bassist Mike Dirnt was accidentally punched in the face by a security guard, knocking out some of his teeth.
* Rumors circulated that The Rolling Stones were to make a surprise appearance because they were scheduled to play a concert in New York that weekend.
* Johnny Cash was invited to perform on the last day, but after learning that he would not be performing on the main stage, declined to appear.
* Most of the '90s-era bands (and their instruments) were completely caked in mud by the end of their performances, audiences were more respectful towards '60s-era musicians.