Pink Talking Fish have announced a 2021 tour that will make multiple stops throughout New England. The tour begins in August and will run through December.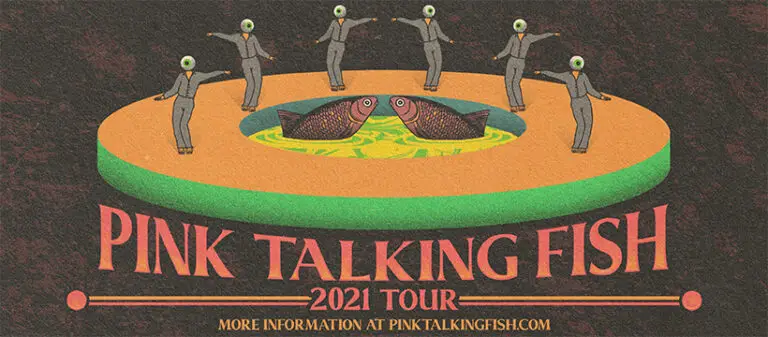 Pink Talking Fish, a fusion tribute band that plays Pink Floyd, The Talking Heads, and Phish, is comprised of Eric Gould on bass, Richard James on keyboards, Zack Burwick on drums and Cal Kehoe on guitar.   
Although the band has been performing since COVID-19 playing a handful of show including outdoor pod style events, two trips to Colorado, a Beach Road Weekend Pre-Party in Martha's Vineyard and sold out performances in Connecticut and New Hampshire this will be their first real tour. 
The tour will kick off in August with 2 night Grand Opening of the new indoor venue at Soundcheck Studios in Pembroke, MA. This venue kept live music going through the pandemic with socially distant outdoor performances and, during that time, they developed a premiere indoor concert experience. Two of New England's rising acts are supporting Pink Talking Phish for this event: The New Motif and Marble Eyes. Marble Eyes features Pink Talking Fish bassist, Eric Gould.
The band will be making two stops in New York while on tour. The first stop will be on 10/16 at the Brooklyn Bowl in Brooklyn NY and the second stop on 10/22 at Cohoes Music Hall at Cohoes NY. 
For more information on Pink Talking Phish and their upcoming tour visit their website.
Full List of Pink Talking Fish 2021 Tour Dates:
8/06: Pembroke MA at Soundcheck Studios – w/s/g The New Motif
8/07: Pembroke MA at Soundcheck Studios – w/s/g Marble Eyes
8/14: Atlantic City NJ at The Tropicana – Phish AfterParty
8/22: Norwalk CT at Wall Street Theater – Outdoor Pod Event
9/25: Mason NH at The Range – Outdoor Event
10/01: Fairfield CT at The Warehouse FTC
10/07: Ferndale MI at Otus Supply
10/08: Ferndale MI at Otus Supply
10/09: Chicago IL at Park West
10/10: Belle Vernon PA at Vinoski Winery
10/16: Brooklyn NY at Brooklyn Bowl
10/17: Norfolk CT at Infinity Hall
10/22: Cohoes NY at Cohoes Music Hall
10/30: Las Vegas NV at Virgin Hotels Las Vegas – Phish AfterParty
10/31: Las Vegas NV at Virgin Hotels Las Vegas – Phish AfterParty featuring Joel Cummins from Umphrey's McGee on Keyboards
11/11: Roanoke VA at 5 Points Music Sanctuary
11/12: Norfolk VA at The NorVa
11/13: Richmond VA at The National
11/26: Boston MA at Paradise Rock Club
12/10: Austin TX at 3TEN ACL Live
12/11: Austin TX at 3TEN ACL Live