Port Chester's historic Capitol Theatre has announced its fall season lineup of shows, with the venue slated to reopen on September 10 with a performance by Boston alt-rock band Pixies. Other big upcoming names include Sheryl Crow, Phil Lesh & Friends, Billy Idol, The Beach Boys and Foreigner.

This is a big year for the Capitol Theatre, which is celebrating 95 years on August 18. To commemorate this milestone, the venue will launch a new line of merchandise, which can be purchased here. The 2,000-capacity theater, known as "the original rock palace," is located in Westchester County, only 30 miles north of NYC. Access is easy from the Metro-North and I-95.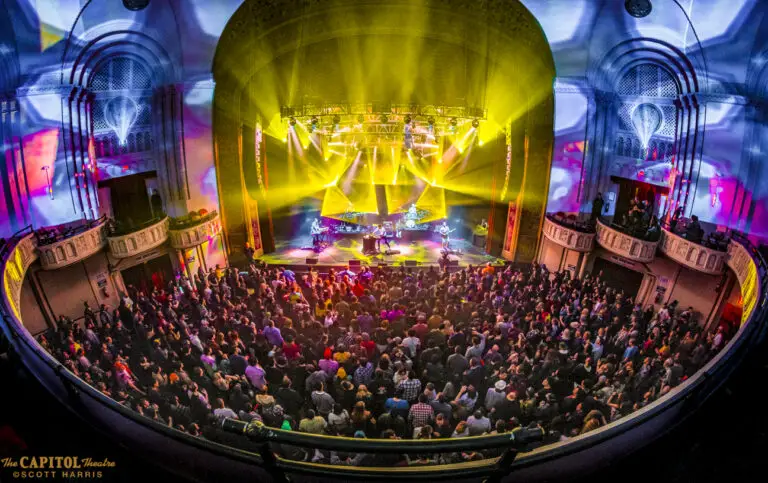 The Cap boasts a rich history since its opening in 1926, showcasing notable musicians (and comedians) over the years, including the Grateful Dead who performed thirteen shows there in a one year span (1970-71). Other legendary performers that have taken the Cap stage include Pink Floyd, Bob Dylan, Janis Joplin, Ringo Starr, David Bowie and the Rolling Stones. The venue itself is aesthetically intricate, designed by famous architect Thomas Lamb. In 1984, The Capitol Theatre was added to the National Register of Historic Places.
The full lineup is listed below and includes some rescheduled dates. Tickets for all shows can be purchased on Ticketmaster.com.
All Capitol Theatre shows have 6:30 pm doors, 8:00 pm show unless noted otherwise:
Sep 10: Pixies 
Sep 11: The Struts: Strange Days Are Over Tour (6:00pm doors, 7:30pm show)
Sep 14 & 15: Sheryl Crow 
Sep 22: Billy Idol: 101.7 The Peak Presents
Sep 25: Jessie's Girl: 'Turn Back the Cap 1980s'
Oct 2: Melvin Seals and JGB 
Oct 8 & 9: Umphrey's McGee: Presents UMBowl 2021 
Oct 11, 12, 13, 18, 19, 20, 29, 30, 31: Phil Lesh & Friends 
Oct 15 & 16: Pigeons Playing Ping Pong 
Oct 17: Blue October
Oct 21: Spoon 
Oct 22: Lukas Nelson & Promise of the Real: 101.7 The Peak's ½ Birthday Show
Oct 25 + 26: Elvis Costello 
Oct 27: Foreigner: The Greatest Hits Tour
Oct 28: J.I.: The Young and Restless Tour 
Nov 7: Cheap Trick 
Nov 11: Little Feat 
Nov 17: Jason Bonham: Led Zeppelin Evening 
Nov 22: Joe Bonamassa: The Guitar Event of the Year 
Nov 26 & 27: Twiddle: Friendsgiving 
Dec 4: Hot Tuna: Acoustic and Electric with Special Guest David Grisman Trio 
Dec 10 + 11: moe. 
Apr 9, 2022: The Beach Boys 
Apr 10, 2022: Bela Fleck & the Flecktones 
Apr 29, 2022: Nate Bargatze: The Raincheck Tour (TWO shows: 6:00pm doors, 7:00pm show & 9:00pm doors, 9:30pm show)