After nearly all Music Festivals worldwide postponed their events in 2020, the return of those festivals has begun, bringing with it joyous fans, packed houses and the live music that has been missing for far too long. Peach Fest 2021 marked the first large scale music festival to return, held over July 1-4 at Montage Mountain in Scranton, PA.
Thursday, July 1
Kicking off Thursday afternoon with sets from Eggy, Mikaela Davis, Twiddle, Pigeons Playing Ping Pong and Dark Star Orchestra, the muggy air and intermittent rain was an afterthought for those in attendance. Spread out between the Peach and Grove stages, the acts all had full crowds, with few attendees missing a full range of live music. A wide selection of jam, funk and, in the case of Davis, harp music, kept the crowds satiated, and it was only Day 1.
Friday, July 2
The Mushroom Stage, where Goose performed a breakout set in 2019, opened up Friday at Peach Fest 2021 with Thumpasaurus, Ghost Light and Aqueous. Nicole Atkins, followed by Live at the Fillmore East, a tribute to the 50th anniversary of the Allman Brothers Band seminal live album (stay tuned for our look back at the album and performance on July 6!).
What felt like a celebration of a steady return to normalcy found both musicians and patrons delighted to be back. Friday night the crowd was rocked with two sets from Joe Russo's Almost Dead (JRAD) and Umphrey's McGee following with a two hour late-night set.
Russo gave special thanks to his drum tech/nephew Evan Roque for taking over his role behind the kit two years earlier while Joe was tending to his newborn child. Roque then sat in with Joe for an encore of "Samson & Delilah." Umphrey's McGee's late-night set included a mind-blowing sit-in from lead singer from Doom Flamingo, Kanika Moore, who joined the group for a cover of Led Zeppelin's "Dazed and Confused." The Chicago septet closed the set with "Glory" -> "Hajimemashite" -> "Glory" followed by "40's Theme."
Watch Moore's sit-in below and stay tuned for a full report on Saturday's music!
Saturday, July 3
A wet Friday night gave way to a much drier, enthusiastic, and jam packed Saturday at Peach Fest 2021. Spirits were high for Oysterhead and everyone raging at Turkuaz late-night. The rain picked up around 5pm when Oteil & Friends started a set of Allman Brothers tunes, welcoming the Allman Betts Band for a couple of of songs to help clear up the rain. Dopapod played an incredible, packed set at the Mushroom Stage, a welcoming sight for a Northeast Festival favorite.
On the Grove stage, Andy Frasco welcomed a cast of friend including Taz, Mike Gantzer, and members of Doom Flamingo. Frasco recreated his Peach 2019 set by crowd surfing over to the pool from the stage. Later at the Grove, Trey Anastasio sat in with fellow Ghosts of the Forest member Celisse.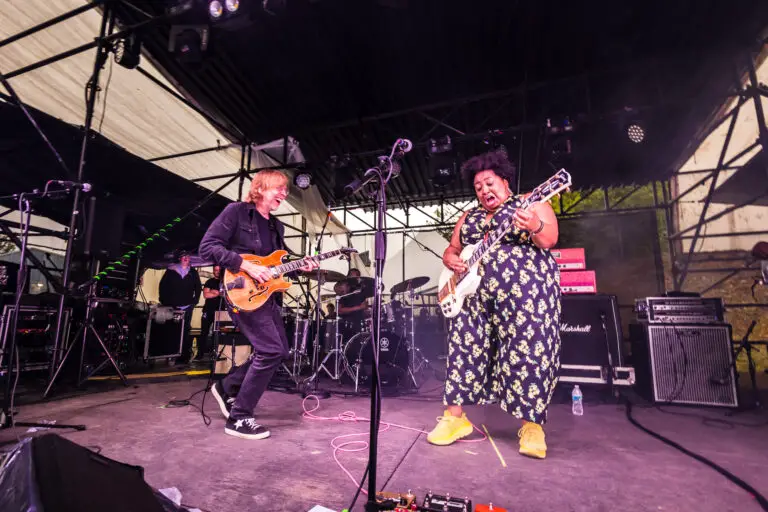 Oysterhead took the stage for a highly anticipated performance, their first together since Fberuary 2020 in Colorado, and also Les Claypool's last time on stage. Opening with "Mr.Oysterhead," they worked through much of their catalog with Anastasio taking command on many songs, including a surprise cover of Phish's "First Tube." To close the night, Turkuaz played an irresistible dance set of Talking Heads covers, featuring a surprise King Crimson cover, "Thela Hun Gingeet," with KC guitarist Adrian Belew joining them for the set.
One more day to go Peach Fest! Have a Happy 4th of July!
Sunday, July 4
Never miss a Sunday show, so they say, and what a SUNday it was! The weather finally gave way to a fun in the sun packed last day of Peach Festival 2021. Patrons were excited to utilize the water park and enjoy an independence day full of leisure.
Sunday started off with the Peach guitar pull, a tradition started in 2019. Later in the day Warren Haynes played a mostly acoustic, solo set. This proved to be slow but also genuine and touching, playing a soul warming "Hallelujah" (Leonard Cohen), an always loved "Soulshine," and a well played "It Hurts Me Too" amongst an array of wonderfully executed tunes.
The main event came soon after Warren, with two sets of The String Cheese Incident. Playing a monstrous first set, opening with "Texas" and paying tribute to Independence Day by closing with the Grateful Dead's "U.S. Blues," with Warren Haynes sitting in.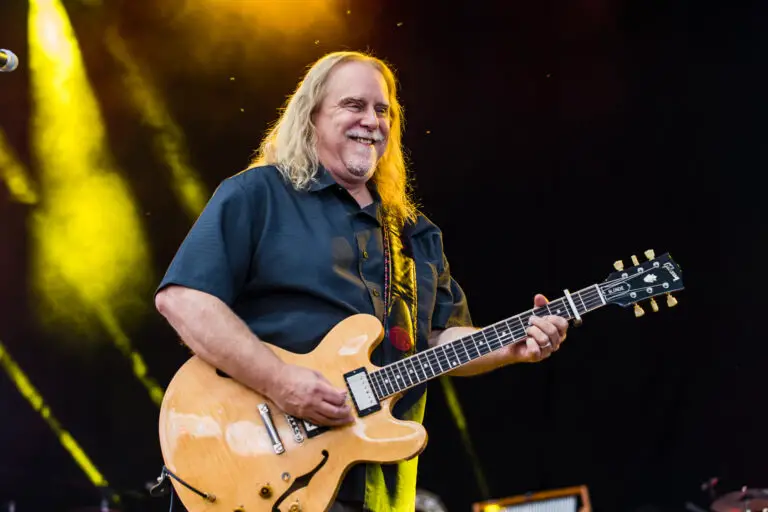 The second set opened up with another sit-in, this time by "The Blind Boys of Alabama" followed by a reggae, bass heavy sequence of "Best Feeling" > "Exodus" > "Best Feeling." The second set was incredibly energized and even featured a Drums section. SCI paid tribute to the Allman Brothers Band with a performance of "Jessica" as their encore.
The music was over but many of the patrons were not looking to end their nights just yet. Circling to and past the "Thunder Dome," a DIY stage in the campgrounds consisting of a tent a and few canopies. At night it hosted as many people that could be accommodated, with musicians playing late into the night.
Another Peach fest in the books. See you next year!