You will know them by their wrists. 
These are old school music lovers. The obsessive Boomers who spent way too much of their youth flipping through tons of heavy vinyl, the literal and figurative. In used record and department stores.  At yard sales, stoop sales and flea markets. In church basements and Goodwill and Salvation Army stores. Anywhere an obscure gem could be unearthed for less than the price of a cup of Joe or can of Tab (the original diet soda introduced in 1963, just ask your grandmother).  Along the way, they developed wrists of mighty girth from all the light-speed musical flipping, much the same way today's generation has thumbs overdeveloped from swiping through the limitless universe of sounds on Spotify, Pandora and the like and hook-ups on Tinder.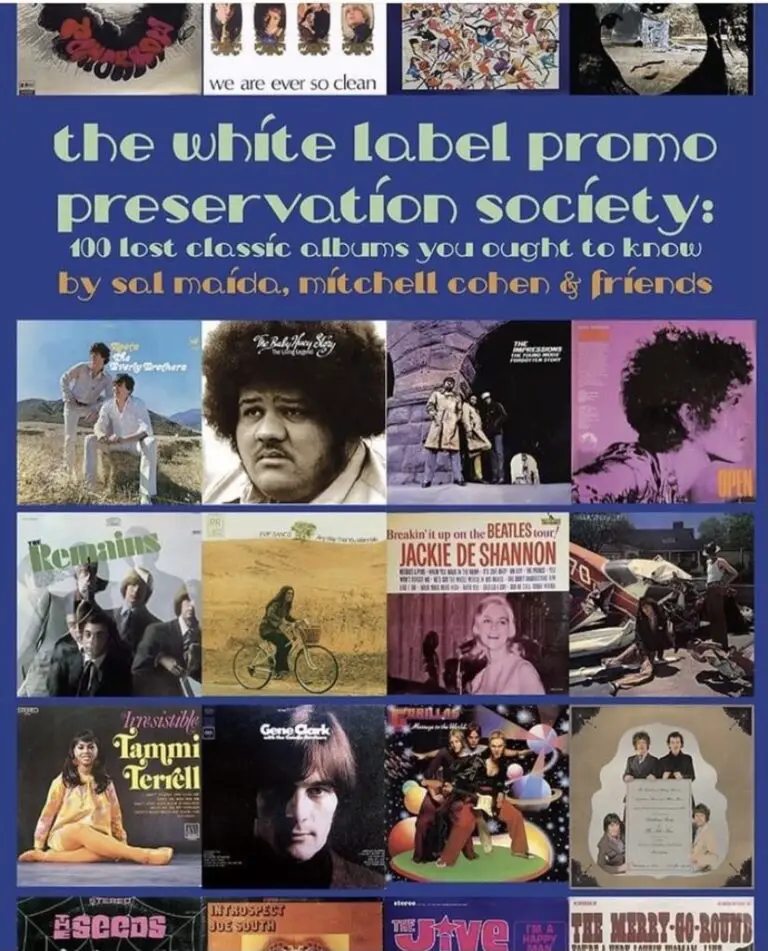 Now a duo of these music obsessives and a host of their friends have put together a book about their most memorable finds. With a reading and some deep listening, it will give you a doctorate degree in the deep cut music that matters most. These are the hidden gems of doo-wop, sunshine pop, psychedelia, progressive rock, soul, early metal and proto-punk, ones that are left out of rock's big history books.
The White Label Promo Preservation Society: 100 Flop Albums You Ought to Know is a delicious new deep dive written and compiled by Sal Maida, NYC-born bassist for Roxy Music, Sparks and '70s power pop combo Milk 'n' Cookies, and veteran rock journo and A&R exec Mitchell Cohen. The duo recruited for their "society" a gang of esteemed music obsessives – musicians, label executives and journalists –who chose favorite albums from the '60s and '70s to rave about. The only criterion was that the albums never made the top 100 on Billboard's LP Top 200. 
As Sal and Mitchell write in the book's introduction: "These are the albums you might not read about, except here. No one needs to tell you why Pet Sounds, Revolver or Blonde On Blonde are essential parts of any decent record collection or guide you towards classics – or even somewhat lesser efforts – by the Rolling Stones, Chuck Berry or the Jimi Hendrix Experience. Or which Pink Floyd album is indispensable (hint: the debut; you can stop right there). Although we have strong opinions about pantheon artists like Led Zeppelin and Marvin Gaye and are happy to share those views with anyone within earshot, that isn't what The White Label Promo Preservation Society: 100 Flop Albums You Ought to Know is about. We aren't here to challenge or endorse rock orthodoxy. Neither is the mission to, once again, assert the brilliance of Skip Spence's Oar, of such artists as Nick Drake, Big Star and the Velvet Underground, whose influence, despite the lack of any commercial success in their time, has been thoroughly – one might even say exhaustively – documented elsewhere."
To help tell this story, Sal and Mitchell called upon an impressive team of two dozen guest essayists. They include Patti Smith Group guitarist and writer Lenny Kaye, producer Russ Titelman, scenester/singer Bebe Buell, journalists Jim Farber, Peter Keepnews, Ira Robbins and Mike Stax, Sonic Youth's Steve Shelley, NYC's chameleon chanteuse Tammy Faye Starlite and many more.
What you will find here?  Stories like how with Evie Sands made one of the most confident and accomplished albums by a female singer-songwriter, Any Way That You Want Me, two years before Carole King waxed her 1971 platinum-selling masterpiece, Tapestry. You'll also hear how county crossover star Bobbie Gentry followed up her monster single "Ode to Billie Joe" and the LP of that title, with a haunting, mysterious concept album that defies description and still surprises with listens today.   In all likelihood you will be introduced to the quirky New York folk-rock duo of Bunky & Jake, to the art-rock of Ars Nova, and to the entrancing psych-pop of Blossom Toes. Georgie Fame, Joe South, the Hollies, Jackie DeShannon, The Impressions, the Everly Brothers and Nico all pop up here, often in ways you might not expect. This is a book for everyone who has gravitated to used record stores, garage sales and flea markets and is willing to take a risk in on something simply based on the cover pic, the liner notes or the vibe/impulse to take it home.
As with his bass playing, Maida has a wonderful flow and emotional drive with his words.  In The White Label Promo Preservation Society: 100 Flop Albums You Ought to Know, he demonstrates his authority and love for the deep cuts of British pop and American psyche like The Hollies' Here! Here!, the Brian Auger and Julie Driscoll's Open, The Bonniwell Music Machine, Curt Boettcher and The Millenium's Begin, the debut by the Jeff Lynne-led Idle Race and Tomorrow's self-titled debut. Cohen's contributions span the stylistic gamut from the vocalese of DJ Murray the K's Gassers for Submarine Race Watchers comp, the folk treasures in Tim Hardin's debut and the off-beat pop of Lovin' Spoonful guitarist Zal Yanovsky's obscure debut, Alive and Well in Argentina. Cohen also tackles the progressive soul of The Impressions' The Young Mods' Forgotten Story, the sharp twang of Merle Haggard's Pride In What I Am and Laura Nyro's Eli and the Thirteenth Confession, with some smart comparisons to the work of another R&B inspired tri-state NY collective, The Rascals.
The work of the many "society" contributors also sparkles, with musical knowledge and a resonance of the emotion these ofttimes unknown offerings still trigger in them.
Sonic Youth's Steve Shelley provides a heartfelt tribute to the lasting impact of the hard-to-find 1966 bossa nova classic Os Afro Sambas by Baden Powell and Vinicius De Moraes, while drummer/reissue maven Pat Thomas reintroduces Seize the Time, an obscure 1969 disc by Black Panther Elaine Brown which chronicled the movement in song. One of the most fun is bassist Eva Gardner's (Cher, Pink, Moby) recollections of her father Kim's work at bassist for legendary British mod poppers The Creation and The Birds.
Proving my own worth as a rock anorak, I was familiar with a good deal of the artists covered, while maybe not the particular discs upon which the writers chose to expound.  There were a few fab exceptions that I had no idea of, ones that sent me scrolling through YouTube and Wikipedia to discover .
Jim Farber, an excellent music writer who traffics in elevating obscurities these days for the New York Times and The Guardian, explores the spirituality laced folk of Rachel Faro's 1974 album, Refugees. It's a should've been classic of the Blue-era Joni Mitchell idiom, one produced by John Simon (The Band, Van Morrison) for an artist who disappeared by the end of the decade.  Journalist Jim Allen raves on the one album recorded by Paul Siebel, a popular Greenwich Village folkie, 1971's Jack-Knife Gypsy. Paul was a great songwriter and performer who called it quits after this one offering. 
An album cover I encountered repeatedly in '70s but never listen to, Baby Huey's Living Legend, gets the proper praise from Cohen. Produced and with three songs by Curtis Mayfield, it featured the powerhouse 400-pound singer fronting a full throttle band of session aces (Leon Russell), a band compared to James Brown's JBs meets the Vanilla Fudge. After a blitz of press, Huey's story ends sadly with an overdose before his album is released. His tune "Hard Times" lives on as a sample in the works of rappers like Ice Cube and A Tribe Called Quest. Well worth many listens.
There were just a couple of puzzling entries in the book. Mega-producer Russ Titelman (Randy Newman, James Taylor) wisely chose Judee Sill's self-titled 1971 debut, one featuring the classic "Jesus Was A Crossmaker."  But he only goes on for a few short paragraphs about it and the singer's star-crossed life and career. Songwriting ace Marshall Crenshaw takes on an unexpected choice, Soft Machine's decidedly avant-garde, self-titled 1969 debut. After complaining about the garbage sounding drums, bass, and a Lowrey organ played with fuzz through a Marshall stack and ear-splitting jamming, Crenshaw somehow concludes about how much he loves it. I might have preferred he discuss something that had a more logical impact on his work, but perhaps, that really isn't the spirit of the book and his contribution.
If that's not enough for you, the book concludes with Sal and Mitch's recommendations of 150 more great albums that failed to crack the charts.  Their suggestions include artists like Irma Thomas, Alan Price, the Sir Douglas Quintet, Kaleidoscope, Spooky Tooth, Taste, Jack Bruce, Grapefruit, The Move and more. 
I had the pleasure of tackling The White Label Promo Preservation Society: 100 Flop Albums You Ought to Know  on long a cross-country drive. Like me, it is one you will want to spend a lot of time with.  With open ears, open mind and a long drill down the YouTube wormhole, it will help you discover a boat load of astoundingly cool retro sounds, ones whose impact can last a lifetime, just like they have for these intrepid vinyl scavengers.
For more great reading, dig into Sal Maida's memoir, Four String, Phony Proof and 300 45s.