Personal instruments, rock memorabilia, and music-inspired items from Woodstock Festival, Van Halen, Eric Clapton, Lynyrd Skynyrd, The Beatles, and many more will hit the block in a mostly unreserved online auction. The "A Century of Music" auction hosted by Guernsey's will be held over June 23-24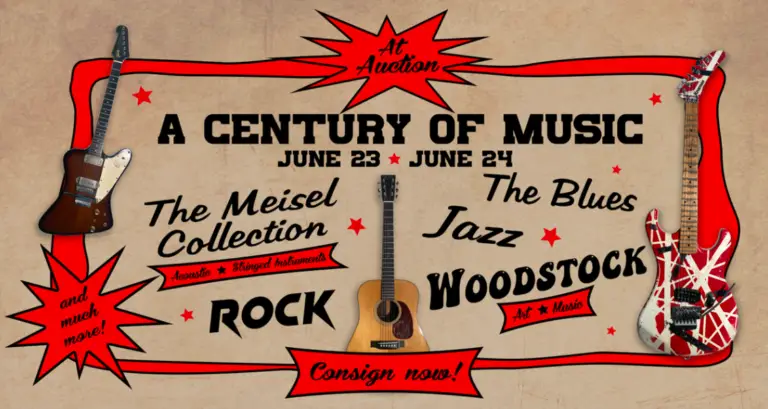 Fans will have the chance to bid on guitars owned by Eddie Van Halen, Eric Clapton, Paul McCartney, Bo Diddley, and Allen Collins, as well as a Daisy Rock Guitar autographed at the 2006 Grammys by Paul McCartney, Mariah Carey, Mary J. Blige, Nicole Kidman and Keith Urban. 
Other instruments that will hit the block include Bill Clinton's saxophone that he played at his Inaugural Ball, which is signed, Paul Butterfield and James Cotton's harmonicas, and Chick Corea and Elton John's pianos. 
There is also a rare 18th century harp and the remarkable Meisel Collection, with more than 500 vintage violins and bows, banjos, ukuleles, mandolins and autoharps up for grabs. Other personal items include Billie Holiday's gown, Buddy Holly's performance jacket, original art work by John Lennon, the only known test pressing of Miles Davis playing "Meaning of the Blues" at Carnegie Hall, original Robert Freeman Beatles' photos, memorabilia from the Fontaine Collection, the front doors from the Chelsea Hotel, and more available for the first time at this very special, music-inspired auction.
The most famed concert in history – Woodstock – also plays a big part in this auction. Guernsey's will offer a variety of one of a kind memorabilia and art from the 1969 festival, including a hand painted directional map, sections of the stage, and photos from the official photographer. Many of the hand-painted panels by famed artists including Robert Indiana created during the 25th anniversary Woodstock Concert to restrain the 500,000 attendees will also be up for bid.
There are a pair of control room monitor speakers from Jimi Hendrix's Electric Lady Studios on West 8th Street in New York. They were given to the original designer, who then loaned them to the Experienced Music Project, created by Microsoft co-founder Paul Allen, which is now known as the Museum of Pop Culture (or MoPOP). These will be sold side-by-side with Paul Butterfield's Blues Band speakers that were on the stage at Woodstock, and the stage speakers used by Lynyrd Skynyrd prior to the band's tragic 1970s plane crash.
Jason Becker, a virtuoso musician, songwriter and composer who is the world's longest living survivor of amyotrophic literal sclerosis (ALS), is selling his guitars to raise funds to battle this debilitating disease, including his much-beloved "Numbers" guitar that has been played by several noted musicians, including KISS' Paul Stanley, and Jason and Eddie Van Halen. 
Beginning June 15, items for the A Century of Music auction can be viewed at Guernseys.com, liveauctioneers.com, and invaluable.com.