The last time Phish would ever play the venue known as the Finger Lakes Performing Arts Center took place 27 years ago today. This performance is also the birthplace of one of the more revered pieces of music in the band's history. A super extended "Tweezer," affectionately nicknamed as "Fleezer" due to the locale, highlights a three-song second set and still gets rave reviews to this day. The venue now goes by the name of CMAC Performing Arts Center. But the music Phish played their last time at Finger Lakes will, thankfully, last forever.
A raucous Finger Lakes crowd greets the band and only gets louder when the show starts with "Sample In A Jar" as the opener. Trey Anastasio's guitar solo in its customary spot ramps up the early show energy even further. Phish sticks with material from Hoist, at this point still their most recent studio album, and follows up "Sample" with "Scent Of A Mule." Anastasio and Page McConnell engage each other on guitar and piano, respectively, almost right away, leading to a quick but aggressive "Mule Duel" section.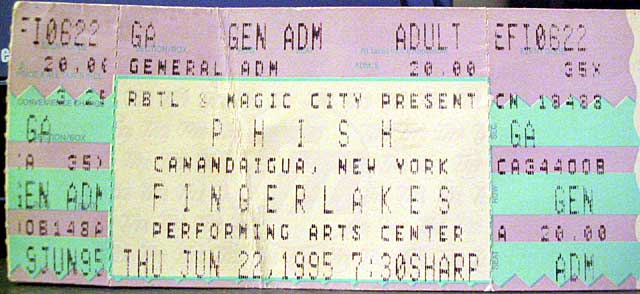 Phish then breaks out the new "Ha Ha Ha," a short number whose only lyrics also serve as the title which had been debuted barely a month ago. The "Divided Sky" that immediately follows is anything but a laughing matter, however. A rapt Canandaigua crowd soaks in every note of this classic song that's played to perfection and serves as the first set highlight.
Anastasio and McConnell lock up again in another instrumental duet of sorts in a "Guelah Papyrus" that the entire band seems to toy around with at one point or another before "It's Ice" gets deployed. Bassist Mike Gordon shines on this one, delivering a myriad of various rhythms and fills throughout. It also features a particularly loose and surprisingly extra spacey section in what's a sign of things to come.
After slowing things down with the ballad "Strange Design," Phish ends the opening set at Finger Lakes Performing Arts Center on a high note, beginning with an absolutely frenetic, high intensity "Maze." And instead of ending the set with "Cavern," an a capella rendition of "Sweet Adeline" is also thrown in for good measure.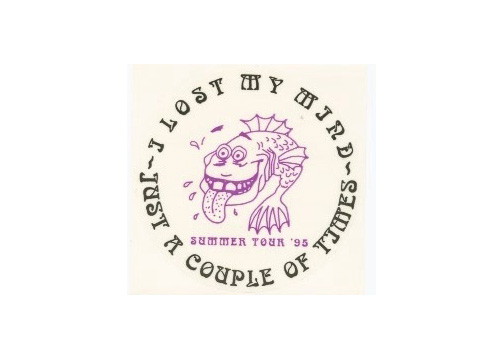 All in all, it's a fine first set, but kept pretty "close to the vest" in terms of free-form improvisation. Aside from snippets of "Mule" and "It's Ice," no song veered too far away from its regular structure. That would all change in a big way in the second set, courtesy of a jam for the ages.
The set starts out innocently enough with the new "Theme From The Bottom," only the eighth one ever played and the first time it opened a second set. It's a polished version that sees the full band in synch, creating a powerful sequence of music accentuated by another screaming Anastasio guitar solo. Instead of bringing it to a full stop at its conclusion, a feedback-heavy jam begins to develop.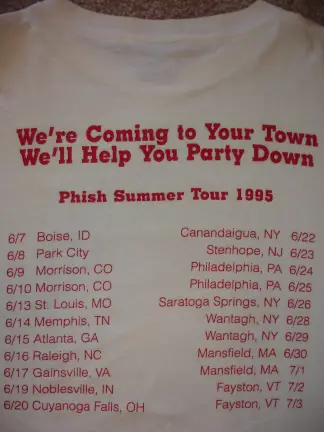 This goes on for several minutes, with even more loops and audio madness being thrown into the proverbial soup. Drummer Jon Fishman gets prominently involved, varying tempos and styles throughout. All of this results in an early second set Grateful Dead-like "Space" section that sounds like it's on speed. A familiar guitar riff slowly but steadily emerges as the jam pick up steam and, before long, the opening lyrics to "Tweezer" are ringing loud and true.
For the next 40-plus minutes, Phish treats the Finger Lakes Performing Arts Crowd to a version of this classic song that some still regard as one of the best of all time, hence the "Fleezer" label. Before the jam even ensues, Gordon and Fishman rev up the crowd by hamming up some of the lyrics. The band removes the shackles of any standard-sounding "Tweezer" early on and is soon knee deep in Type II improvisation. The jam goes on to visit a variety of styles and tempos, again thanks to the interplay of Fishman and Gordon. It's got the band singing "My Generation" lyrics over an infectious, rockabilly portion of the jam (foreshadowing their upcoming Halloween cover of The Who's Quadrophenia), pure ambience that devolves into more harrowing feedback-fueled chaos, Fishman on the vacuum, and "Rift" teases from Gordon. It's a monumental piece of music that's certainly worthy of a catchy nickname and a place in Phish lore.
It's a "Tweezer" so epic that the only natural follow-up would be a "Reprise" of itself. That's exactly what Phish does this evening, creating a set for the ages for the Finger Lakes crowd that's short on song titles but long on jaw dropping rock and improv.
For an encore, the band went acoustic, with each member playing an acoustic guitar for "Acoustic Army," an event strictly related to 1995 Phish. An electric, both literal and figurative, cover of The Beatles' "While My Guitar Gently Weeps" then closes out the festivities for the evening, with another chapter of the band's growing legacy now written.
Check out the rest of the show at PhishTracks.
Phish Finger Lakes Performing Arts Center – Canandaigua, NY 6/22/95
Set 1: Sample In A Jar, Scent Of A Mule, Ha Ha Ha > Divided Sky, Guelah Papyrus, It's Ice, Strange Design, Maze, Cavern, Sweet Adeline
Set 2: Theme From The Bottom -> Jam -> Tweezer->Tweezer Reprise
E: Acoustic Army, While My Guitar Gently Weeps