Bryant Park Picnic Performances has more than 20 upcoming events this summer. All performances are free and beginning June 25, first-come, first-served seating, and advance ticket registration will no longer be required.
Entry is now open to the public on a first-come, first-serve basis for all audience members who present either digital or physical proof of full COVID-19 vaccination or an immediately recent negative COVID-19 test, along with government issued photo ID.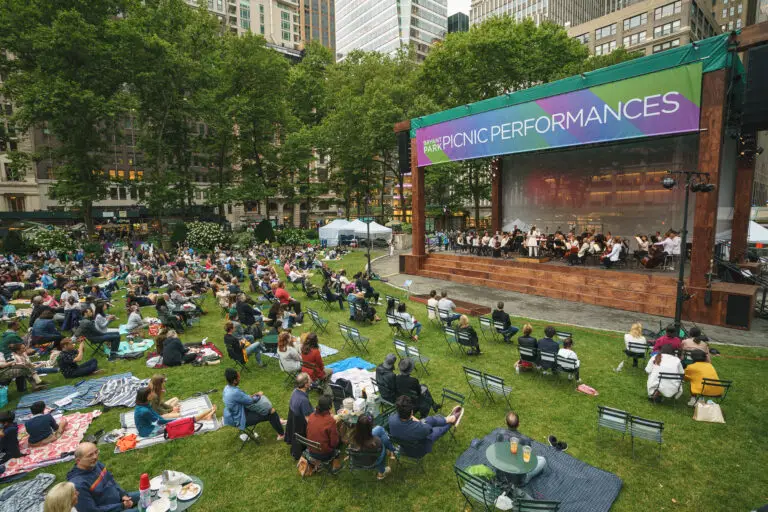 Bryant Park Picnic Performances Schedule (All Shows Start at 7 pm, Doors at 5:30)
New York City Opera: Pride in the Park
New York City Opera's annual LGBTQ Pride concert will feature a diverse program of selections from opera and musical theater sung by a quartet of stars from City Opera's Pride Series. We will close this performance with a special new arrangement of the finale from Stonewall, Iain Bell and Mark Campbell's opera which was commissioned by NYCO and given its world premiere in 2019.
New York Chinese Cultural Center
Presented by professional performers and teaching artists of New York Chinese Cultural Center, this program is designed to engage a wide range of audiences for a taste of authentic Chinese culture and art. Signature performances include Dance China NY, Chinese Yo-Yo from artist Graham Lo, Kung Fu master David Fung, a demonstration of an array of Chinese instruments including the Erhu, Guzheng, and Dizi, plus colorful costumed classical and folk dance from different regions in China.
Joe's Pub Presents an Evening with Mykal Kilgore
Mykal Kilgore's artistry cuts through traditional barriers and represents the hope of gospel, the soul of R&B, and the vulnerability of country. His debut release, A Man Born Black, which earned him an NAACP Image Awards nomination for Outstanding New Artist, is an exploration of faith, loss, the stumble and spills on the way to maturity, and the beauty of hope and love. His multi-octave ability is powerful and elegant – and stretches across music genres, while his lyrics color the outlines of each of our personal experiences.
New York City Opera: Carmen
The innkeeper Lillas Pastia narrates the tempestuous story of the irresistible seductress Carmen and her hapless lover Don José in this fully staged, hour-long adaptation of Bizet's opera, providing a perfect introduction to opera for newcomers of any age. This will also be City Opera's first fully staged, hour-long adaptation performed this year. The performance features music direction and piano from Kathryn Olander, stage and choreography from Sarah Doudna, and a cast including Lisa Chavez (Carmen), Jason Karn (Don José), Joshua Jeremiah (Escamillo), Kristin Sampson (Micaëla), Stacy Dove (Frasquita), Kristee Haney (Mercédès), and Bill Van Horn (Lillas Pastia).
Carnegie Hall Citywide: Toshi Reagon & BIGLovely
Described by Vibe as "one helluva rock'n'roller-coaster ride" and by PopMatters as "a treasure waiting to be found," Toshi Reagon is a one-woman celebration of all that's dynamic, progressive and uplifting in American music. Since first taking to the stage at age seventeen, this versatile singer-songwriter-guitarist has moved audiences of all kinds with her big-hearted, hold-nothing-back approach to rock, blues, R&B, country, folk, spirituals and funk. The New York Times described her blend as "… a love of mixing things up … [her] vocal style ranges from a dirty blues moan to a gospel shout to an ethereal croon." Her live performances, in particular, aren't just accessible; they're irresistible.
Spanish Harlem Orchestra
Spanish Harlem Orchestra, the three-time Grammy-winning Salsa and Latin Jazz band, sets the gold standard for excellence in authentic, New York style, hard core salsa. Whether in a concert hall or at an outdoor jazz festival, there is no easing you in, they come at you full force, from start to finish. Their energy on stage and their rich sound and musical precision leave audiences mesmerized until the last note is played. With an unwavering respect for the music's storied history, the ensemble's thirteen world-class musicians and vocalists come together to create an unparalleled musical experience. Their latest release and 6th album, Anniversary, won the 2019 Grammy Award for Best Tropical Album.
Carnegie Hall Citywide: The Knights
The Knights are a collective of adventurous musicians dedicated to transforming the orchestral experience and eliminating barriers between audiences and music. Driven by an open-minded spirit of camaraderie and exploration, they inspire listeners with vibrant programs that encompass their roots in the classical tradition and passion for artistic discovery. The orchestra has toured and recorded with renowned soloists including Yo-Yo Ma, Dawn Upshaw, Béla Fleck, and Gil Shaham, and has performed at Carnegie Hall, Tanglewood, and the Vienna Musikverein.
Carnegie Hall Citywide: Adrienne Warren & Friends
Adrienne Warren made her West End debut in the World Premiere of Tina – The Tina Turner Musical in the title role of Tina Turner (Olivier, Evening Standard & WhatsOnStage Award Nominations). She was last seen on Broadway in Shuffle Along as Gertrude Saunders / Florence Mills, for which she received a Tony Award nomination for Best Performance by a Featured Actress in a Musical. She originated the role of Danielle in the Tony-nominated Bring It On: The Musical on Broadway. She was also seen at the Apollo Theater as Lorrell in Dreamgirls, followed by the national tour. She has toured and recorded with the multi-platinum selling Trans-Siberian Orchestra and is currently working on her solo debut album. Hosted by Broadway vet Mauricio Martinez.
Saturday, July 31: Greenwich House Music School – Riley Mulherkar and Ella Bric
Carnegie Hall Citywide: Terence Blanchard & the ECollective with Turtle Island Quartet
Since top-tier jazz and multiple Grammy-winning trumpeter and composer Terence Blanchard embarked on his solo recording career with his eponymous Columbia Records album in 1991, the New Orleans-born-and-based artist has traveled many paths musically, including delivering adventurous and provocative acoustic jazz outings of original material, composing over 50 soundtracks and even, in 2013, debuting Champion: An Opera in Jazz. He has also, in the spirit of his one-time membership in the jazz school of Art Blakey's Jazz Messengers, mentored several musicians in his bands who have gone on to have significant recording careers of their own including Lionel Loueke, Aaron Parks, Kendrick Scott and one of his current band members Fabian Almazan). As a leader and co-leader, Blanchard has recorded more than 30 albums that often defied genres, yet were still critically acclaimed. For his latest Blue Note Records album, Breathless, Blanchard powerfully and playfully journeys into another jazz realm with his new quintet, The ECollective – an exciting zone of grooved fusion teeming with funk, R&B and blues colors.
Aug 12: Harlem Stage – Craig Harris's Nocturnal Nubian Ball…: A Tribute to Sun Ra
Aug 13: Jazz at Lincoln Center – Dizzy's Club: Young Stars of Jazz
Aug 14: Jazz at Lincoln Center – Dizzy's Club: Camille Thurman and the Darrell Green Quintet
Aug 16: Limón Dance Company and Music from the Sole
Aug 20: Paul Taylor Dance Company and Elisa Monte Dance
Aug 21: New York City Opera – Now That's What I Call Opera!
Aug 27: Save the Date – Dance Performance TBA
Sept 3: New York City Opera – Rigoletto
Sept 10: Classical Theatre of Harlem
Sept 17: National Sawdust – Allison Loggins-Hull premieres Diametrically Composed
Sept 20: The Town Hall – Centennial Concert featuring Chris Thile and special guests
In line with city and state safety protocols, Bryant Park Picnic Performances will host approximately 2,000 vaccinated or negative-tested audience members live at each of our performances. Attendance requirements for all audience members include a government issued photo ID and on-site proof of full vaccination or a recent negative COVID-19 test. Food and beverage is available for purchase from vendors in the park before taking a seat on the lawn. All event attendees are invited to bring food and drink. There are two sections for seating: vaccinated and tested.
Vaccinated audience members will be offered open seating on the world-famous Bryant Park Lawn with ample space to distance from others at their own discretion. it is highly encouraged attendees wear masks during the check-in process. Masks may be removed at their own discretion once within the fully vaccinated areas of the lawn. Attendees can bring a blanket or use a park chair; no outside chairs allowed. 
For tested seating, attendees presenting a negative COVID-19 test will be seated in a separate, socially distanced section (six feet from other parties at all times) with masks required. No outside blankets or chairs allowed. 
For the most current guidelines, program updates, additional venue details, safety requirements, information, and restrictions, visit bryantpark.org/picnics. 
Free livestream broadcasts of select performances will be available nationwide via Bryant Park Picnic Performance's website and social media platforms, including Twitter, Instagram, Facebook, and YouTube.