Bruce Hornsby and the Noisemakers played as part of the Beak and Skiff Orchards 2021 concert series down Apple Valley Road in LaFayette, NY on June 16, 2021.
"I've got a daughter in law in LaFayette, Louisiana," he told the crowd. The band's performance was part of a brief Northeast run to start the year. Bruce brings that old summer tour magic back to life for all those in attendance, 30 years to the day he was part of an iconic set opening Eyes of the World with the Grateful Dead at Giants Stadium.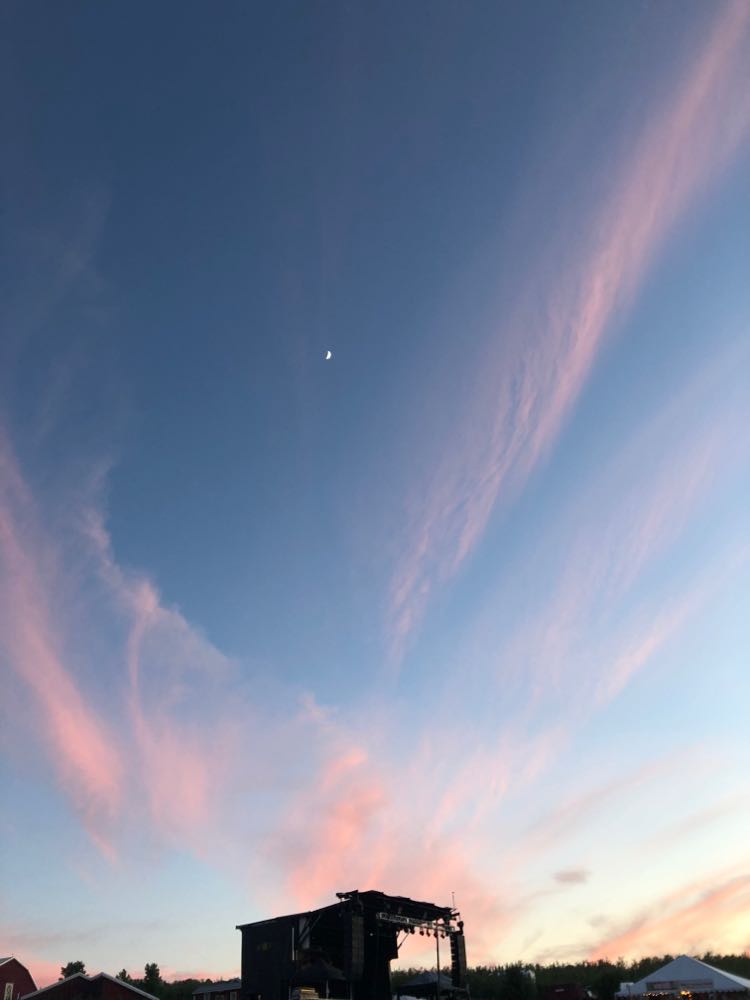 Bruce's archives shows what a true artist he is. Hornsby is consistently reimagining his sound with the a band. Syracuse region basketball fans might like to know that he played Allen Iverson of Georgetown in a game of one-on-one when the Virginia natives used to cross paths in the 90's.
Bruce's on stage team this night consisted of J.V. Collier on bass, Chad Wright on drums, J.T. Thomas on keyboards, John Mailander on Violin/Mandolin, and Gibb Droll on guitar. The 17 song setlist was a full court press blend of rock, gospel, heartland rock, jazz, bluegrass and blues.

Certain lyrics resonated across New York's four season changing landscape. Show opener "Absolute Zero" could have been a nod to the unusually cold night in LaFayette. "Hey, come on, let's go down to two seventy-three below" Up next was the most chilling composition of the night for "Shit's Crazy Out Here" with Bruce singing the title track amidst heavy deep jazz transports.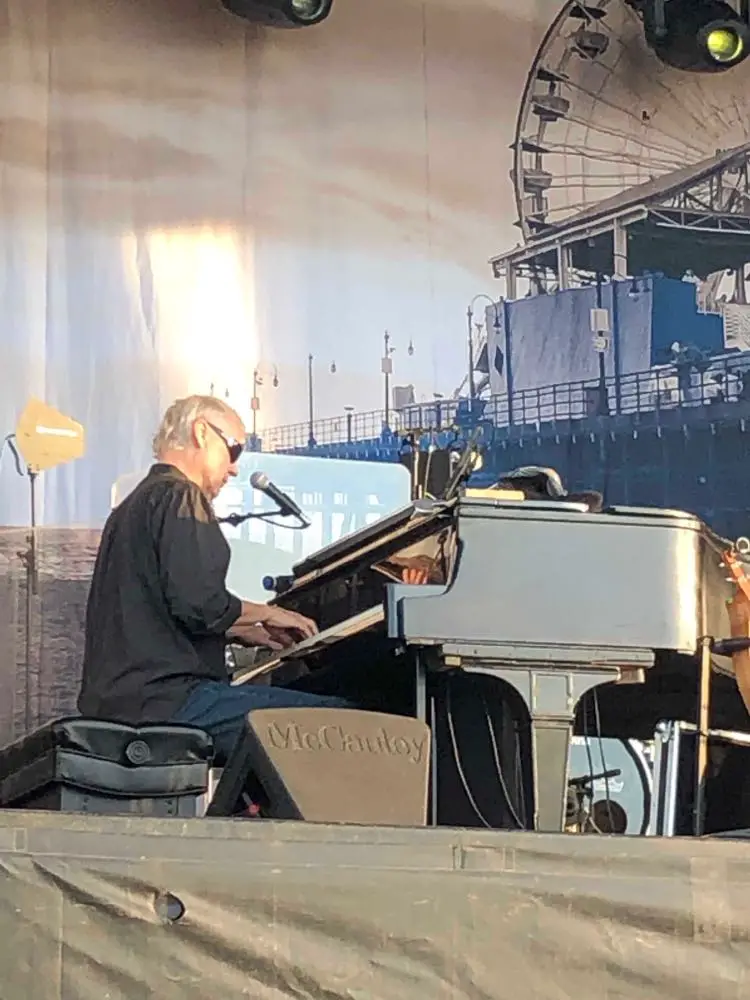 Mid set, the iconic "That's Just the Way It Is' ' got people dancing under the setting sun, including an extended improvisational jam to keep the song fresh to the times. The iconic piano riff that was part of West Coast rapper Tupac Shakur's remake (and on what would have been Shakur's 50th birthday) was reciprocated with Bruce sampling Snoop Dogg's "Drop it Like it's Hot" over the house speakers.
The song appropriately named "Prairie Dog Town" had Bruce exit the piano to center stage on his dulcimer, leading vocals over the mix. Snoop Dogg's beat segued into J.V. and Chad holding the bottom end down for a funky outro. Bruce scatted "Popping up, popping down, burrowing making their funny little sounds, guarding the ground and spotting all around watch your dry bones in the prairie dog town"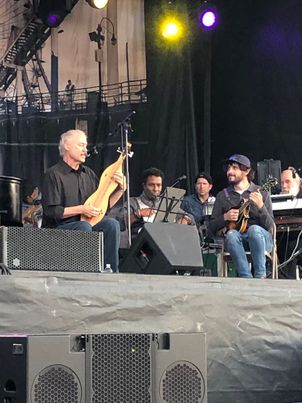 The highlight of the night was a true blend of California artists. The band's opening chords to "Sunflower Cat" might have tricked you into thinking it was Grateful Dead's "China Cat Sunflower" during Summer 1991. Bruce's original lyrics over the Dead groove make it his own: " In my dreams I can fly high, over fields and across the sky, then I'm awake and I'm back on the ground, if you could take me back up there, I'm down, I'm down with that'."

Mid-song, J.V. Collier and Chad Wright locked in on Tupac's "California Love" groove with on the spot reimagined lyrics to the surrounding landscape. J.V. sang " New York State… knows how to party… In the city of… Lafayette, in the city of good old Utica…In the city…of Syracuse.. We keep it rockin… you keep it rockin." The band then crushed the "New York Love" remix before a shift back into "Sunflower Cat" to close the show.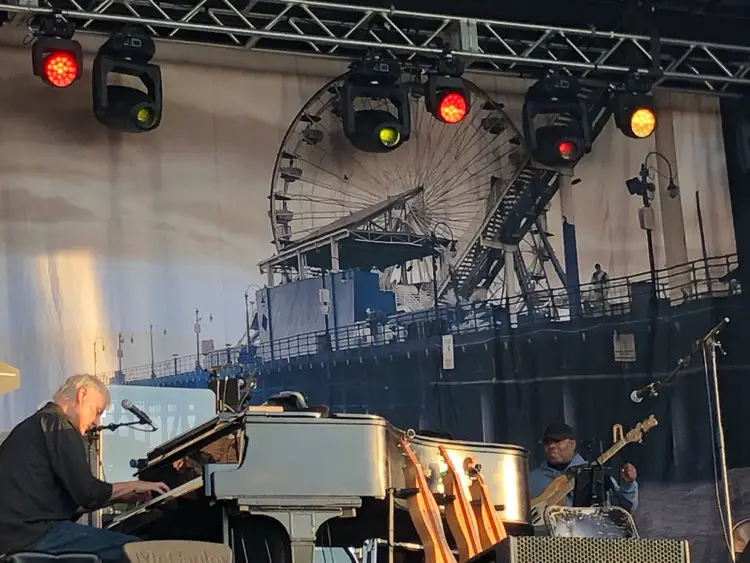 The evening was encored with the "pod people" getting down in front of the stage for "Rainbows Cadillac." Bruce called out to the crowd "Every night about a quarter to ten, from the middle of June till summer's end. People would gather from miles around to see the mighty Rainbow knock 'em down, sending the audience into the night wide-eyed as part of New York's live music return.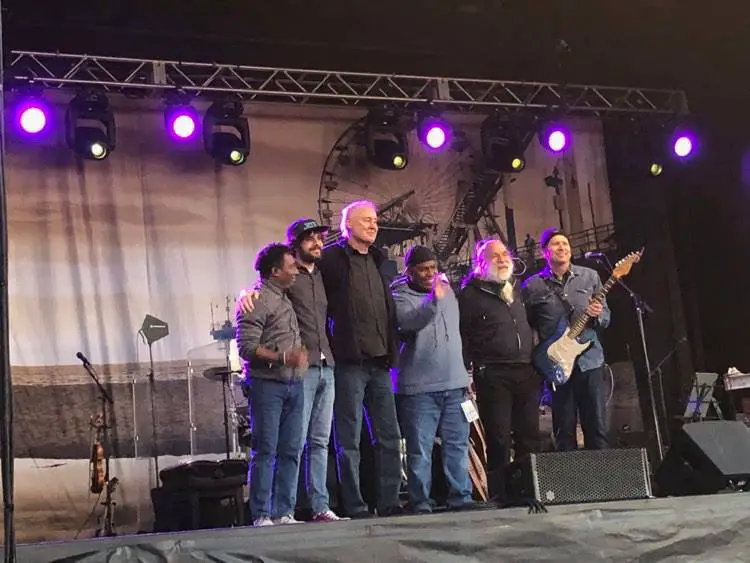 Bruce Hornsby and the Noisemakers – Beak and Skiff Orchards – Lafayette, NY – June 16, 2021
Setlist: Absolute Zero, Shit's Crazy Out Here, The Rat King, My Resolve, Fields of Gray, The Way It Is, Walk in the Sun, Spider Fingers > Dreaded Spoon, Funhouse, Every Little Kiss*, Shadow Hand*, Prairie Dog Town*, Sunflower Cat > (California Love) > Sunflower Cat
Encore: Rainbow's Cadillac
* Bruce on dulcimer
The rhythm section of the Noisemakers J.V. Collier (bass) and Chad Wright (drums) took some time to talk past, present, and future music experiences in New York State at the Hotel Syracuse the night before the show:

Matt Romano: It's good to have you guys back in New York State to play live. What great memories come to mind playing here?

J.V. Collier: Over 27 years, every time coming to New York is memorable. I love City Winery in TriBeCa, The Blue Note and Carnegie Hall in Manhattan, We'd go to Woodstock to Levon Helm's Studio at his barn in Hudson Valley for their Friday night jams. When Bruce and I started, we played at Woodstock '94 with The Band and got to rehearse there. I was only supposed to play three songs and then Rick Danko was like "stay up here." All these great horn players from the city, like Howard Johnson. But playing with The Band was an amazing thing. Woodstock '94 we hung out all three nights. During Green Day's set they cleared everybody off stage except Bruce and I for some reason. So it was great. I remember the park in New York City where Jaco (Pastorius) used to stay. I don't know if you heard he used to sleep with his bass and basketball there towards the end. But I'd go to that spot and try to gain something from his spirit to play off.

MR: You guys were here virtually at the end of last year to help raise 500K plus for Upstate Hospital in Syracuse to benefit front line workers a block from here.

Chad Wright: We did it at the Teragram Ballroom in downtown L.A.. We prerecorded it and it was the first time we did anything last year since August of 2019.

MR: Does Bruce keep you guys on your toes with the variety of his catalog?
J.V.: The great thing about playing with Bruce is the surprise guests along the way. You never know. Chick Corea, Dave Garibaldi, Bonnie Raitt. His studio gig is like his live gig because what he wants it to be different all the time. He always pushes you to be better.

MR: How does composition compare to improvisation?

CW: When I got this gig, Bruce was great at explaining that there is no structure. But there's a method to the madness…but it's all subject to change to be fluid.

J.V.: Some nights are magic and you don't want to let it go. You get to a space and it's a thing. 2:45 to 3:00 hours used to be the normal set times. Bruce has the mentality of an athlete. He's the point guard. He's orchestrating what everyone's gonna do up there. He'll pass you the ball and wants you to do something with it before it comes back

MR: Like Jaco in Central Park?

J.V.: Exactly.