Songwriter Peter Bogolub under the moniker Loops & Loops has created the album, Fake Face, released on June 11. 
Knowing that this project was recorded during quarantine and almost entirely in the closet of his NYC apartment, listening to it feels like even more of a personal experience. Aptly so, Pete took a dive into analyzing failed relationships throughout his life, relying on his affinity for shoegaze-style indie rock while merging elements of pop synths and melodic guitar/ukelele loops.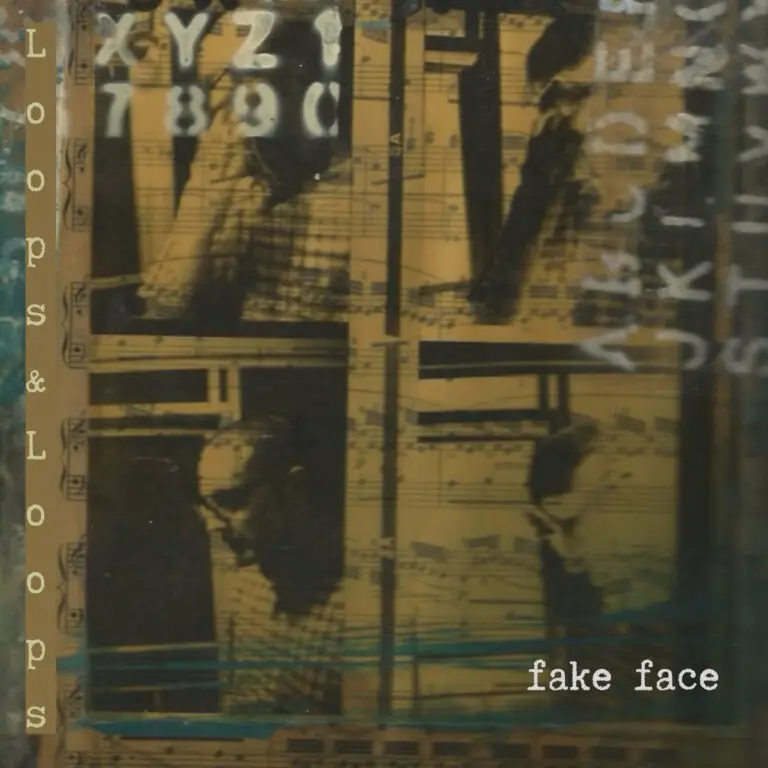 Citing Yo La Tengo, My Bloody Valentine, and The Magnetic Fields as his biggest musical influences, Fake Face can be seen as a return to his DIY/ indie roots. A self-taught musician and collaborator in bands for over 20 years, this album showcases a side of Pete that could only be brought out as a solo act.
So far, the singles for this album have been "County Fair" and "Pain In My Heart". 
"Dark Clouds" is the opening of the album, a slow soft beginning to a melancholic motif. A stand out lyric being, "People see what they want to see / They can tell there's something wrong with me." 
"The Light," the second song, has bright happy guitars with a familiar beat. Telling the story that sometimes the end of something is really the beginning. None of the songs on the album are really happy but they're neither all doom and gloom either, this song really highlights that.
"Down in Mexico" is almost wistful but similar to how I do not speak Spanish beyond a high school level I could understand about 50% of the words in this song. That isn't a dealbreaker considering what could be heard clearly is, "Someday it'll be okay," which is comforting. 
"Things Are" is the focus track, an indie anthem reminding us how to get by in life. Sometimes things just don't go our way, but not sweating what we can't change. The line "Things are what they are no matter how you feel" a lament to the unchangeable nature of life and the relationships within them. An acceptance of the hard truths despite the hope that it won't be true. 
It's a song about accepting things as they are instead wishing circumstances were different. Written during the pandemic when life was rather chaotic, the upbeat melody offers a glimpse of hope.

Peter Bogolub
"Pain in my Heart" with its squishy beat as if hitting a cartoon frog stretched into a banjo. Echoey vocals are a heavy feature on this album but they really shine on this track. The lines "There's a pain in my heart / Why are we so far apart" painting the picture of when you make a promise with someone and find it is no longer being kept and you're alone.
"Outta Control" has the vibe of the opening track to a lighthearted coming of age movie that will inevitably take a turn and have a sad ending or the two best friends will fall in love after much trial and error. "Making bad choices too many times"
"Gaslight" a slow track in tribute to society's general growing awareness to the toxic trait of gaslighting. With the lyrics "that's not really an apology," there's a realness. Very reminiscent of mooseblood, joyce manor. "Run To You" is very instrumental heavy where the vocals seem to be more of a background element to the song. Gives the same vibes as an underwater town being explored.
"Drawn To You," with the acoustic guitar being the star of the track and johnny cash style, is about being drawn to someone without control. Whether for better or for worse the attraction is there.
"Not Yet" feels like the end credits to a comedy show. Which is ironic considering the line "You ain't catch me yet." "County Fair", if "Not Yet" felt like the end "County Fair" is the after credits scene. 
Overall the album delivered on what Pete set out to do, which is to tell the stories of relationships and their messy ends in a way that is pleasing to the ears. Stream Fake Face on your chosen platform.