Z2 Comics announced that the graphic novel, Among the Living which was inspired by Anthrax, and the titans of thrash metal's landmark 1987 album of the same name, to be released in stores on July 6. In an effort to support the comic book specialty market, which had been hardest hit by the COVID-19 health crisis of the past year, Anthrax and Z2 shipped a surprise limited number of copies early that stores could make available for sale this week.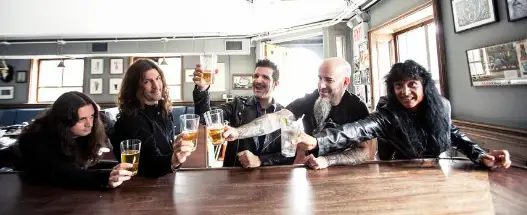 2021 marks Anthrax's 40th anniversary, during which time the band has released 11 studio albums, been awarded multiple Gold and Platinum certifications, six Grammy nominations, and a host of other accolades from the media, the music industry, and fans.  In 1991, the band helped break down race and genre barriers when they collaborated with Public Enemy on the track "Bring The Noise," and was the first metal band to have its music heard on Mars when NASA played "Got The Time" to wake up the Mars Rover in 2012.
I grew up with Marvel and DC, and they were part of my life from the time I was four or five years old. My mom worked at Primrose Bakery on Tremont Avenue in New York, and when I'd go to work with her, I'd sit in the back with the bakers.  I'd read and draw the superheroes from the comics she would buy for me from this little shop just a couple of doors down.  I've loved everything about comic books and the neighborhood comic book stores ever since.

-Anthrax's Charlie Benante
Anthrax and their landmark 1987 album Among the Living influenced an entire generation of metalheads, cementing the New York band's place in the Big 4 of Thrash alongside Metallica, Megadeth, and Slayer. The book pulls together a "who's who" of names from the worlds of comics and music who created "bubble dialogue" and original artwork to express what the songs meant to them. Taking advantage of COVID-19's prohibition of concert touring, the band has been hard at work writing the next Anthrax album. Check with your local comic shop for the availability of the standard TPB edition, with all editions available to order directly from Z2's website now, with Charlie Benante's Judge Dredd variant exclusive to preorders.