As Phish was putting the finishing touches on their acclaimed Billy Breathes album in 1996, they also honored a fun Bearsville, NY tradition. It had become commonplace for bands to play at a very small club called Joyous Lake whenever they were finished with their business at Bearsville Studios. Billed as 'Third Ball', the last "stealth" Phish gig made available for public consumption went down 25 years ago today.
Joyous Lake and its 200-person capacity were a far cry from the arenas and amphitheaters that Phish played regularly by now. Thankfully, sound engineer Paul Languedoc provided soundboard patches to those in the know who showed up with recording gear. As a result, this show has all the feel of a small, intimate affair from the late '80s combined with the raw power and energy Phish had infused their music with by 1996. Approximately two months before there was a Clifford Ball, there was Third Ball.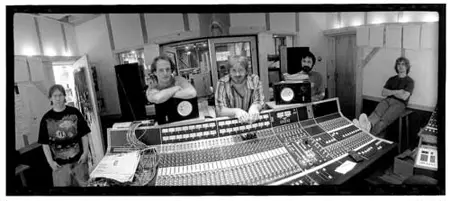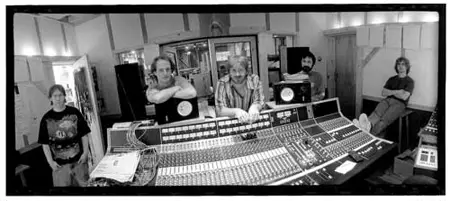 Since this was no typical Phish concert at this point in time, why not open it with a "Split Open and Melt?" Drummer Jon Fishman starts up the signature opening drum beat and, much to the small crowd's delight, the show begins. Although the jam has a few "clunky" early moments, in no time a full-fledged "Melt" jam is underway, with any other discernible signs of rust now clearly removed. With most of the year devoted to work on Billy Breathes so far, this was only the second live show played in 1996.
The "Runaway Jim" that comes later seems to have all of the Joyous Lake crowd signing along at the outset. They soon give way to a beautifully escalating, driving jam that's steered by Trey Anastasio and Page McConnell on guitar and piano, respectively. The band also fools around a bit with the "Funky Bitch" that follows, continuing to drop some early gems on the Bearsville crowd.
The double-edged sword that is a small venue gig rears its head in the beginning of "Theme From The Bottom." A crowd that's getting energized by some intimate Phish, as well as more "hydrated" by the minute, can be heard very easily in some of the quieter opening segments. Although quiet moments wouldn't be an issue for much of the remainder of the first set, starting with the "Big Black Furry Creature From Mars" that follows where Trey allegedly fashioned an empty beer bottle into a guitar slide. "Scent Of A Mule" features its customary 'Mule Duel' as well as a full-on teases of "Sunshine Of Your Love" and "Cocaine." And the set comes to a whirlwind of a close with a cover of "Highway To Hell" that has the full band toying around with the vocals.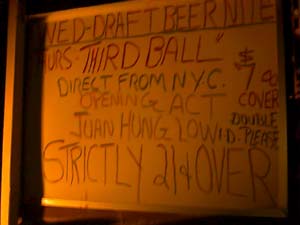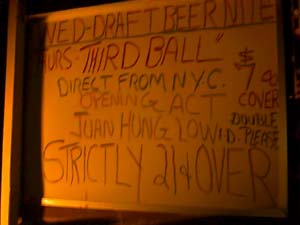 The second set of this "secret" gig at Joyous Lake features a blend of live Phish staples and brand new debuts. "AC/DC Bag" revs things back up as the set opener, with some intense guitar play from Anastasio on the back end of it. Next, somewhat surprisingly, a sublime "You Enjoy Myself" is played, undoubtedly in front of the smallest crowd in years. The band treats this one no differently though as its played to perfection, with all the bells, whistles and customarily eerie vocal jam included.
Phish keeps the old school vibe in effect with a "Chalkdust Torture" that emerges the instant said vocal jam concludes. It's not a particularly extended version, but it packs a punch. "Sparkle" then follows in the same vein before "Stash" gives the band another chance to spread their wings and soar.
The second set also contains a pair of Phish debuts that are now firmly embedded in their live show repertoire. "Waste" and "Character Zero," two songs prominently featured on the upcoming Billy Breathes release, are played back-to-back, both for the first time ever. "Waste" is still so raw at this time that it stops somewhat abruptly with Trey noting "we don't have an ending for it yet."
The remainder of the show is vintage Phish, beginning with the monstrous "David Bowie" that follows the debuts. Trey stumbles over some of the lyrics in "Fee" before getting redemption via another dazzling run on guitar on the "Sample in a Jar" that closes out the set. The "Ya Mar" that starts the encore has a rough spot or two before rounding into form before an incendiary cover Jimi Hendrix's "Fire" closes the book on Third Ball.
Listen to the show in its entirety below, or selected songs at PhishTracks.
Phish Joyous Lake – Bearsville, NY 6/6/96
Set 1: Split Open and Melt, Poor Heart, Runaway Jim, Funky Bitch, Theme From the Bottom, Big Black Furry Creature From Mars, Scent of a Mule, Highway to Hell
Set 2: AC/DC Bag, You Enjoy Myself, Chalkdust Torture, Sparkle, Stash, Waste, Character Zero, David Bowie, Fee > Sample in a Jar
E: Ya Mar, Fire
This unannounced show was performed under the name "Third Ball." BBFCFM featured Trey using a Rolling Rock beer bottle as a slide. Scent of a Mule included a Sunshine of Your Love tease and saw Trey on keys for portions. Waste and Character Zero debuted at this show. The opening act was Juan Hung Low.