While it may be Memorial Day Weekend, it's also the ten-year anniversary of the one and only Phish run at the Bethel Woods Center for the Arts. In 2011, the band was still very much trying to gather its collective footing after reuniting only two years earlier. For some, these shows represent the first true "return to glory" moments for the band and fans alike. It's only fitting that it took place on the hallowed grounds of Bethel, NY, the same ones that served as host for one the most influential music events of all time, Woodstock. Even though it was only Phish performing in Bethel this weekend, there were still plenty of magical moments to be had.
An argument can be made that some of the most passionate and inspired music of the entire weekend never even made its way to the public. On the night before the run was set to begin, Phish blessed their sound check with what many consider to be one of the best "Waves" of all time. It's a version that stretches out to nearly a half hour, diving way beneath the surface without coming back up for air.
Night One – May 27, 2011
The first night of this memorable run also served as the 2011 summer tour opener. The only other show Phish had played this year to date was their 1/1/11 gig at Madison Square Garden to cap off the New Year's run. Some rain leading up to this evening wreaked havoc on the fertile and lush grounds of Bethel Woods. But that certainly wasn't going to deter anyone.
The rain had left some parts of the lower lawn in a treacherous state, to say the least. So boots, tarps and blankets were en vogue. But rather than play it safe and ease into the show, Phish instead opened night one of Bethel Woods with a raging "Tweezer" that caught everyone off guard, in a good way. Summer tour and the band's third year since returning from a self-imposed breakup were now officially underway.
Considered tame by today's standards, the show opening "Tweezer" doesn't stray too far and elicits a mild jam. But the joy of it opening the show, and the tour, was never in doubt. Instead of stretching it out, they immediately transition into "My Friend, My Friend" and night one is off and running.
The rest of the first set is comprised of multiple covers that paint a clear picture of what influences Phish musically. First is their take on Ween's "Roses Are Free," a song forever immortalized in Todd Phillips' Bittersweet Motel documentary. Next, keyboardist Page McConnell shines on his solo on Son Seals' "Funky Bitch." The first set also features a take on James Gang's "Walk Away" that's properly fueled by Trey Anastasio on guitar and it finishes with a splendid cover of Jimi Hendrix's "Bold As Love."
Aside from an earlier "Wolfman's Brother," some of the more exploratory work from the band in the first set came during "Stash." A jam that starts from near ambience quickly picks up speed while never quite shaking the framework of the song. It provided a nostalgic glimpse of a song that used to be a first set powerhouse for a band still very much rounding into form.
With one set under their belt, Phish opens up the second with another rager, "Carini." Those who called that and "Tweezer" both as set openers should be commended. Again, compared to modern day versions, this "Carini" doesn't veer too far off the path, but rather sets the table nicely for the crescendo-building "Get Back On The Train" that succeeds it.
The second set also contains a "Waves" that has its moments but doesn't come close to the majesty and weirdness offered up in the one from yesterday's soundcheck. And, of course, more choice cover selections. This included the always popular "Boogie On Reggae Woman" (Stevie Wonder), with Mike Gordon and his signature bass line/effect leading the way. The set picks up in a major way, and possibly peaks, with a deep dive of the Talking Heads' "Crosseyed and Painless."
Once drummer Jon Fishman finishes leading the group through a funkified version of this cover, the rest of the set plays out in somewhat traditional fashion. "The Squirming Coil," replete with an enchanting, set-ending piano solo from McConnell closes out the set before "Julius" and its infectious "don't take another step" mantra closes the book on the first night of Bethel.
Phish – Bethel Woods Center For The Arts – Bethel, NY 5/27/11
Set 1: Tweezer > My Friend, My Friend, Poor Heart, Roses Are Free > Funky Bitch, Wolfman's Brother -> Walk Away, Stash, Bouncing Around The Room, Kill Devil Falls, Bold As Love
Set 2: Carini >Back On The Train > Boogie On Reggae Woman > Waves > Prince Caspian > Crosseyed and Painless > Wading In The Velvet Sea > Possum, The Squirming Coil
Encore: Julius
Wolfman's contained a Streets of Cairo tease from Trey. Before Stash, Trey teased The Fish (Schindleria Praematurus) by Yes.
Listen to the complete show on YouTube, or track-by-track at PhishTracks.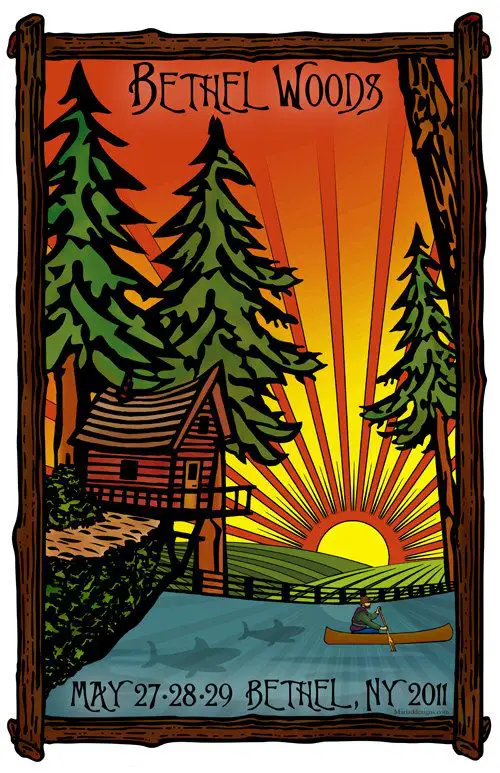 Night 2 – May 28, 2011
The second night of the Bethel Woods run began as so many Phish shows do, with people scurrying everywhere to secure their spots as notes from the opening song rain down. In this instance, the selection is "Theme From The Bottom" while plenty of viable spots on the lawn are still being secured.
Traditional first set stalwart "NICU" then follows, with McConnell wasting no time getting down to business on the Hammond organ. A super funked out take of another Talking Heads cover, "Cities," then gives those on the lawn and everywhere else more than enough reason to get down and dance. The "outro" jam lasts well longer than it should and serves as a legitimate highlight of the weekend.
The rest of the night two's first set is best encapsulated by a couple of song pairings. "Halley's Comet" picks up on the experimental vibe and takes it the distance, fomenting a certifiable Type II jam momentarily. But before it can explore any further, the opening chords of "Runaway Jim" enter the fray, serving as the back end of a powerful two-song sequence whose jam gets the full on 'Plinko' treatment. The first set then later wraps up with another Phish staple, "Bathtub Gin" that gets a taste of "Manteca" and a distinct "Golden Age"-type jam midway through before rounding back into form.
Like most Phish shows, much of the heavy lifting takes place in the second set tonight. An explosive "Down With Disease" starts things off nicely, with Jon Fishman providing one intricate drum fill after another in a jam that comes to an early vigorous peak. Instead of returning to finish "Disease," the jam meanders for a while until Anastasio signals for a wonderfully patient "Free" to begin.
As the second set progresses, Phish continues to show their mastery of juxtaposition. A zany "Makisupa Policeman" immediately goes off the rails, with mentions of spliff smoking and imaginary trips to Mike and Page's respective "houses" that eventually sends the Bethel Woods crowd into an uproar, along with a healthy clav-driven, mini-funk jam. But instead of going to Fish's "house" and carrying on with the silliness, the band turns on a dime and crafts an emotional "Harry Hood."
The set later concludes with another Phish classic, "David Bowie." And another longtime cover favorite, The Beatles' "A Day In The Life" puts the finishing touches on night two in Bethel. With two nights now in the books, only the Sunday show remained. And, as the saying goes, those are not to be missed.
Phish – Bethel Woods Center For The Arts – Bethel, NY 5/28/11
Set 1: Theme From The Bottom, NICU, Cities, Halley's Comet > Runaway Jim, Gumbo > Quinn The Eskimo > Limb by Limb, Horn, Bathtub Gin -> Manteca > Bathtub Gin
Set 2: Down With Disease > Free > Backwards Down The Number Line > Makisupa Policeman > Harry Hood > Cavern > David Bowie
Encore: A Day In The Life
Gin included a mash-up jam of Golden Age and Manteca and later closed with a Manteca quote from Trey. Disease was unfinished. BDTNL featured a DEG tease from Mike. Makisupa included lyrics referencing several band members' houses (and Trey's favorite show, House).
Check out the complete show on YouTube, track-by-track at PhishTracks.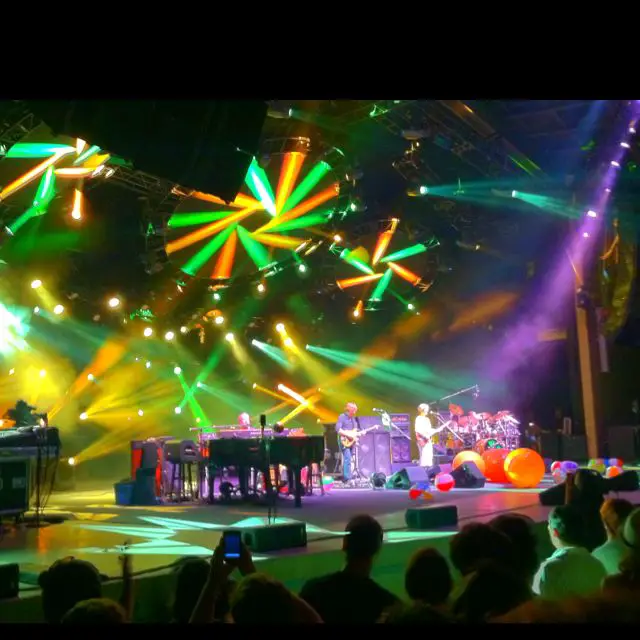 Night 3 – May 29, 2011
As to be expected, Phish closes out the Memorial Day Weekend in fine fashion. The "AC/DC Bag" opener "gets the show on the road" in a major way and Phish coasts from there. "Ocelot," still a fairly new tune at the time, gets a surprisingly monstrous jam attached to it. The "Ya Mar" and "Timber" that follow serve as a nostalgic throwback of sorts, giving the set a temporary old school vibe.
"Suzy Greenberg" makes a first set appearance and then instantly morphs into a rowdy "46 Days." And the quality cover selections continue as well, with Lynyrd Skynyrd's "Ballad of Curtis Loew" getting the call tonight. Just like old times (again) the opening set then concludes with a "Run Like An Antelope" that does just that.
For their last Bethel set, Phish decides to maintain the traditional feel and opens it with a vintage "Mike's Song" > "Simple" -> "Weekapaug Groove" trifecta. "Simple" yields an especially spacey, ambient-type jam before the rhythmic law firm of Fishman & Gordon kickstart the "Groove." Afterwards, the band takes some time to reintroduce a certain dance some may have forgotten.
The second set later comes to a close with another powerhouse trio. "Also Sprach Zarathustra," aka "2001," offers one last definitive dose of funk for the weekend before giving way to the newly established jam vehicle that is "Light." And "Slave to the Traffic Light," with its customary soaring jam that evolves from near silence is the final emotional stamp.
By the end of the weekend, so much great music had transpired that it was hard to take inventory of everything. That's why it came as a shock to many when, after "Loving Cup," the distinct riff of "Tweezer Reprise" rang out, bringing the entire weekend full circle. It's more than an ideal choice to close out the final chapter of music for the weekend, with the hopes that it won't be the last one Phish writes here.
Phish – Bethel Woods Center For The Arts – Bethel, NY 5/29/11
Set 1: AC/DC Bag > Sample In A Jar, Rift, Ocelot, Ya Mar, Timber (Jerry) > The Oh Kee Pa Ceremony > Suzy Greenberg > 46 Days > Twenty Years Later, The Ballad of Curtis Loew, Run Like An Antelope
Set 2: Mike's Song > Simple ->Weekapaug Groove, Meatstick > Fluffhead > Joy, Also Sprach Zarathustra > Light > Slave to the Traffic Light
Encore: Loving Cup > Tweezer Reprise
Ya Mar included Express Yourself (Charles Wright & the Watts 103rd Street Rhythm Band) teases from Mike. Antelope contained a Curtis Loew tease from Trey and Manteca teases from Trey and Page. Page teased Magilla in Simple. 
The entire show can be heard on PhishTracks.