Riot Fest this fall returns to Douglass Park in Chicago over September 17–19, 2021 with their first in-person festival since 2019.  In an unprecedented move, festival organizers revealed the lineup for 2021, along with tickets for 2022.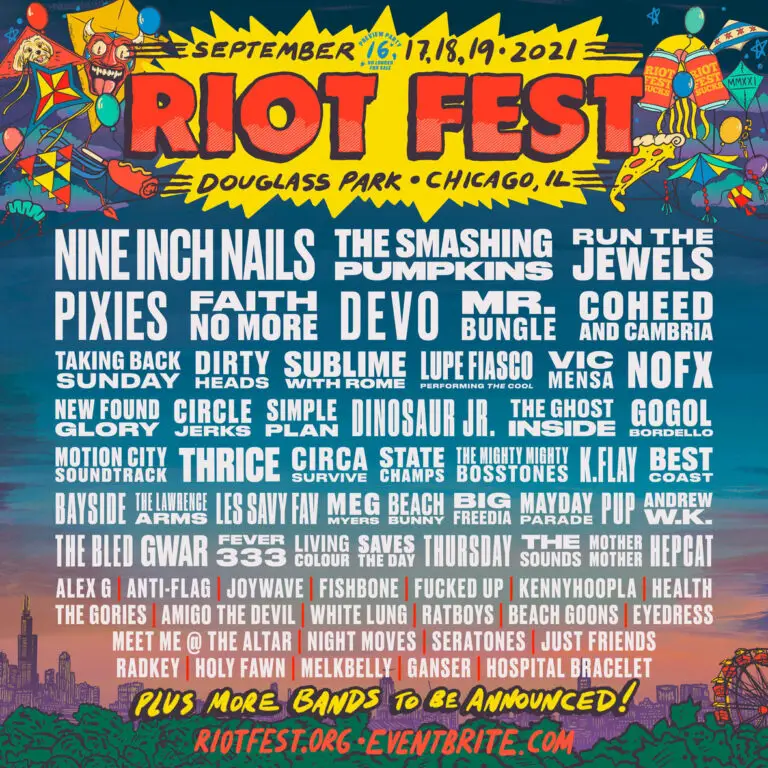 Rock & Roll Hall of Fame inductees Nine Inch Nails will headline the festival's 2021 edition, alongside The Smashing Pumpkins and Run the Jewels. New additions for this fall's lineup include Faith No More, a recently reunited Mr. Bungle, DEVO, NOFX, Dinosaur Jr., The Ghost Inside, Motion City Soundtrack, along with many others.
After quickly selling out 3-day passes for 2021, Riot Fest announced that for next year's festival The Original Misfits, including Glenn Danzig, Jerry Only, and Doyle Wolfgang von Frankenstein, will headline Riot Fest 2022. The band will be performing their first album Walk Among Us in full for its 40th anniversary.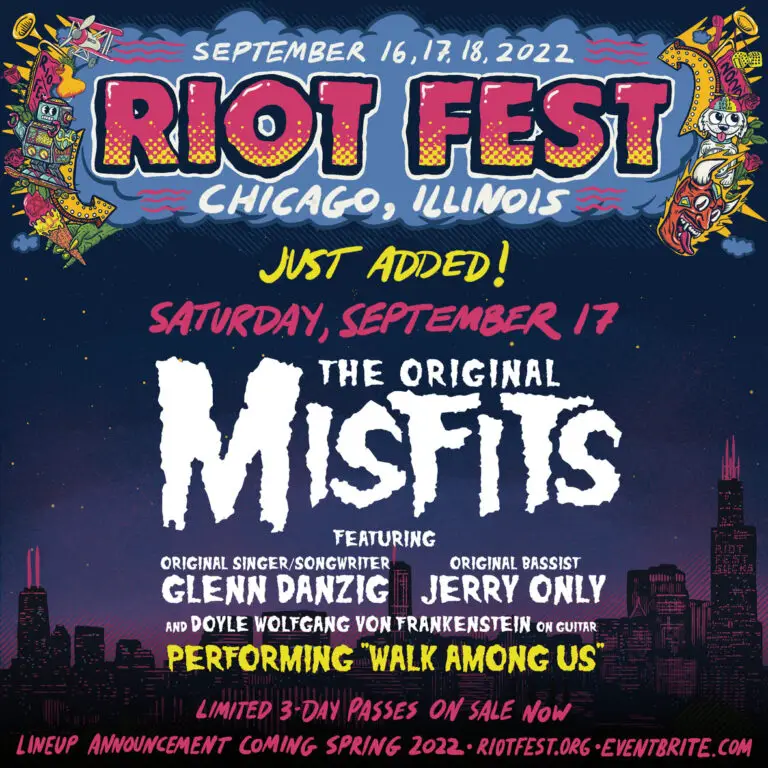 My Chemical Romance will also return to headline the festival's 2022 edition, a hotly-anticipated reunion, finally realized. The group initially announced their reunion in 2019, playing a single show at Shrine Exposition Hall in Los Angeles before postponing their entire sold-out North American tour—including a slot at Riot Fest—to 2022. 
After the Jersey band's 2013 hiatus fans have been waiting for another chance to catch My Chemical Romance live. Considering their reunion tour is sold out, Riot Fest is a great opportunity to snag tickets for 2022.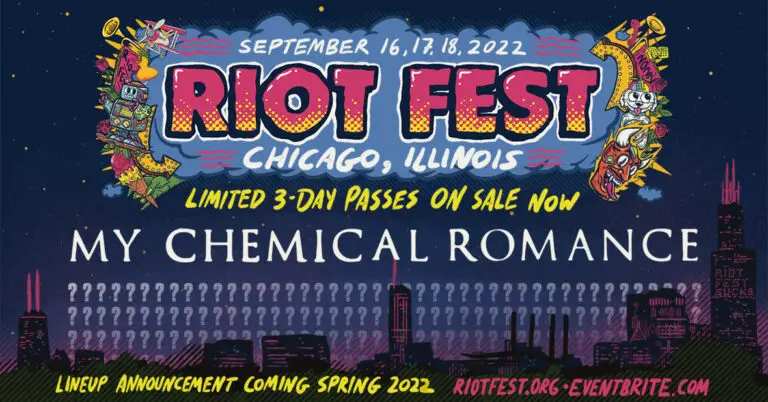 3-day passes for this and next year's festivals are on sale now; single-day passes to this year's festival will go on sale this week, alongside more band announcements for 2021. Previous ticket holders can purchase 2022 passes at a special price for a limited time; ticket transfers to next year, as well as refunds, are now available.
Safety measures regarding COVID-19 will be frequently updated, as directed by local health and public safety officials.
More info and tickets are on sale through Riot Fest's website.
Daily lineups have now been announced for Riot Fest 2021.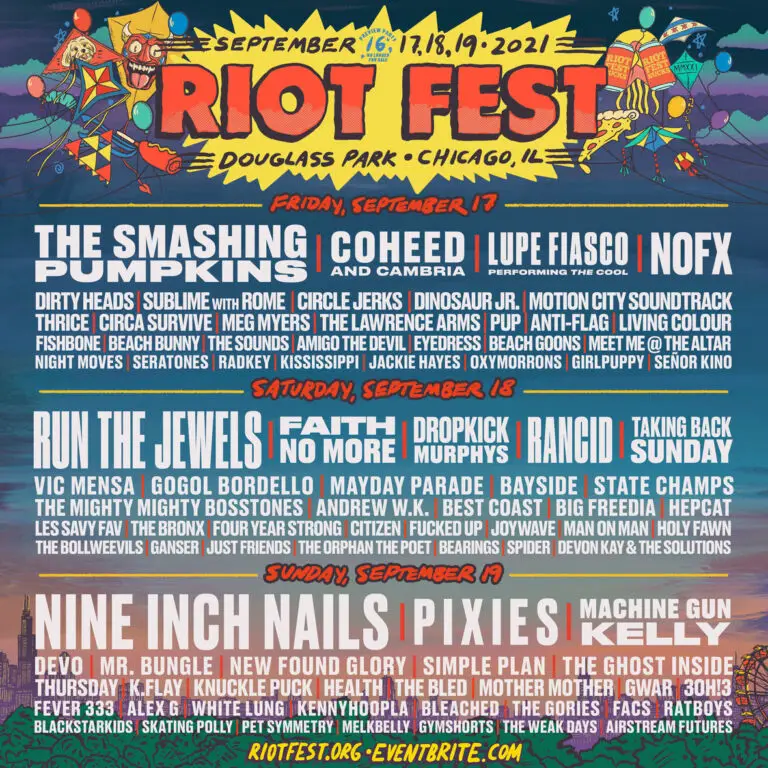 FRIDAY, SEPTEMBER 15
THE SMASHING PUMPKINS, COHEED AND CAMBRIA, LUPE FIASCO (performing The Cool), NOFX, DIRTY HEADS, SUBLIME WITH ROME, CIRCLE JERKS, DINOSAUR JR., MOTION CITY SOUNDTRACK, THRICE, CIRCA SURVIVE, MEG MYERS, THE LAWRENCE ARMS, PUP, ANTI-FLAG, LIVING COLOUR, FISHBONE, BEACH BUNNY, THE SOUNDS, AMIGO THE DEVIL, EYEDRESS, BEACH GOONS, MEET ME @ THE ALTAR, NIGHT MOVES, SERATONES, RADKEY, KISSISSIPPI, JACKIE HAYES, OXYMORRONS, GIRLPUPPY, SEŃOR KINO
SATURDAY, SEPTEMBER 16
RUN THE JEWELS, FAITH NO MORE, DROPKICK MURPHYS, RANCID, TAKING BACK SUNDAY, VIC MENSA, GOGOL BORDELLO, MAYDAY PARADE, BAYSIDE, STATE CHAMPS, THE MIGHTY MIGHTY BOSSTONES, ANDREW W.K., BEST COAST, BIG FREEDIA, HEPCAT, LES SAVY FAV, THE BRONX, FOUR YEAR STRONG, CITIZEN, F*CKED UP, JOYWAVE, MAN ON MAN, HOLY FAWN, THE BOLLWEEVILS, GANSER, JUST FRIENDS, THE ORPHAN THE POET, BEARINGS, SPIDER, DEVON KAY & THE SOLUTIONS
SUNDAY, SEPTEMBER 17
NINE INCH NAILS, PIXIES, MACHINE GUN KELLY, DEVO, MR. BUNGLE, NEW FOUND GLORY, SIMPLE PLAN, THE GHOST INSIDE, THURSDAY, K.FLAY, KNUCKLE PUCK, HEALTH, THE BLED, MOTHER MOTHER, GWAR, 3OH!3, FEVER 333, ALEX G, WHITE LUNG, KENNYHOOPLA, BLEACHED, THE GORIES, FACS, RATBOYS, BLACKSTARKIDS, SKATING POLLY, PET SYMMETRY, MELKBELLY, GYMSHORTS, THE WEAK DAYS, AIRSTREAM FUTURES