From their hometown of Philadelphia, the Disco Biscuits will live stream a special show on Tuesday, May 18, 2021, from The Fillmore Auditorium in Philadelphia. The show will be limited to 42 lucky guests through the Disco Biscuits Facebook page. For those who can't attend, streaming will be available via CouchTour.TV.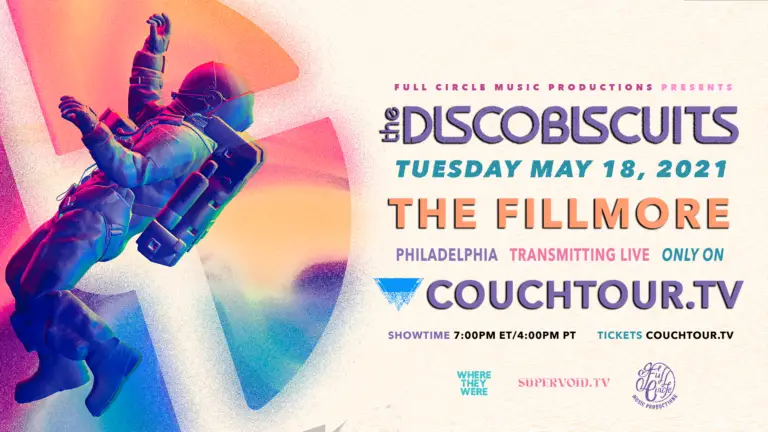 The Disco Biscuits will be returning to Philadelphia for a stream from The Fillmore, an iconic venue that has hosted more sold out Disco Biscuits shows than any other artist. The band will take the stage Tuesday, May 18 in the city of Brotherly Love, with an exclusive set streaming on Couchtour.tv starting at 7pm ET/4pm PT. This single-day virtual tour stop will be followed by a series of sold out shows at the legendary Red Rocks Amphitheatre over May 28-30, 2021. 
Couchtour.tv has been the virtual host for The Disco Biscuits' tour as the streaming platform offers each of The Disco Biscuits shows from the 2021 tour for purchase through their website for single day tickets and weekend passes. Fans can log in on Couchtour.tv to watch the shows live in hi-definition audio and video in addition to having access to watch the shows on-demand. 
The Disco Biscuits are deep in their 2021 tour that features an array of drive-in concerts and group pod events, in addition to livestreams via Sessions Live and Couchtour.tv. The band wrapped up two shows in Sussex County, New Jersey this past weekend, May 14-15.
The Disco Biscuits – May 14, 2021 – Sussex County Live, Augusta, N.J.
Set 1: Mulberry's Dream-> Jigsaw Earth (inverted)-> Mulberry's Dream, Jam-> The Great Abyss-> 4th of July
Set 2: Air Song-> Hero-> And the Ladies Were the Rest of the Night-> Cyclone-> Orch Theme-> Rapture-> And the Ladies Were the Rest of the Night
Encore: The Great Abyss (middle)-> Clocks
The Disco Biscuits – May 15, 2021 – Sussex County Live, Augusta, N.J.
Set 1: Helicopters-> I-Man-> Bombs-> Voices Insane-> I-Man-> Helicopters
Set 2: Reactor-> Anthem-> Lunar Pursuit-> Bernstein and Chasnoff (inverted)-> Little Shimmy in a Conga Line (ending only), Triumph-> Reactor, Run Like Hell-> Rock Candy (ending only)
Encore: Confrontation