The Peach Music Festival has confirmed 2021 dates, taking place July 1-4, 2021 at The Pavilion at Montage Mountain in Scranton, PA. The lineup this year is jam packed, with a lineup reminiscent of early Bonnaroos.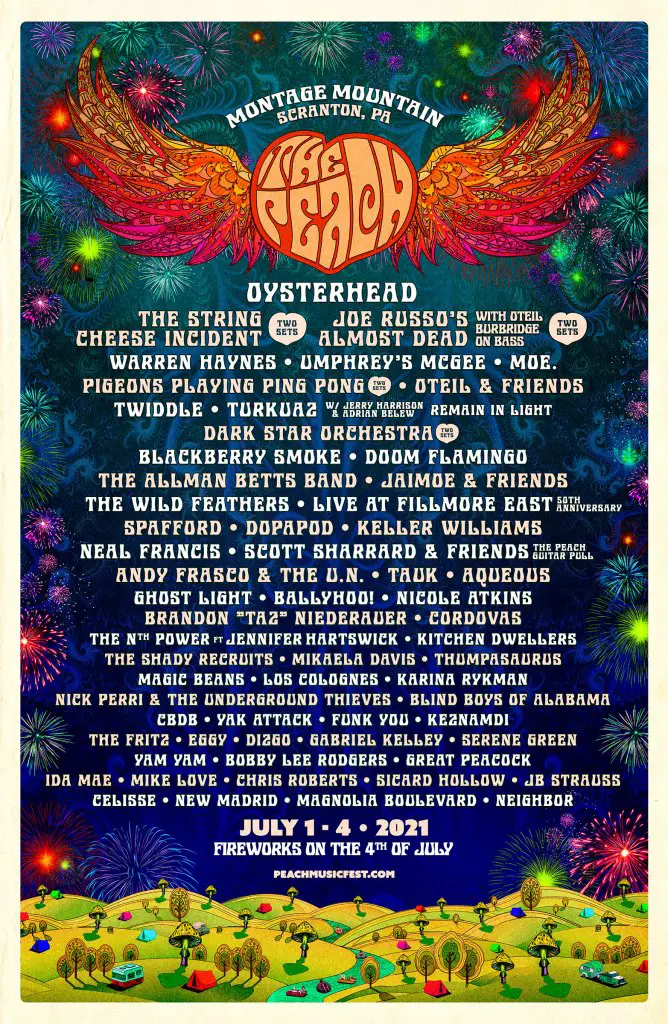 Headlining Peach Fest will be supergroup Oysterhead, as well as Joe Russo's Almost Dead (with special guest Oteil Burbridge) and String Cheese Incident, whom will each perform two sets.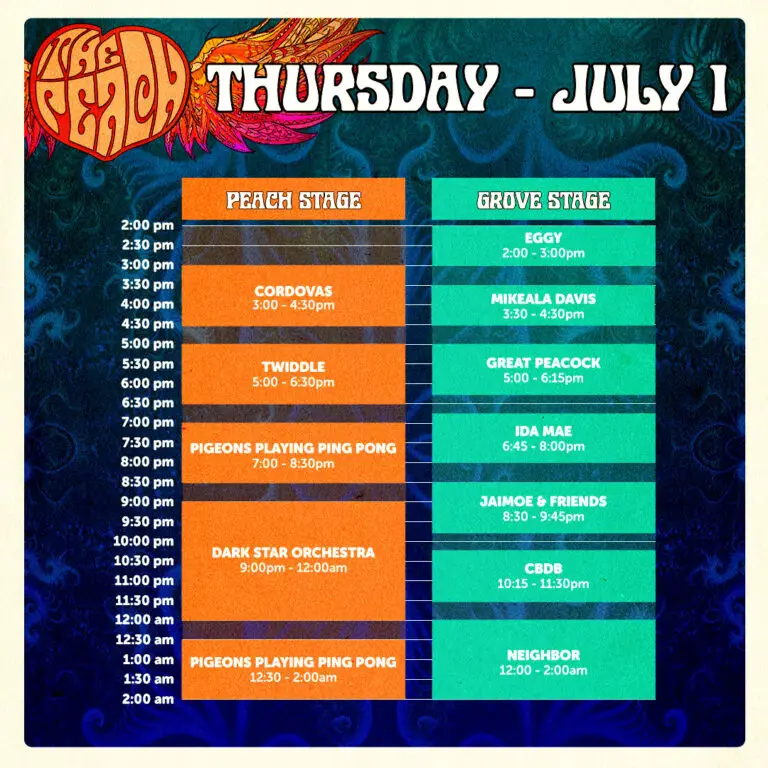 Warren Haynes will also bring some new flair – and Allman Brothers cred – to the 2021 lineup, whereas bluegrass phenom Billy Strings and rising stars Goose did not carry over from 2020's roster.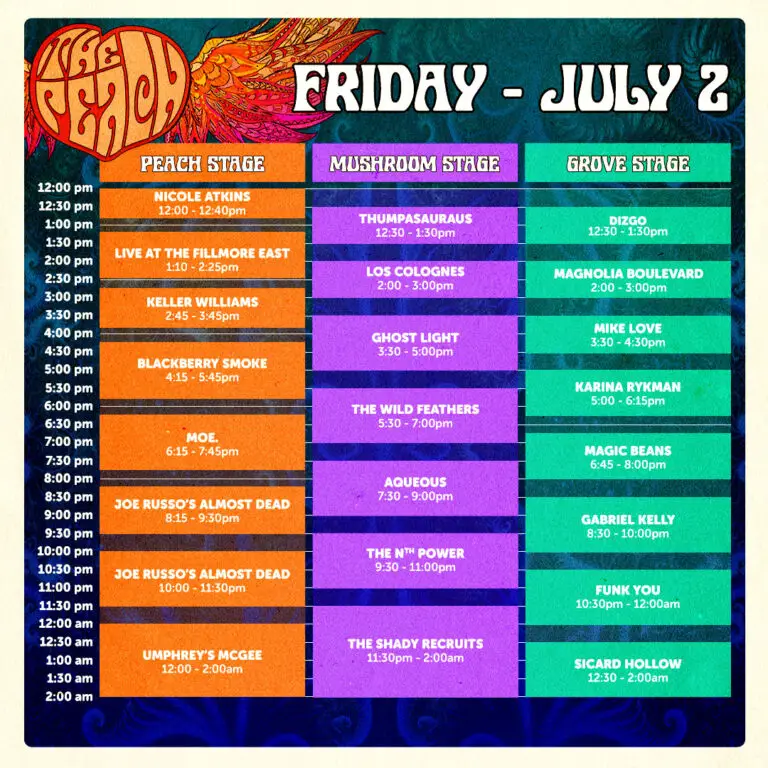 Also on the Peach Fest 2021 lineup are Umphrey's McGee, moe., Dark Star Orchestra, Pigeons Playing Ping Pong, Twiddle, Oteil & Friends, Spafford, Dopapod, Ghost Light, Blackberry Smoke, Doom Flamingo, Keller Williams, Neal Francis, Scott Sharrard & Friends, Andy Frasco & The U.N., TAUK, Aqueous, Nicole Atkins, Brandon "Taz" Niederauer, Cordovas, The Nth Power featuring Jennifer Hartswick, Kitchen Dwellers, Mikaela Davis, Magic Beans, Karina Rykman, Blind Boys Of Alabama and more.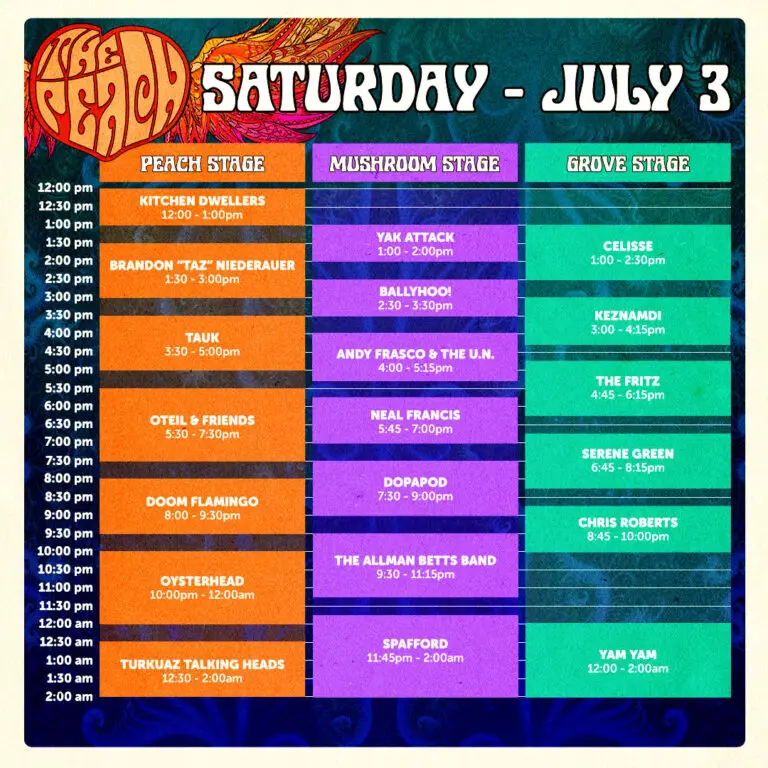 Daily lineups have just been announced as well, with headliners including two sets of Pigeons Playing Ping Pong on Thursday, July 1, two sets of Joe Russo's Almost Dead on Friday, July 2, Oysterhead on Saturday, July 3, and two sets of The String Cheese Incident on Sunday, July 4.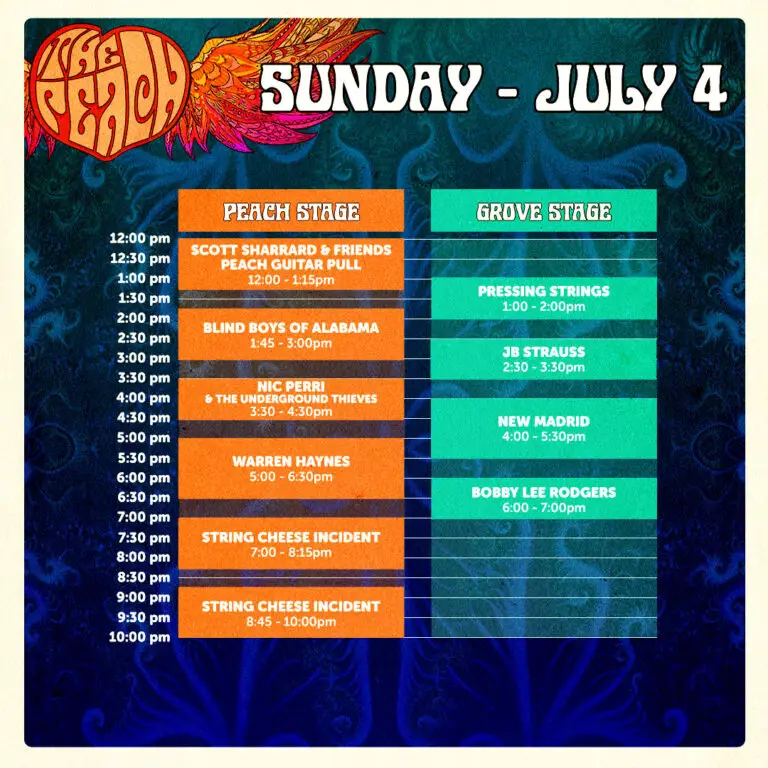 Peach Fest's Allman Brothers Band roots will be on full display for a celebration of the 50th anniversary of At Fillmore East. Burbridge, Warren Haynes, Jaimoe, Devon Allman and The Allman Betts Band are set to play as well. Turkuaz will bring their Talking Heads Remain In Light performance, originally slated for 2020, featuring Jerry Harrison of Talking Heads and Adrian Belew.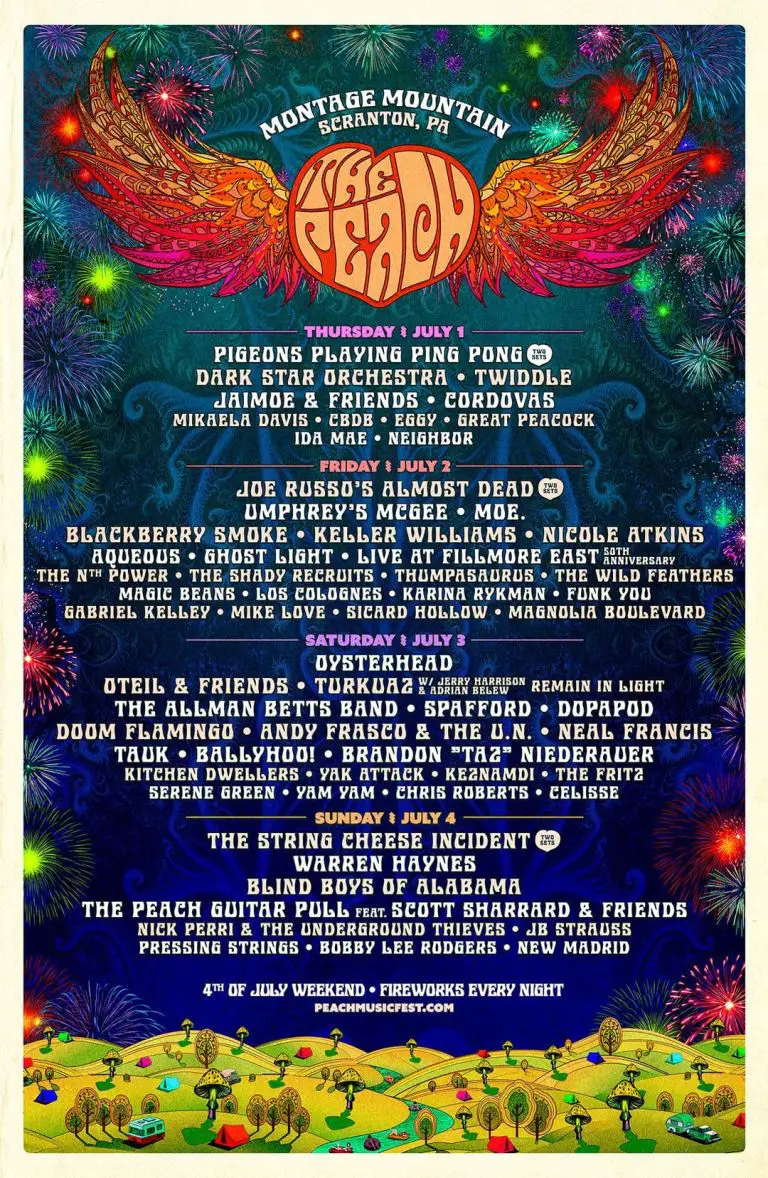 The initial FANS livestream lineup features festival headliners each night. Thursday's stream features Pigeons Playing Ping Pong and Dark Star Orchestra; Friday FANS will air Umphrey's McGee; Saturday's stream will be Joe Russo's Almost Dead, a finale on Sunday with two sets of The String Cheese Incident.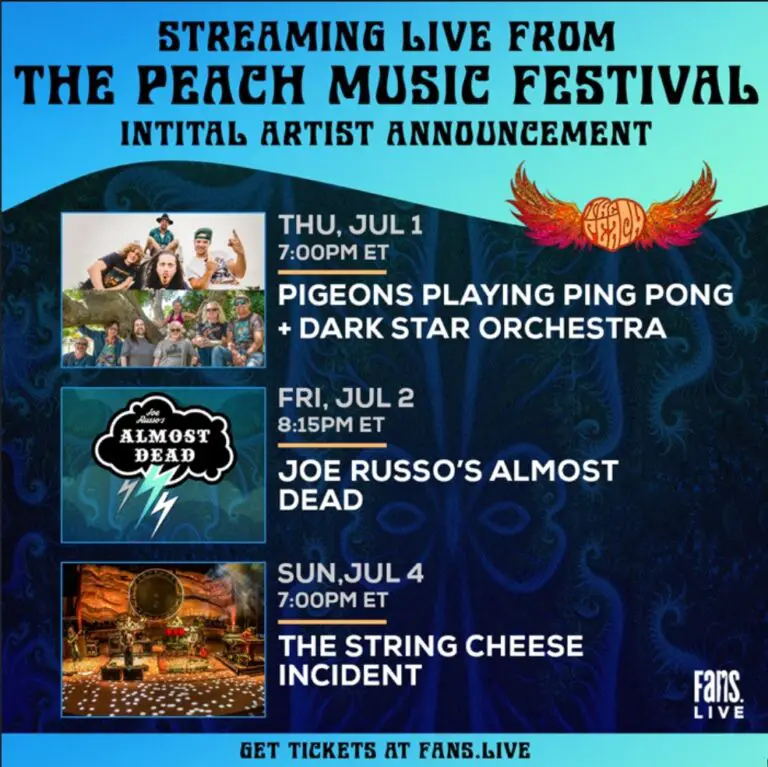 The Peach Music Festival started back in 2012 and has become a beloved annual festival in Northeastern Pennsylvania. It takes place every year at The Pavilion at Montage Mountain, a ski area in Scranton, PA. The festival unfortunately wasn't able to take place like many other festivals in 2020 due to the ongoing COVID-19 pandemic.
The festival will take place in 2021 as long as reopening plans in Pennsylvania continue according to plan. According to the New York Times, Pennsylvania is set to be fully opened by May 31. The festival includes camping, vendors, live music, and much much more. The announcement did not include information on what the festival would look like in terms of COVID-19 guidelines or other social distancing measures, but it can be assumed it will at least follow state and local guidelines. 
Tickets for the festivities are on sale already. There are 2 types of non-VIP passes: a 4-Day Reserved Pass and a 4-Day GA Pass. The 4-Day Reserved Passes provide you a reserved seat in the Pavilion 100 level during headlining acts & the artist directly before the headlining acts.
Prior to those performances, everyone will have access to the 100 level except for a small portion that is reserved for a VIP viewing area. During the headlining performances, a 4-Day GA Pass will get you access to all remaining areas of the concert venue except for the 100 level and VIP areas. 2021 Wristbands will be shipped out approximately 3 weeks prior to the event. People who want to camp are required to purchase a Festival Pass + Camping Bundle. Currently there are 4 Day General Admission Passes available. 
For more information on the 2021 Peach Music Festival visit their website.