Russ Lawton and Ray Paczkowski ended 2020 with an eight week residency in New York City as part of the wonderful cast for Trey Anastasio's Beacon Jams. Outside of TAB, the duo operate as the highly funky Afrobeat-influenced group Soule Monde.
They started 2021 ablaze, rehearsing before going into the studio for their fourth album release Mimi Digs It. The eight-track album digs an even deeper trench of grooves. The landscape of the recording comes from Central Vermont's Sugarhouse Sound Studio on Mad River Road in Waitsfield.
Mimi Digs It is simple: Russ on the Gold Gretsch drum kit and Ray on Wurlitzer, Clavinet, and howling B3 Hammond organ. After just three days, the material was sent to Concrete Sound in Brooklyn for the finishing touches. For more insight on the new album the dynamic duo took some time in between a new session at Sugarhouse to speak with NYS Music for a lunchtime chat.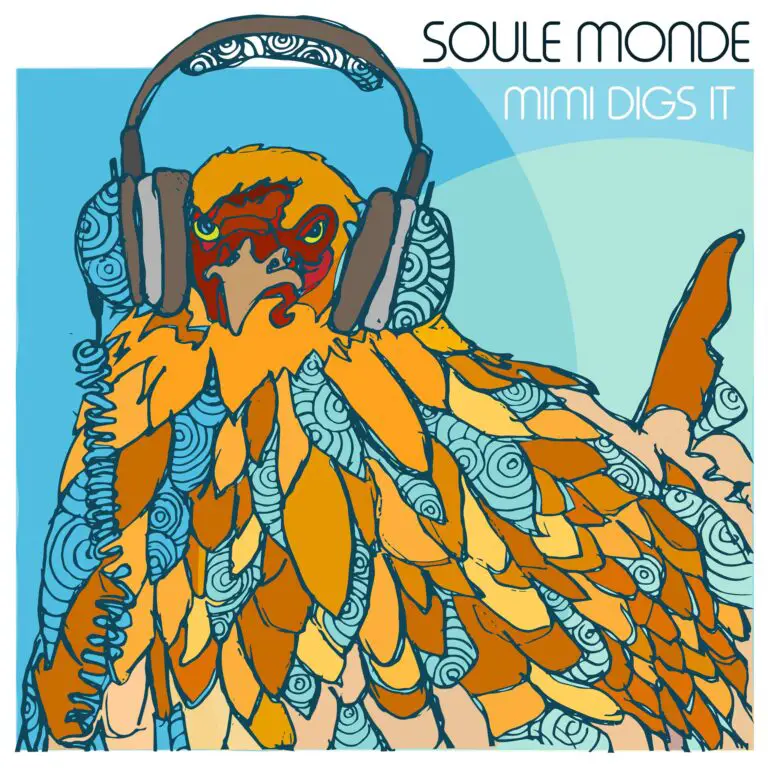 Matthew Romano: Hey guys. Thanks for taking the time to speak with us today.
Ray Paczkowski: Hey it's Ray.

Russ Lawton: We're open. We're here for the afternoon rehearsing and appreciate your interest for the interview.

MR: I was able to listen to the new album this week on a road trip from Key West to New York State.

RL: Oh cool, yea its got that cruising kind of vibe to it.

MR: Biggest question on this project's recording since it sounds so off-the-cuff is how much of this is improvisation and how much is composition?

RP: There's composition and basically Russ will come up with a beat or I'll come up with a melody or some chord progression and we put it together. We do the parts and sections of the songs. But then on any given night it can totally change… it can go in any direction. So when we went in the studio we kind of had a sense of how the structure should be. Then we would improvise.

RL: The perfect example of composition improv is the song "Gateway Drug." It's got the two sections and breaks down the middle. After we recorded that, we should have had a little bit of an idea. But that's totally what we just did that day. It will probably never be that same way again. Ya know what I mean?

MR: Absolutely. This kind of music sounds so soulful in the moment that it can't be recreated for what you're feeling at the time. If that's what ends up on tape then so be it.

RP: Yea its actually a beautiful thing.

RL: I think about "Tinyland." It was the last thing we worked on before we went into the studio. Matter of fact, one of the sections was two days before and when Ray came up with that organ line in the beginning we were in the control room like, yea use that. It stays in my head everyday now (laughter).

MR: I wanted to ask you about your influences on Soule Monde's sound but you guys are already in a unique category with a drummer/keyboard duo like this. Do any artists stick out?

RP: It's pretty much straight my music. What I'm feeling. I would say as far as influences, that it's more "the sound" players get. Not so much what they're playing. Although, Someone like Jimmy Smith, those guys… Thelonius Monk, it's amazing. They have their own melodic harmonic concepts going on. But really what I listen for is "the sound" that they're getting. Like with Jimmy Smith, the sound of his organ. I had the privilege to open for him years ago and snuck up to his gear after soundcheck and was looking at all the settings. That's what I'm interested in. "The sound" that comes out of that machine in a way.

MR: Funny you mention Monk. I passed along the Monks Tips for a Gig to Trey, Russ, and Tony at the Beacon Jams. Tony was quoted about your playing Ray. "He's brilliant. I mean his playing is unlike anybody, he's kind of playing like Monk in a rock setting that nobody does and he makes it work."
RP: (Laughter) Oh that was you? Ok alright.

RL: (Laughter) Yeah that's great.

MR: Yea, Ray you turned me on to Brian Blade with Chick Corea and Christian McBride at Beacon Jams. They ended up winning the Grammy for Best Jazz Instrumental Album this year. I was able to speak with Steve Gadd last month about his work with Chick Corea and he mentioned a story about Chick jumping behind drums to work something out. Have you ever jumped behind the kit Ray?

RP: I don't play drums at all but I'll have sort of a basic kind of rhythmic idea. Like "CC's Dream," that song. I hear this sort of reggae thing but I wouldn't even know what to call it, but I hear this rhythm in my head. I show Russ the rudimentary and he took it from there and made it into something cool.

RL: It's called collaborating. No matter what it takes to get the idea across because sometimes you don't totally know what is in somebody's head. I played with these African percussionists for a long time and man we would put this stuff together. Talking about influences that's on a lot of Soule Monde still is this band I was in, Lofty's Zzebra. Afrobeat sound mixed with a rock edge influence. But even with me, certain snare things, I'm like yea that's John Bonham. Even the first song "Tinyland" my daughter said sounds like Bonham in the beginning. Also, Art Blakey kind of sounds are an influence. I got to see him one time which was amazing.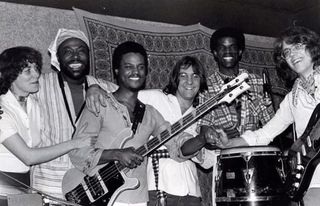 MR: Is it safe to say this album compared to previous ones has a little bit more straight funk grooves over Afrobeat?
RP: Yea this seems more of a funk base. There's a tune called "Ollie '88" we worked hard on for a long time. That kind of informed some of the rhythms on this album. But I think you're right. Ya know in the past, "Take My Hand" and "Mina" were definitely more Afrobeat-based.

MR: How about the funky title track "Mimi Digs It"? Wasn't it inspired by one of your chickens, Ray?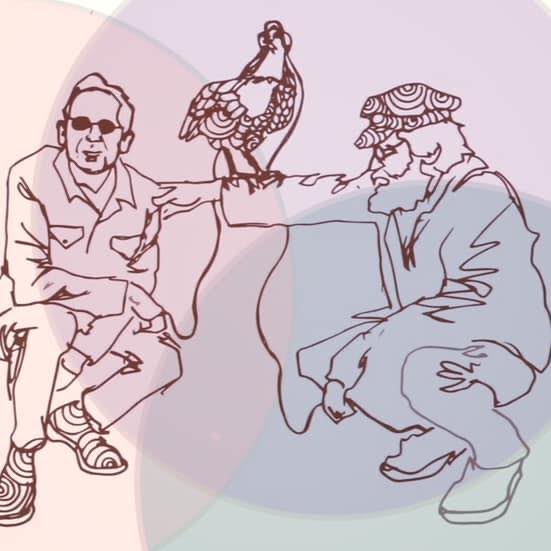 RP: Yea when we were rehearsing for the recording. We have a bunch of chickens here, one in particular named Mimi. Ya know it gets loud in the barn when we play and all of the chickens would run away except for Mimi. Ya know I think maybe she was deaf or something (laughter). She would like to get up on the keyboards and were like, "Oh Mimi Digs it" and that became the name of the track and then the record.

MR: Could have also been a nod to Mimi Fishman who was a great artist.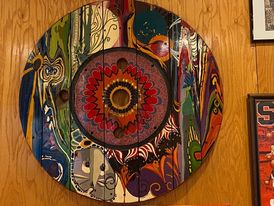 RP: I'm waiting for Jon Fishman to call and say, "What are you making a record about my mother?" Yea our friend Pappy Biondo from the band Cabinet did the cover art for the album.

RL: Yea he's a good friend of ours that lives in Vermont. He did our album cover for our last Christmas song too.

MR: I was able to get through on the Beacon Jam streams to revisit an infamous Trey Anastasio Band show from Utica's Stanley Theater in October of 2002. The crowd was rocking to the beat of the humanity and plaster fell from the balcony. Trey, Tony and Cyro spoke on it. What do you remember about that infamous gig?

RP: We were watching it from the stage and, ya know, started commenting, "Man, that balcony is really moving!" The local fire marshal is always at a show. Then Trey's like, "You see that balcony moving!?" And then he calls, if I remember right, "Sand." Ya know because it was gonna be a heavy groove and then the fire marshal came on stage "No No No!"

RL: The fire marshal is like can you play something more mellower? We're like "no" (laughter).

MR: I know you guys were in the middle of "Mr. Completely" before it all came to a halt and went acoustic. Did a fire marshal also come on stage for Valentine's Day in Red Bank, New Jersey 2010 during "Sand" as well that prompted the house lights on mid-jam to a quick conga line by you guys through the crowd back to the stage?
RP: No that was because someone pulled the alarm. They were ejecting someone and he grabbed the fire alarm on the way out

MR: What is it about "Sand" that is the ultimate groove to get everyone in the house moving?

RL: It's still in the setlist after 20 odd years.

RP: That's Tony's bass line

RL: That's Tony man, oh my god.
The best way to listen to the band's new record is from their Vinyl option that includes a signed copy and even a batch of Ray's homemade syrup from his farm. The duo will play live to start the Summer concert series in 2021 at Sugarhouse where they recorded the album on May 29. Make the trip to Central Vermont and watch these guys lay it down for yourself. You can grab tickets here.