New York City in the 1980s was a creative caldron where anything could happen. Painting, graffiti, performance and emergent video art, film, dance, theater and music of every conceivable genre were blending into one another, often in unprecedented ways.  In the arts, and maybe music first and foremost, boundaries were not for division but blurring and breaking to make the wholly new. So when Philip Glass, the esteemed minimalist composer, teamed with The Raybeats, the neo-surf guitar super combo, it was the kind of collision of seeming opposites that made perfect sense in these freewheeling times.
The Raybeats formed in 1979 out of the ashes of the legendary New York no-wavers, The Contortions.  The band's bassist George Scott and drummer Don Christensen joined with guitarist/keyboardist/sax man Pat Irwin (8-Eyed Spy and later the B52s) and guitarist Jody Harris (Golden Palominos and an original member of The Contortions featured on the seminal No New York compilation produced by Brian Eno).  When Scott died of a drug overdose in 1980, he was replaced by Danny Amis. Amis would later go on to form the groundbreaking, masked surf guitar band, Los Straitjackets.
The Raybeats sound was an artsy update on the gutsy guitar instrumentals of fuzz pioneer Link Wray and the twangy surf of Dick Dale.  Added to this were copious amounts of space age bachelor pad swank and spy movie mysterioso, along with Stax/Volt grooves and, of course, the experimental noise/skronk of no-wave.  It was a high-energy, eminently danceable brew, one that made The Raybeats a popular touring band on the underground rock circuit.  With Amis, they recorded an EP Roping Wild Bears (1981) and the acclaimed full-length album, Guitar Beat (1982).  After his departure, they waxed just one more album, It's Only A Movie!, before disbanding in 1984. 
The Raybeats went into SoHo's Greene Street Recording on June 4 – 5, 1982, with Philip Glass, his pianist of choice Michael Riesman and co-producer Kurt Munkasi.  None of the parties really knew what to expect according to Irwin. And the world would not hear the fruits of their collaboration until 31 years later, when Glass released the seven tracks on CD in 2013, on his Orange Mountain Music label.
Philly and NYC based label Ramp Local is now putting out the first-ever vinyl pressing of this incredible collection, called The Lost Philip Glass Sessions, just in time for Record Store Day, June 12.  The vinyl package includes new cover art and an insert, with liner notes by Pat Irwin and rare archival photos.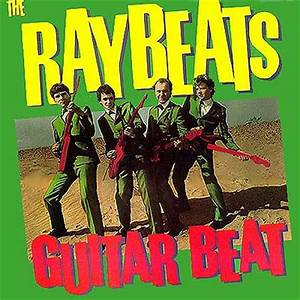 The disc kicks off with "Jack the Ripper," a cover of the classic instrumental recorded by Link Wray of "Rumble" fame.  As with many of the offerings here, the tune is anchored by a pounding jungle beat, with some nice retro slapback delay.  It also boasts thick sheets of dreamy feedback from Jody Harris to complement Irwin's heavily-reverbed, deep toned melody guitar. 
"Pack of Camels" is one of the tunes that gets a more obvious Glassian treatment.  This is snake charmer music, an Eastern modal dance groove with oodles of reverbed melody guitars and spooky Lena Lovich/Laurie Anderson-like vocal accents by Dora Ohrenstein.  
According to Irwin's liner notes, "Black Beach" was intended to recreate the experience of riding Coney Island's famed roller coaster, the Cyclone.  Drummer Christensen had the idea of recording the sounds of the Cyclone and the screams of the riders for use as a drum break, a thought that ended up on the cutting room floor.  The B section of has the most obvious Glassian flavor on the album – a hypnotic swirl of interlocking keyboard figures played by Michael Riesman, a longtime member of The Philip Glass Ensemble.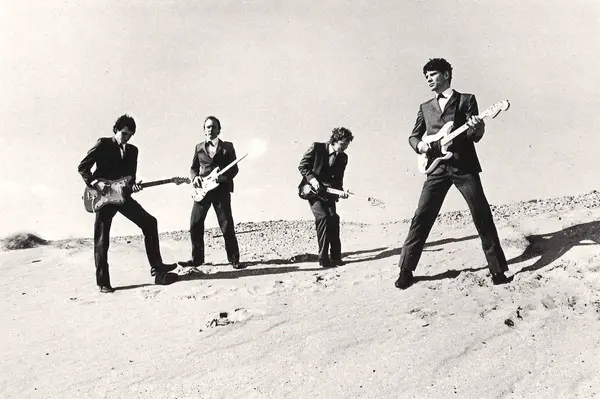 "The Sad Little Caper" features a five-note melodic figure, a baritone guitar counter melody and a cavernous ambience that brings to mind a James Bond flick. Add to this spooky keyboard answers arranged by Glass. These are reminiscent of P-Funker Bernie Worrell's contributions to Stop Making Sense-era Talking Heads. 
The most no-wave flavored piece of the album, "I Do Just What I Want," comes from a 1985 session at the Living Room, Glass' studio in TriBeCa. Dirty tenor sax growls, slip slidey fuzz bass and a four-on-the-floor surf beat propel the piece, which features a vocal refrain of the title and punchy orchestral synth hits. 
"1.2 Girls" and "Hoodlum Priest" both come from sessions at Surf Sounds begun in 1983.  The former owes a ton to the jungle rhythms of Gary Glitter's 1972 hit, "Rock-n-Roll Pt. 2."  A stomping beat, more tenor growl and a bit of vocals singing the title, one that purportedly was swiped from a tabloid headline.  "Hoodlum Priest" begins with the sound of thunderstorm captured outside the studio.  More cool spy vibes to a dark funk beat, with lush stereo pans of the bitey guitars – acoustic, electric and a bit of backwards psychedelia.
Like Guitar Beat, this disc proves that The Raybeats were the real deal. They were true sonic minded guitar innovators, working in a punk era that minimized any guitaring that seemed to showcase chops, anything beyond three chords, a grimace and a grunt.  Though their career was short-lived, their influence was lasting, with the neo-surf they pioneered in their recordings and in the further works of its members when they dispersed.  The meeting with Glass produced some real magic here. It is guitar art of the highest order, one that proves that this quartet was on the level of the critic revered Tom Verlaine/Richard Lloyd-helmed Television.   
If you like this disc, you should also check out the exceptionally creative, lo-fi masterpiece Escape, a duo disc made on a budget of $7 (for tape) by Raybeat Jody Harris and Robert Quine of Voidoids and Lou Reed fame. Irwin has been keeping great instrumental guitar art alive via his long stint with The B52s, his contributions to soundtracks like The Rugrats and, most recently, his great PI Power Trio.  You can hear what he's been up to on their debut EP The Walk or at live performances at downtown NYC venues like the Treehouse at 2A.  Recommended Tracks: Jack The Ripper, The Sad Little Caper and Pack of Camels