written by Matthew Romano
Live music is making its way back into our weekend plans. The Oteil Burbridge band featuring Pete Lavezzoli on drums, Tom Guarna on Guitar, and special guest Jason Crosby on keyboards performed for two nights at the North Beach Bandshell in Miami Beach, FL on April 24 and 25. Over two days the quartet had a Grateful Dead heavy setlist, nicely blended with Oteil's originals and covers of his favorite artists.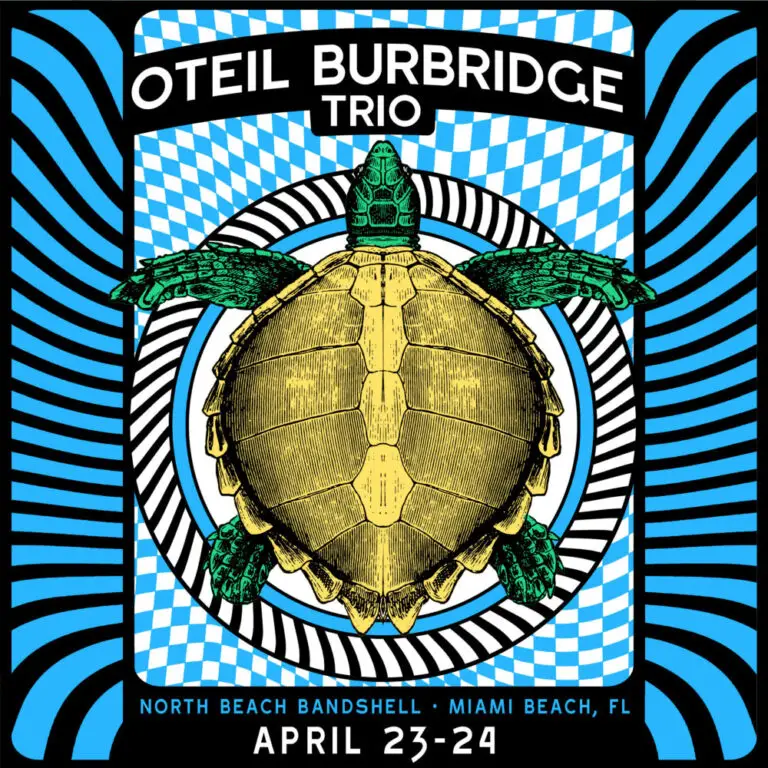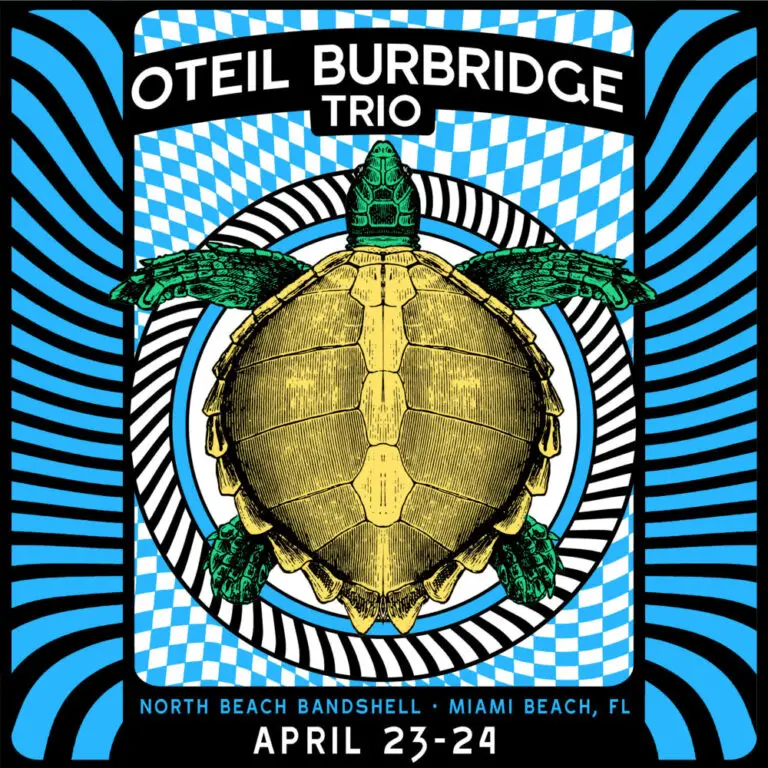 The breeze kicked in to start the two night run. They open with a cover by The Weather Report that brought all of the "Elegant People" from the beach. It got the whole crowd immediately grooving. A first set dead classic "Sugaree" start the psychedelic blues for the sun soaked masses. A cover of Jerry Garcia Band "Cats Down Under the Stars" keeps it flowing with Melvin Seals drummer Lavezolli and Oteil locked in " Cats on the bandstand, give em each a big hand, Anyone who sweats like that must be all right."
Believe it or not the band follows with another Grateful Dead classic that was played under the Miami Beach haze during soundcheck for "Here Comes Sunshine." "Hard to find" an end of a first set, the quartet close with "King Solomon's Marbles" to send everyone looking for their own after they cleared the stage.
The second set started with a beautiful Jerry solo classic "Rubin and Cherise." The words on the Florida shore singing "the breeze would pause to listen in before going on its way again, Masquerade began when the nightfall finally woke." Another Jerry tune up next for "Gomorrah" helped "Blow the City off the Map, left nothing there but fire"
Oteil brings you back to Brooklyn Bowl for a "Butter Biscuit" next, then a transition to a Grateful Dead S.O.S. on the beach. "Help on the Way" into "Slipknot" gets another Oteil original weaved in with "Too Many Times" before crescendoing into "Franklins Tower." It was a funky roll in the dew to close the first set.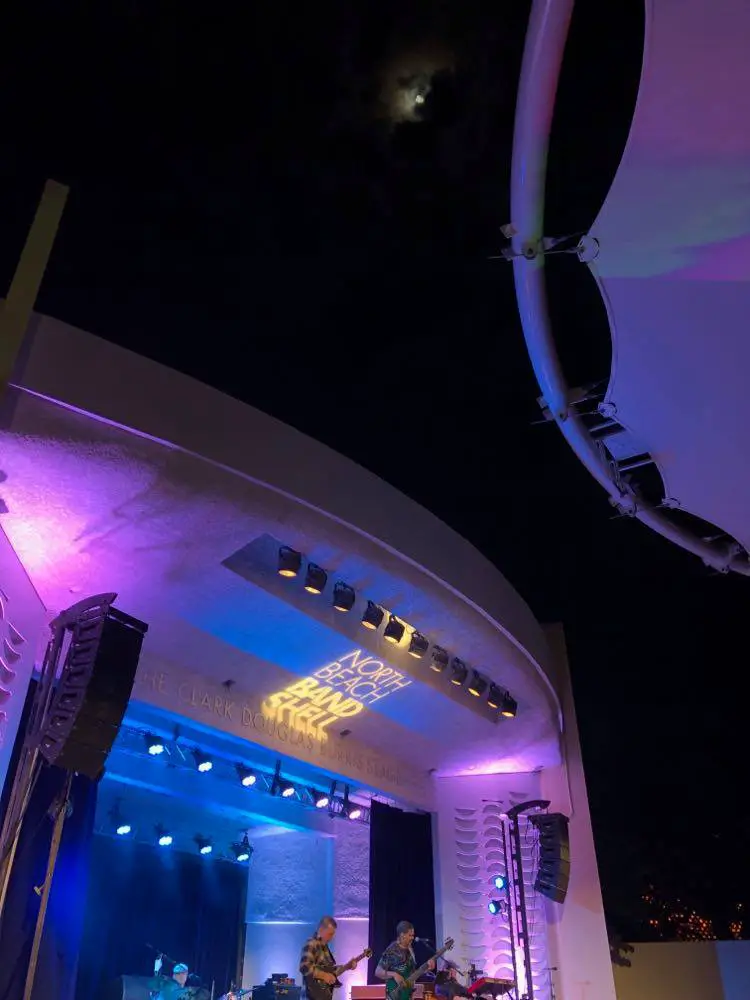 Keeping the crowd in a Grateful Dead like glow the band starts the encore so quiet you can hear the ocean. Oteil's voice on "Stella Blue" reminds you the wave is crashing "In the end there's still a song, comes crying like the wind, down every lonely street, that's ever been." As expected after a Dead heavy show like this you would assume this was the end.
Nope, during the encore the band paid tribute to Sugarloaf with their cover of "Green Eyed Lady." Its lyrics perhaps another nod to a day on the beach. "Green Eyed Lady windswept lady , moves the night the waves the sand, Green eyed lady…ocean lady." Out of nowhere, Oteil's ensemble threw everyone for a loop on their way back to the Miami scene.
After an hour long soundcheck in Miami Beach, Oteil Burbridge took some time to talk with NYS Music
Matthew Romano: I am so glad I got to see the show last night before speaking today. Do you remember the Buddy Miles record that had a cover of Allman Brothers Band tunes "Dont' Keep Me Wondering" and "Midnight Rider"? I can't help but hear your same soulful interpretation of these Dead songs.
Oteil Burbridge: Yes I do! I kind of just do it. You can't do anything to suppress your roots. Not really trying, it just comes out like that. But there was something that really gave me confidence to lean in more on my approach. I don't know if you've heard George Porter sing "Eyes of World"? It's my favorite "Eyes of the World." The way he sings it, holy crap, just blew me away seeing that. So I was like yea man do it like you feel it. You know just let it come, let it be what it is.
MR: Well being here in Miami where you just recorded with Page McConnell and Vida Blue for a record we didn't know what to expect out of your catalog this weekend for a set.
OB: I don't with Vida Blue material because they are still on the road and we still play. Allman's aren't playing, I mean Dead and Company is playing, ya know as slow as we are doing everything. If you notice we do a lot of different versions with this band. We do the the old funkier, sluttier "Loose Lucy" and the faster funky kind of "They Love Each Other," the long "Eyes" the "Terrapin." What else? The funky "Bertha."
OB: So we can just lean in the funk.
MR: I was able to speak with John Mayer on Tales From the Golden Road on Sirius XM and got his angle on bringing his own texture to the Dead and Co. sound. You are in the same boat bringing a whole new edge and vibe to this music that gives it a new form of life.
OB: I mean it just comes out that way. It's really about being given permission by yourself, the original members, the crowd, and especially the old crew.
OB: Ya know it mattered to me, what AJ thinks, what Jarukie thought. It matters what Derek Featherstone thinks. Ya know all the original crew that's been here much longer than me. So even to have them and friends approval means the world.
MR: Well how about big Steve Parish who has come Upstate New York to go on his own tour speaking about all his years behind the amps of the Dead for every show?
OB: When you get Parish's seal of approval, wow. All those guys, Dennis McNally, Bill Walton. When Bill Walton says you're good, you quit worrying. But John and I have been very lucky to be graced by all those people, the crowd, the original members. I count them as family.
MR: Well being at the first Dead and Company show on October 29, 2015 at Times Union Center (The Old Knickerbocker Arena), it was only appropriate for you and John to open with "Playing in the Band."
OB: (Laughter) For sure. That was a harrowing night. That was a trip, that beginning time.
MR: Well, I love that 6 years later your able to lead the pack with some funk on this repertoire for two nights on the beach in Spring 2021.
OB: Well i mean there is so much funk in the Grateful Dead's music. The Jerry Bands' music. Its just like there for the picking. So i just lean in to it
OB: Thats where I come from, ya know? I come from James Brown and Parliament Funkadelic. Earth Wind and Fire, Stevie, Larry Graham, J.V Collier and James Jamerson.
MR: How about Larry Graham creating the slap bass technique to fill for the drummers spot that was absent
OB: Yeah the drummer didn't come so he had to bass the drum with his thumb and the snare and hi hat with his slap and the plucking part yeah. Tonight we're gonna do a tribute to Paul Jackson in Head Hunters that just passed. It was the last tune we did during soundcheck today was "God made me Funky."
MR: That had me dancing outside and threw me for a loop before I came in to talk to ya. I walked in the room feeling like Cleo McDowell in Coming to America…"I'm not sure what to do…I feel like break dancing."
OB: (Laughter) For Sure. I've seen it at Dead shows, people start popping and locking! This weekend has been the biggest amount of people this band has played for. It was great to see that many bodies in motion again.
Later that night Oteil and Friends played one more Saturday night for an audience on Miami Beach.
The crowd immediately responded to the Oteil instrumental "The Happy Dance" to start the evening. Another highlight of Oteil's solo catalog came next with "Rooster." His words nailed it over the old Peacemakers groove, "There's not much time to get your house in order, you can watch as the darkness grows, keep on trying to disguise yourself, but the ugliness still shows, you better clean it up before the rooster crows…"
Then a Dead heavy first set that included the funked up "Bertha" and "Loose Lucy." The Dead vibes unfolded at the end of the first set with "China Cat Sunflower" > "China Doll" > "I Know Your Rider." A set ending fake out with "No More Doubt," another Oteil and the Peacemakers original. With even deeper lyrics "Call out to the grave, I am a mirror to the clouds, you can rest assure there will be no more worry," to officially end the set.
After a short break the band opened with two covers, Jaco Pastorius' "Opus Pocus' and Donny Hathaway's "Magnificent Sanctuary." These tunes are certainly hand picked by Oteil as they are a major influence on his sound.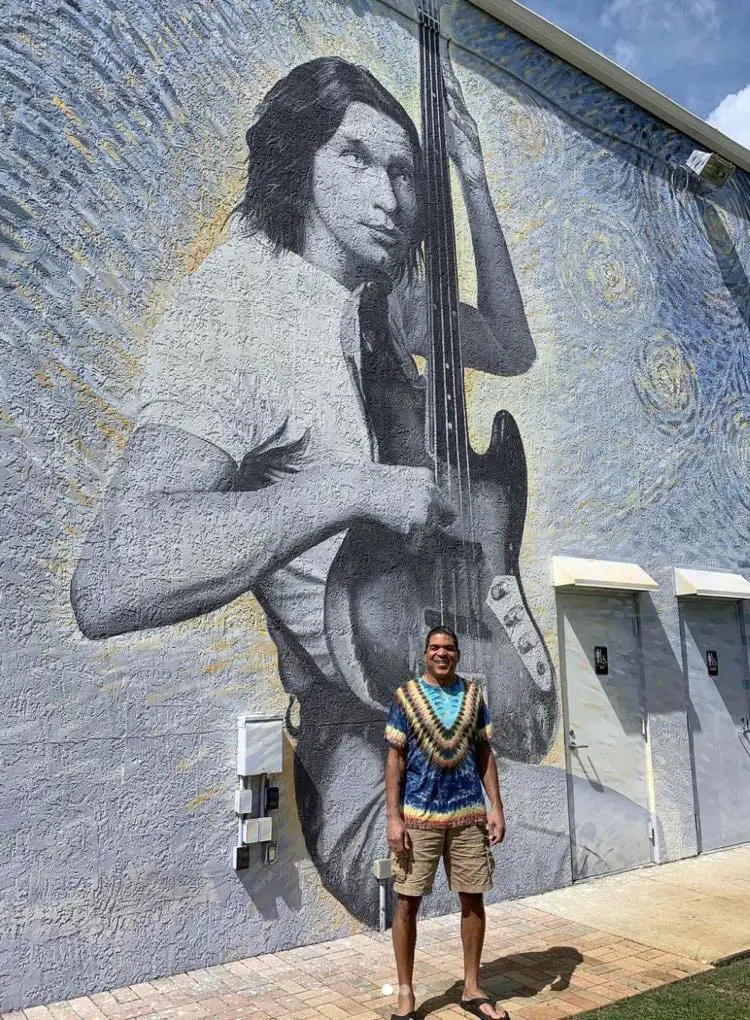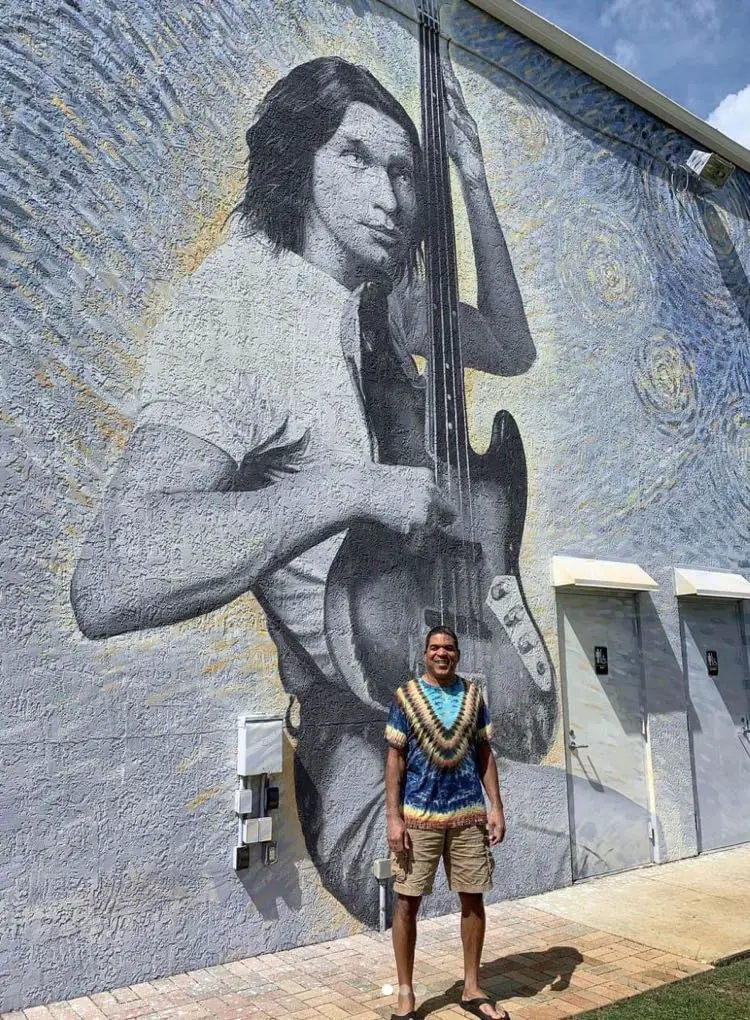 The band then closes the rest of the set with The Grateful Dead catalog where ocean breezes flow. After a funky "They Love Each Other" they launched into "Estimated Prophet" > "Terrapin" > "Morning Dew." Oteil was quoted on his first vocal take on Dew, "I feel like I've been through enough in life to do it justice, I hope you enjoyed it."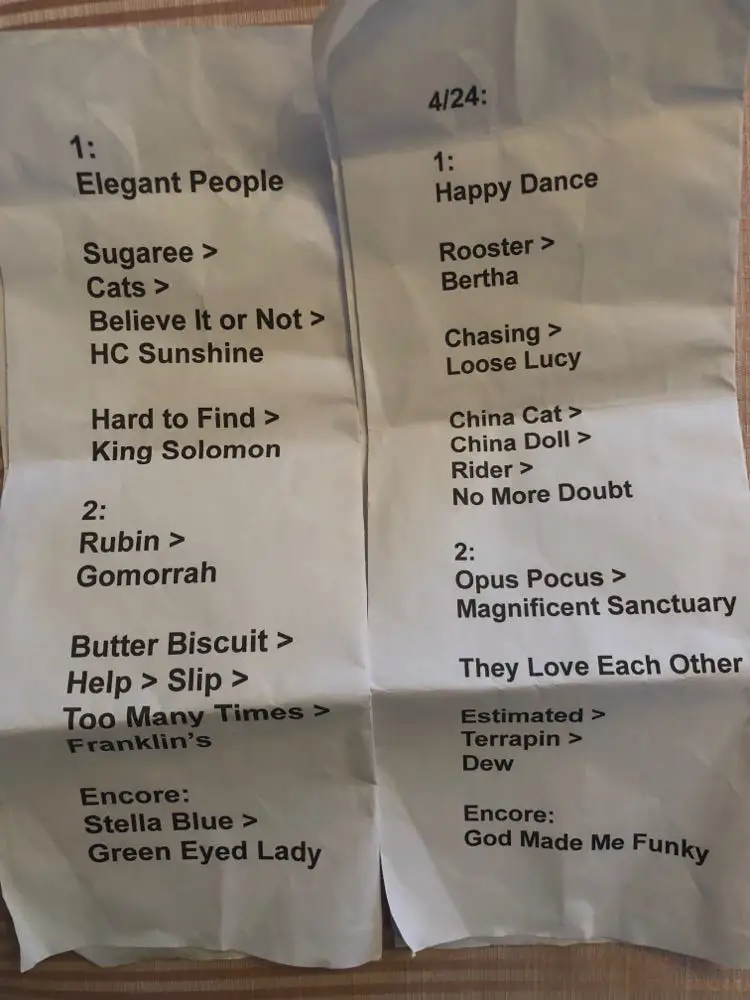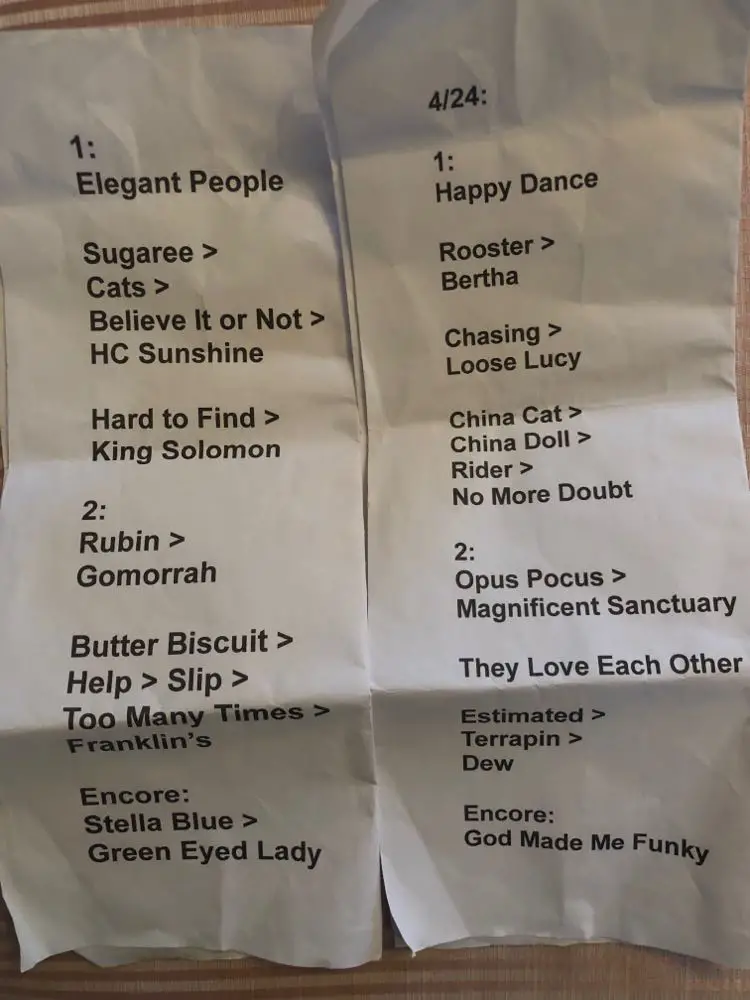 The encore for the two night beach run was a tribute to Paul Jackson of the Head Hunters for "God Made me Funky." Let's be glad he is out touring this kind of music in 2021. Oteil helps carry the torch for new comers to the scene. It was Miami Beach resident Chris Collins first show who celebrated his father Bobs birthday Friday night. Bob toured for four years with the Dead.
In between shows you can listen to Oteil's podcast with great artists. The crew heads to B Chord brewing Company in Virginia on June 4 and 5 for their next two night run. Dead and Company 2021 tour will be kicking off August 16th in Raleigh, North Carolina, and running through Halloween, with a three-night stand at the iconic Hollywood Bowl on October 29th, 30th, & 31st.