37 years ago today, The Grateful Dead played their one and only show in Niagara Falls, NY. The band was certainly familiar with the state by this time in their touring career, but had never managed to play this section of Western New York before. In traditional fashion, the Dead started the year off with some shows in California and out west before heading east for spring tour. After a show in Rochester the night before, this would be the fourth show of the East Coast run, following two at Hampton Coliseum.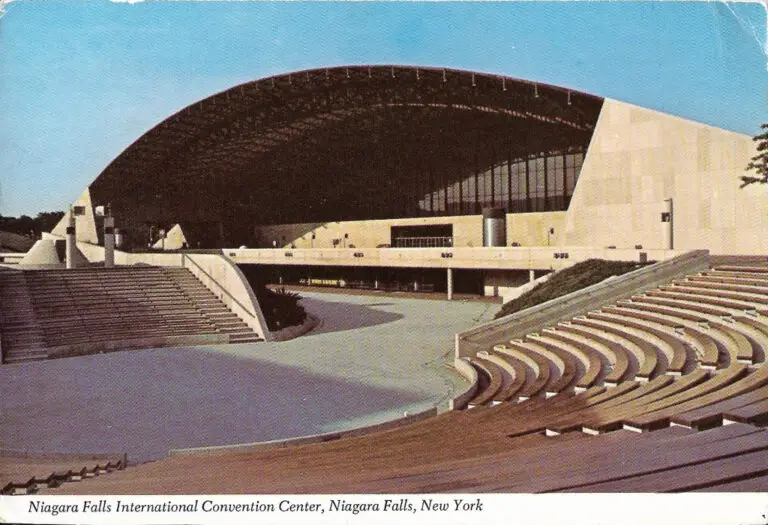 The Dead do a little extended tuning to rev up the Niagara Falls crowd even further to start and then its off to the races with "Jack Straw." This one comes out of the gates clean, with Bob Weir leading the way on vocals. It's later highlighted by a sparkling run on guitar by Jerry Garcia that takes this opener to another level. Garcia then uses "Dire Wolf" as another chance to drop down a pristine solo before the opening licks of "New Minglewood Blues" emerge next. This time, its keyboardist's Brent Mydland's time to show off thanks to a rousing organ solo delivered midway through. The traditional first set number builds up in intensity a little before coming to a close thanks to some more Garcia runs that follow and Weir using a pedal steel-like effect on guitar in the brief jam that ensues.

"Row Jimmy" then slows things down a tad, with Garcia noticeably stumbling early over some of the lyrics. It's a fairly tame version that still seems like it's trying to figure itself out. Afterwards, Weir "shadowboxes the Apocalypse" a little in the short-lived "My Brother Esau." The first set excitement seems to return with "Ramble On Rose" that features a wicked feedback sound at the outset. Garcia has no issue with the lyrics this time and is complemented perfectly by Mydland with a harpsichord-like sound on keys throughout. This classic Dead number gets a loud roar of approval from the Niagara Falls crowd when all is said and done. The fairly short opening set then ends with "Looks Like Rain" > "Deal" with each allotting some time for a few more powerful Garcia-driven guitar solos.
A very raspy Bob Weir and some fun audio effects begin the second set with everyone's favorite crowd management game, "Take A Step Back." With this out of the way, the set then takes off with a sped-up and high octane "Help On The Way" that feels like its shot out of a cannon. Although it may be quick, it begets a powerfully cohesive and psychedelic jam that patiently explores and develops for a while. So much so, in fact, that it seems to completely bypass the beginning and go right to the end of "Slipknot!" After a quick run through the main riff, the Dead quickly shift gears once again and use "Franklin's Tower" to complete the traditional pairing that starts this second set with a bang.
After giving the crowd a chance to catch their breath, the Dead are off and running again with "Man Smart, Women Smarter." This seems to pick up right where the "Frankin's" jam left off, with another rapid-fire, cohesive effort that sees Garcia leading the way once again. The drummer tag-team of Bill Kreutzmann and Mickey Hart provide the needed rhythmic support on an infectiously bouncy take on this number.
The drum-heavy outro jam then suddenly yields to Garcia and the opening chords of "Eyes Of The World" begin to be heard, cementing an already impressive second set. Despite some ethereal tones from Mydland on keys, this "Eyes" starts fast and only gets faster as Garcia annihilates one guitar run after another, seemingly getting more powerful as the song progresses.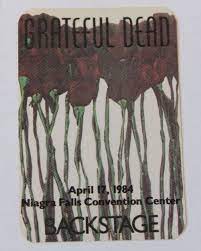 In a complete contrast, the band seems to be extra patient and exploratory in the "Space" portion of the evening that follows "Drums." The Dead take their sweet time noodling around, with Garcia running up and down scales in a variety of tones and effects. As a discernable drum beat emerges from the madness, so too does "Black Peter." Some noticeable "spacey" effects appear to seep into this one, giving this "Peter" a real jazzy, psychedelic vibe that meshes perfectly with the blues emanating from Garcia.
To close out tonight's show at the Niagara Falls Convention Center, the Grateful Dead would mix in a few newer numbers, starting with the Weird-led "Throwing Stones." A couple of dazzling keyboard fills from Mydland on piano highlight this one which was only premiered a few years prior. At its conclusion, Garcia immediately starts the introductory chords to Buddy Holly's "Not Fade Away," a second set Grateful Dead staple. As is tradition by now, some say beginning with the show in Binghamton last year, this keeps this crowd singing and clapping along throughout the encore break. "Touch Of Grey," another newer song, played rather quickly and unfortunately a little sloppily, then closes out the Dead's only show in Niagara Falls.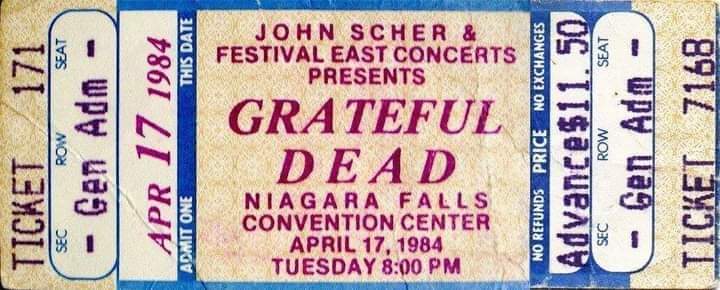 Grateful Dead Niagara Falls Convention Center – Niagara Falls, NY 4/17/84
Set 1: Jack Straw, Dire Wolf, New Minglewood Blues, Row Jimmy, My Brother Esau, Ramble On Rose, Looks Like Rain-> Deal
Set 2: Help On The Way-> Slipknot!-> Franklin's Tower-> Women Are Smarter-> Eyes Of The World-> Drums-> ->Space->Black Peter-> Throwing Stones-> Not Fade Away
E: Touch Of Gray