Safe & Soundz festival will take place June 11-13, 2021 at Magic Forest Farm in Coeymans Hollow, outside of Albany, NY.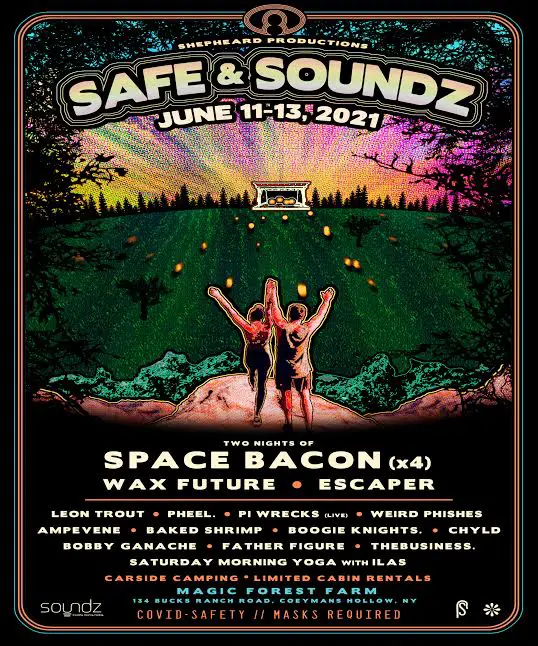 The festival lineup includes Space Bacon, Wax Future, Escaper, Leon Trout, Pheel, Pi Wrecks, Weird Phishes, Ampevene, Baked Shrimp, Boogie knights, Chyld, Bobby Ganache, Father Figure, The Business, and Saturday morning yoga with Ilas.
Held at Magic Forest Farm and produced by Shepheard Productions, the festival is a small event with only 150 tickets sold and 9 campsites. Each campsite came with their own fire-pit and 2 Car-side parking spots and is good for up to 8 campers maximum. They also offer 3 rental options: Tipi (4 people), Yurt (3 people) and Cabin (6 people), each with its own charm and amenities. Attendees are also encouraged to find a nice secluded spot away from others to pitch their tent, hang their hammock and relax on any of the beautiful 230 acres in the Catskill mountains. 
The Safe & Soundz festival will be taking many COVID-19 safety precautions. The stage will have socially distanced viewing pods. These pods will be on a first come, first served basis throughout the day/night and capacity will not exceed 1 group per pod (8 people max). People are also expected to wear a face mask anytime they leave their campsite or their viewing pod. In addition to following all state and local safety guidelines the festival will also be checking attendees temperatures upon admission, supplying sanitation sites throughout the grounds, masks will also be required when moving around campsites. These rules are subject to change come mid-June, but for right now, they're taking the most precaution to ensure everyone's safety.
Although the festival is sold out, Safe & Soundz festival tickets may be available on resale sites and groups. For more information visit Shepheard Production's Facebook Page.