Promising Young Woman actress Carey Mulligan hosted this week's Saturday Night Live, with rapper Kid Cudi joining her as musical guest. Cudi released his most recent album, Man on the Moon III: The Chosen in December of 2020, concluding the trilogy he began in 2009.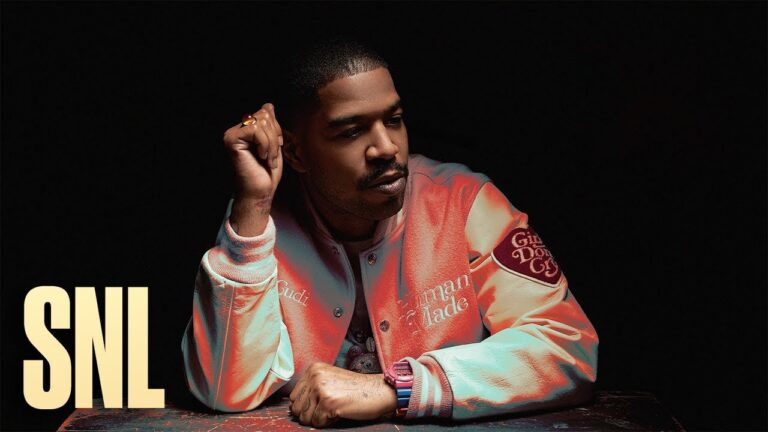 Mulligan's husband Marcus Mumford appeared during her opening monologue, offering to be the night's musical guest. After Mulligan informed Mumford that Kid Cudi was performing already, he pulled an acoustic guitar out of thin air and accompanied her closing remarks. Of course, Mumford is the front-man of folk rock band Mumford & Sons, who previously played SNL in 2012, 2015 and 2018.
Before his performances, Kid Cudi first appeared in a sketch with Pete Davidson and Chris Redd, "Weird Little Flute." It parodied flute rap, a burgeoning subgenre including songs like Future's "Mask Off." Previous SNL host Timothee Chalamet made an unexpected cameo, endorsing the weird little flute as a musical asset.
Kid Cudi chose "Tequila Shots" as his first song of the night, with lyrics about alcohol-induced anxiety and depression: "It seems I'll never learn / I won't stop 'til I crash and burn / Tell my mom I'm sorry." He wore a t-shirt depicting late SNL cast member Chris Farley, who famously struggled with addiction.
Cudi closed out the episode with "Sad People," a toast to contemplative night owls. Following in the footsteps of Kurt Cobain, he wore a floral dress. Cobain died by suicide this week in 1994, and Cudi has been open about his own experiences with suicidal ideation.
As for Kid Cudi's 2021 plans, an album is likely on the horizon for his supergroup, The Scotts. Made up of Cudi (whose first name is Scott) and Travis Scott, The Scotts formed in 2020 and debuted atop the Billboard Hot 100 with single "The Scotts."
The episode ended with an in memoriam tribute to rapper DMX, who played SNL in 2000.