Bonnaroo Music & Arts Festival announces it's 2021 lineup including big names like Megan Thee Stallion, Foo Fighters, Lizzo and many more. The festival will take place September 2nd through 5th in Manchester, Tennessee.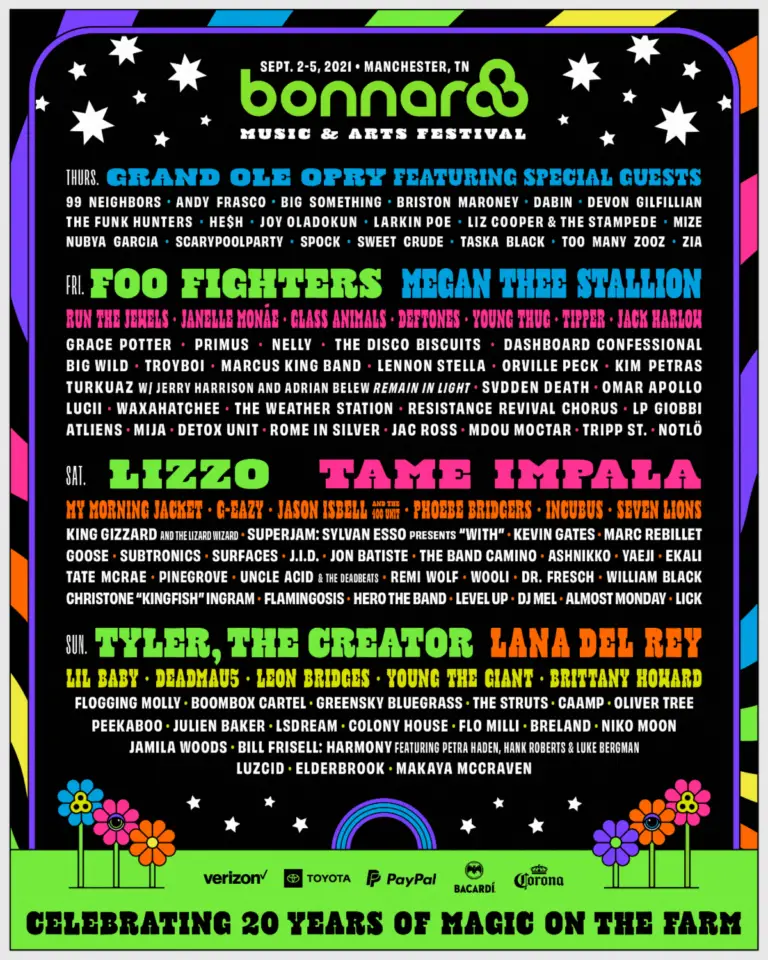 The Bonnaroo Music & Arts Festival has been around and kicking since 2002. The festival takes place on the Bonnaroo Farm sprawling across seven acres, located just 60 miles southeast of Nashville in Manchester, TN. The festivities sprawl out across 10 stages over four days and over 100 performances. 
Some of the big names include Andy Frasco, Larkin Poe, Nubya Garcia, Foo Fighters, Megan Thee Stallion, Run The Jewels, Glass Animals, Deftones, Young Thug, Tipper, Lizzo, Tame Impala, My Morning Jacket, G-EAZY, Jason Isbell & The 400 Unit, Phoebe Bridgers, Incubus, Seven Lions, Tyler, The Creator, Lil Baby, DEADMAU5, Leon Bridges, Young The Giant, Britanny Howard and more. 
Festivals are slowly starting to creep back into existence. One of the main and real concerns with festivals coming back to life though is how they will handle the COVID-19 pandemic. According to Bonnaroo Music & Arts Festival's website they, "will continue to update Bonnaroovians with the important information needed to plan your[their] trip to The Farm, including any changes to policies and procedures you need to know before entering the festival and campgrounds.  Updates will be shared on this page, through our social media channels and via our email list.  If you haven't already, sign up for our E-mail list to have the most current information sent directly to your[their] inbox."
Any public space where people are present has an inherent risk of exposure to COVID-19.  COVID-19 is an extremely contagious disease that can lead to severe illness and death.  According to the Centers For Disease Control and Prevention, senior citizens and guests with underlying media conditions are especially vulnerable. They state very clearly that by attending Bonnaroo Music & Arts Festival, people voluntarily assume all risks related to exposure to COVID-19. In time the festival will release more information on the safety precautions people should expect. 
Tickets for Bonnaroo went on sale on March 31, 2021 and can be found here. Options for tickets  include General Admission (4-Day), GA+ (4-Day), VIP (4-Day), Platinum (4-Day), General Admission Camping & Parking, VIP Camping, Platinum Camping, and more.  Bonnaroo is presenting an array of affordable options, with tickets starting at $35 down and accommodations available for as low as $99 per night. Car Camping Passes are priced at only $60 (plus fees) per car, not per person, allowing fans to both save money and reduce their carbon footprint by carpooling. 
On July 28, Bonnaroo 2021 announced the lineup for its famed Campgrounds and Plazas, once again promising the most inclusive and original camping experience of any festival, anywhere in the world.
Strategically located and well-lit public places throughout the campgrounds, Bonnaroo's communal areas, known as Plazas, include shade, free public Wi-Fi, showers, activities, charging stations, Clean Vibes Trading Post redemption centers, cooling stations, medical, safety stations, information, and portable restrooms. The 2021 Campground Plazas lineup features several returning favorites along with several all-new experiences:
CENTEROO
For the first time ever, Bonnaroovians can say "I roo" at the House of MatROOmony. Produced by iamsound, Bonnaroo's new House of Love will host romantic activities like Lovesick Karaoke Happy Hour, interactive photo booth installations, and daily wedding ceremonies where attendees can get hitched by very special guests. Registration is available now HERE.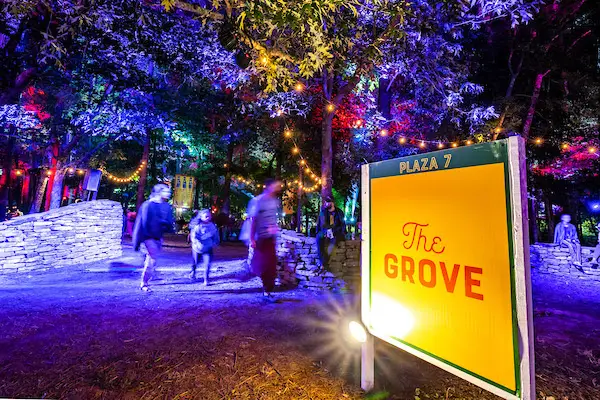 PLAZAS & CAMPGROUNDS
"Sanctuary Of Self Love," curated by Hayley Williams in collaboration with iamsound and Conscious City Guide, will be back and better than ever. Bonnaroovians can relax and rejuvenate themselves through the weekend with mindful movement practices (including a newly expanded meditation forest, tea ceremony gazebo, and yoga space), hairstyling by the new Good Dye Young on-site Hair Salon, deep sound bath rituals, talks, and panel sessions offering powerful tools for mental clarity and personal transformation, and, for the first time ever, a healers village offering pre-booked one-on-one sessions spanning massage to aura photography and reiki. 
Presented by BACARDÍ, the totally re-imagined and re-oriented "Where In The Woods" stage will feature DJs and surprise headliners in a new magical treehouse environment where Bonnaroovians can chill during the day and party all night on a spectacular dance floor that comes to life after dark with kaleidoscopic lights and sounds. New additions also include immersive cabanas and a massive conga line hosted by NPI and Puzzle.
Plaza 3: House of Yes and Little Cinema return in 2021, bringing Brooklyn magic to Bonnaroo with epic spectacles, immersive movie screenings, circus shows galore, and of course all-night dance parties for the weird, wild, and wonderful. In addition, House of Yes will host Bonnaroo's second annual Pride Parade, a rainbow celebration of diversity, sexuality, and humanity this year presented by Tito's Handmade Vodka.
Plaza 5: The all-new Groop's Galactic Giddy-Up is where interstellar vibes meet rhinestone-ridiculous. Located inside the Groop Camping area in the GA Campground and presented by iamsound, Galactic Giddy-Up is the space cowboy dive-bar built to empower the awesome and wonderfully weird Bonnaroovian community via groop and community-oriented games, activities, parties, mixers, and more, including catch competitions judged by celebrity guests, talent shows, Bonnaroovian battles of the bands, line dancing and more. In addition, Galactic Giddy-Up will bring all the usual plaza amenities to Groop Camping, including bathrooms, showers, shade and chill spaces, fans and misters, food and beverage vendors, charging stations, info booth, medical, security, and more.
Plaza 6:Killer Mike's Swag Shop will showcase a cool, casual, and artistic approach to self-care, offering good music, casual conversation, and a great haircut.
Plaza 7:The Grove is a fantastical wooded oasis, filled with mythical creatures by Brett Douglas Hunter and live harp performances by Yomí That Harpist.
Plaza 9:VEEPS House – Exclusive intimate performances from some of Bonnaroo 2021's artist streamed live from the farm to the world.
The new Rootanical Garden invites fans to see the world through the lens of a bug as they wander into a spectacular maze garden, produced by iamsound. 
Last, but very definitely not least, the newly revamped VIP Campground Plaza will feature air-conditioning, private bars, complimentary Wi-Fi, daily yoga classes, games, live video feeds of the festival performances, and some special surprises. The VIP Campground Plaza is available exclusively to VIP patrons.
For more information on the 2021 Bonnaroo Music & Arts Festival visit their website.
The Complete Bonnaroo 2021 Lineup: 
THURSDAY, SEPTEMBER 2 
Grand Ole Opry Featuring Special Guests
99 Neighbors
Andy Frasco
Big Something
Briston Maroney
Dabin
Devon Gilfillian
The Funk Hunters
HE$H
Joy Oladokun
Larkin Poe
Liz Cooper & The Stampede
MIZE
Nubya Garcia
Scarypoolparty
Spock
Sweet Crude
Taska Black
Too Many Zooz
ZiA
FRIDAY, SEPTEMBER 3 
Foo Fighters
Megan Thee Stallion
Run The Jewels
Glass Animals
Deftones
Young Thug
Tipper
Jack Harlow
Grace Potter
Primus
Nelly
The Disco Biscuits
Dashboard Confessional
Big Wild
TroyBoi
Marcus King Band
Lennon Stella
Orville Peck
Kim Petras
Turkuaz w/Jerry Harrison and Adrian Belew: Remain In Light
SVDDEN DEATH
Omar Apollo
Lucii
Waxahatchee
The Weather Station
Resistance Revival Chorus
LP Giobbi
ATLiens
Mija
Detox Unit
Rome In Silver
Jac Ross
Mdou Moctar
Tripp St.
NotLö
SATURDAY, SEPTEMBER 4 
Lizzo
Tame Impala
My Morning Jacket
G-Eazy
Jason Isbell & The 400 Unit
Phoebe Bridgers
Incubus
Seven Lions
Superjam: Sylvan Esso Presents "WITH"
Kevin Gates
Marc Rebillet
Goose
Subtronics
Surfaces
JID
Jon Batiste
The Band Camino
Ashnikko
Yaeji
Ekali
Tate McRae
Pinegrove
Uncle Acid & The Deadbeats
Remi Wolf
Wooli
Dr. Fresch
William Black
Christone "Kingfish" Ingram
Flamingosis
Hero The Band
Level Up
DJ Mel
Almost Monday
Lick
SUNDAY, SEPTEMBER 5 
Tyler, The Creator
Lil Baby
deadmau5
Leon Bridges
Young the Giant
Brittany Howard
Flogging Molly
Boombox Cartel
Greensky Bluegrass
The Struts
CAAMP
Oliver Tree
PEEKABOO
Julien Baker
LSDREAM
Colony House
Flo Milli
Breland
Niko Moon
Jamila Woods
Bill Frisell: Harmony featuring Petra Haden, Hank Roberts & Luke Bergman
LUZCID
Elderbrook
Makaya McCraven