After a pair of hometown shows this past weekend, Twiddle has announced a pair of socially distant outdoor pod shows in New England in May. On Friday, May 14th, the band will visit Northlands in Swanzey, NH and on Saturday, May 15th they'll perform at Westville Music Bowl in New Haven, CT. Attendees at both shows will be seated in pre-selected, socially distant pods.
Twiddle visited Northlands (formerly Drive-In Live) in Swanzey last fall while the venue was set up as a Drive-In theatre. The owners have transformed the scenic, mountainside location into a thriving, pod-style concert field. Northlands also expanded the operation, promising food trucks, beer and wine, improved sound and lights, and much more.
Twiddle will also be one of the first few bands to perform at Westville Music Bowl, formerly home of the Pilot Pen Tennis Tournament. Both shows will adhere to all state and local guidelines regarding masks and social distancing. 
Ticket sales begin on Friday, March 19th at 10 AM ET – purchase tickets here.
This past weekend, Vermont jam quartet Twiddle returned to the stage for the first time in 2021 for a pair of special hometown live stream shows from The Double E in Essex, VT.
Hosted in partnership with Fiddlehead Brewing, the virtual events featured carefully curated setlists, highlighting individual chapters of the band's sixteen-year history. Performing a few short miles from Castleton, the rustic college town where the band started, the shows were a masterful depiction of the evolution of the signature sound Twiddle continues to refine.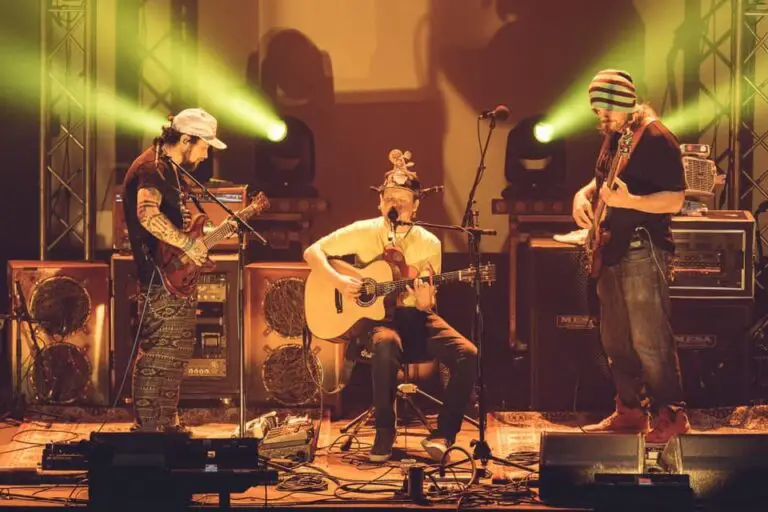 The band kicked off night one (3/11/21) with a first set comprised of fan-favorite tracks from their 2017 release Plump Chapter One. After weaving together the first four songs of set one with a series of seamless segues, viewers were treated to an acoustic rendition of catalog rarity, "Dusk 'til Dawn," led by drummer Brook Jordan on acoustic guitar and lead vocals. The opening set was highlighted by the debut of "Lost in the Rain," a reggae mashup of originals "Lost in the Cold" and "When it Rains it Poors." 
Set two featured fresh takes on deep cuts from Twiddle's early days, with all of the music coming from the band's 2007 release, Natural Evolution of Consciousness. The nonstop six-song marathon provided a glimpse at Twiddle's precise, genre-bending composition, contrasted by their unbridled, exploratory improvisation. The 75+ minute set was performed without a break. 
Night two incorporated similar thematic elements to the previous show, with set one focusing on songs from Plump Chapter Two. For the second consecutive set, Twiddle performed without a pause, sandwiching multiple songs between distinct parts of "Orlando's," most notably an extended "Nicodemus Portulay," complete with a "Find Frankenfoote" transmission. 
Night two, set two contained some of Twiddle's most recognizable tunes, focusing on music written for the 2011 release, Somewhere on the Mountain. The improv-heavy set included subtle odes to influential musical counterparts, including Papadosio and Phish teases in "Daydream Farmer" and "Frend's Theme." Twiddle closed the hometown run of shows with an extended take on Tears For Fears' 1982 hit, "Mad World." 
Setlist – March 11, 2021
Set One: Syncopated Healing> Every Soul> River Drift> Every Soul, Dusk Til Dawn$, Distance Makes The Heart^, Lost In The Rain&, Zazu's Flight
Set Two: Frankenfoote > Grandpa Fox > Tiberius> Brown Chicken Brown Cow> Tiberius> Subconscious Prelude
Encore: Caterpillar % > Frankenfoote
$ Brook on Acoustic Guitar
^ Mihali on Acoustic Guitar
& Mashup of Lost in The Cold and a reggae version of When It Rains It Poors
%  With A Go Go by John Scofield teases
Setlist – March 12, 2021
Set One: Enter > Orlando's > Dinner Fork > Nicodemus Portulay $ > The Fantastic Tale of Ricky Snickle > Slippin' In the Kitchen > Orlando's
Set Two: Daydream Farmer ^> Frends Theme & > Apples # > Doinkinbonk> Apples, Earth Mama
Encore: Mad World+
$ With a "find Frankenfoote" Transmission
^ With Find Your Cloud by Papadosio Teases
& With Divided Sky Teases
# With Ghostbusters Theme tease
+ Tears for Fears