Albany has many venues, but for more than a decade, there has not been a mid-sized music venue for bands to 'graduate' to once they prove themselves capable of filling clubs, including The Hollow, Parish Public House, Pauly's Hotel and various area clubs and bars. If your band can sell out any of these rooms, the next logical stop is either Putnam Place in Saratoga Springs, or wait until you've built yourself up enough to return to The Egg, Upstate Concert Hall or open up at The Palace for a larger act. This has created a gap for artists from and playing in the Capital District, one that is bridged by the arrival of Lark Hall.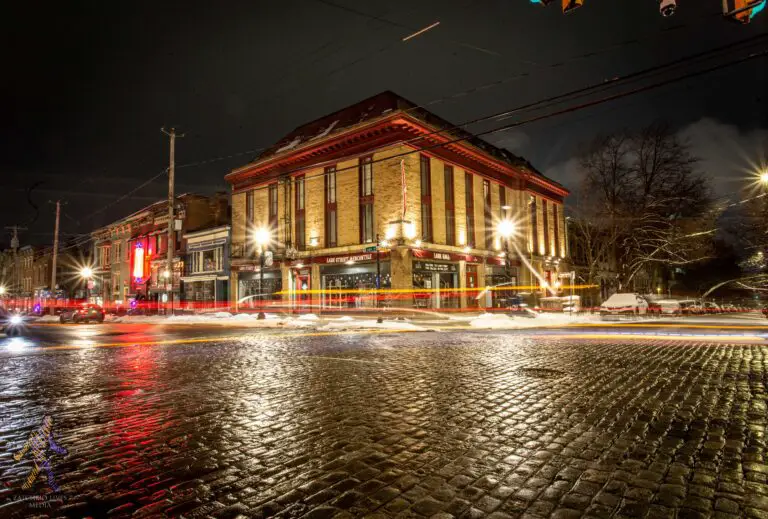 With a room for shows, weddings, events and gatherings, Lark Hall will be more than just a music venue holding events on the side.
Like Tipitina's in New Orleans, The Capitol Theatre in Port Chester or The Colored Musicians Club in Buffalo, the history is in the walls of the building, one that was built in 1916 and has had only two previous tenants – Daughters of the Eastern Star, and for the 40 years that followed, a dance studio. The music history has only started to be written.
Using pieces of history from across the Capital Region, Lark Hall draws on local heritage as they prepare to bring a 300-450 capacity multi-purpose venue to Albany's Center Square neighborhood.
NYS Music got an exclusive first look at Lark Hall, Albany newest music venue, right in the heart of town.
History in the heart of Albany
Lark Hall has a long history of being operated and owned by women, including the current iteration of the venue with Lark Street Yoga on the ground floor. In 1916, the corner of Lark and Hudson Ave was the starting location for the 48th Annual Suffrage Convention, where 600 delegates were expected. From across the state, supporters including Margaret Hinchey, Jane Olcott, Vira Whitehouse and Leonora O'Reilly were in attendance.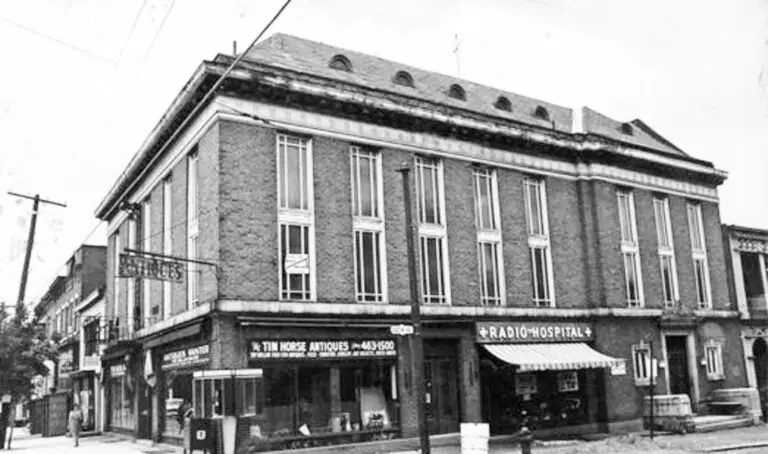 Constructed by women, for women, it initially served as a chapter house for the Daughters of the Eastern Star, the female equivalent to Free Masons. A building that took less than six months to build hosted the 1916 state suffrage convention as one of its first events – a year later the 19th amendment, guaranteeing women the right to vote, would be passed by the Albany legislature, located a short 12 minute walk away.
The hall would serve as a community asset in Center Square, with Red Cross bandage packets assembled by volunteers during World War I, providing food for neighbors during the Great Depression, or holding vigils for husbands, brothers and sons during World War II. USO events were held, as well as cotillions and school dances heading into post-war America; at one of these events, TV and radio personality and Albany native Andy Rooney met his wife here at a dance. The father of Rock n Roll, Chuck Berry, traveled to Albany and played Lark Hall, along with many others over the years.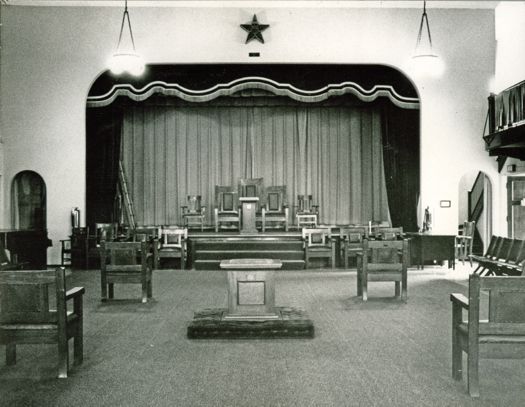 Purchased by eba Center for Dance & Fitness in 1977, the Hall shifted to be a focal point for the arts, dance and performance for over 40 years, until closing in 2017. Justin and Jenn Miller saw the history of the location and outbid others to take over ownership of the historic venue.
We bought it with a vision to both restore the building's natural beauty and maintain it as a community and performing arts venue. We're also fortunate to be home to Lark Street Yoga and Lark Street Mercantile, both of which contribute to Lark Street's vibrancy and sense of place.

Jenn Miller, owner, Lark Street Yoga
Locally sourced materials found a second life in the century-plus old building, including the original curtain bunting behind the stage that matches the age of the building.
Part of the decor added over summer 2020 includes church pews from First Presbyterian on 15th street in Watervliet. The pews serve as seating that will eventually ring the room, and for now serve as ways to socially distance limited audiences in the room. Additional pews were repurposed and made into the bar.
The Millers upcycled the fence from their first home for a kitchen island in the residency upstairs, and framed concert prints from their personal collection pepper the venue on all available wall space. The decor in the bathrooms features brass fixtures and Moroccan tile, and a fully furnished Green Room / Apartment on the third floor will allow bands ample room to stretch out before a show, or a place to stay during an extended residency. Views of the Empire State Plaza from the third floor bring a sense of proximity to a town affectionately known as 'Smallbany.'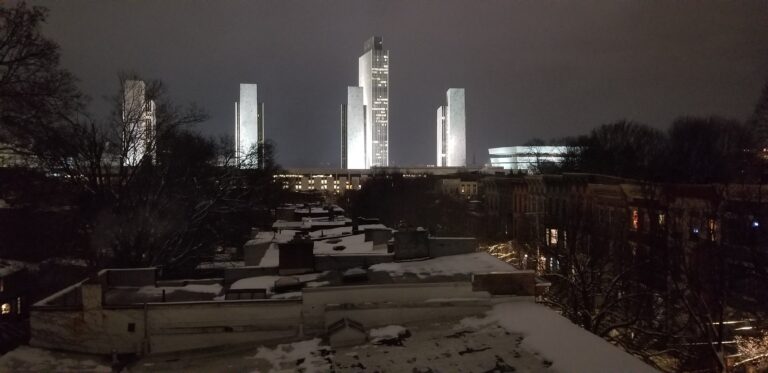 There are of course some changes that were made to the building. Plenty of fresh paint on the walls and wood stain on the bar and trim, as well as art deco wallpaper reminiscent of HBO's Boardwalk Empire. 22 foot long/46 foot wide heavy gray curtains opposite the stage double as a buffer to allow limited sound to Lark Street and cover the windows, making the room intimate upon arrival. A VIP booth upstairs stage left is designed for 5-6 people, offering a direct view of the stage as well as a private bar. Add in a long overdue elevator and the building is ready for 21st Century crowds in 2021.
Having purchased the building in March 2018 and opening Lark Street Yoga in September that year, the Millers bring business experience and their fervent music fandom to Lark Hall. A venue run by fans, for fans has immense potential, and has already welcomed audiences virtually with Window Sessions in summer 2020, and the new Practice Sessions, which kicked off on March 4 with Glass Pony.
Music has always been a shared bond and connection since the first time we met and started dating.  Traveling to see live music together has always been our favorite pursuit and escape – and over the years we've been fortunate to check off a long bucket list of seeing shows at legendary venues big and small – from Red Rocks in Morrison, Colorado to Preservation Hall in New Orleans.  

Early in our relationship, and while moving into a new home, we both found our old boxes of concert tickets and memorabilia, and as we went through the piles of mementos, we realized we had been at dozens of the same shows and festivals before we'd met. Our musical paths had eventually connected at the right time and we're now incredibly blessed to pour this passion into our shared vision for Lark Hall.  

Justin Miller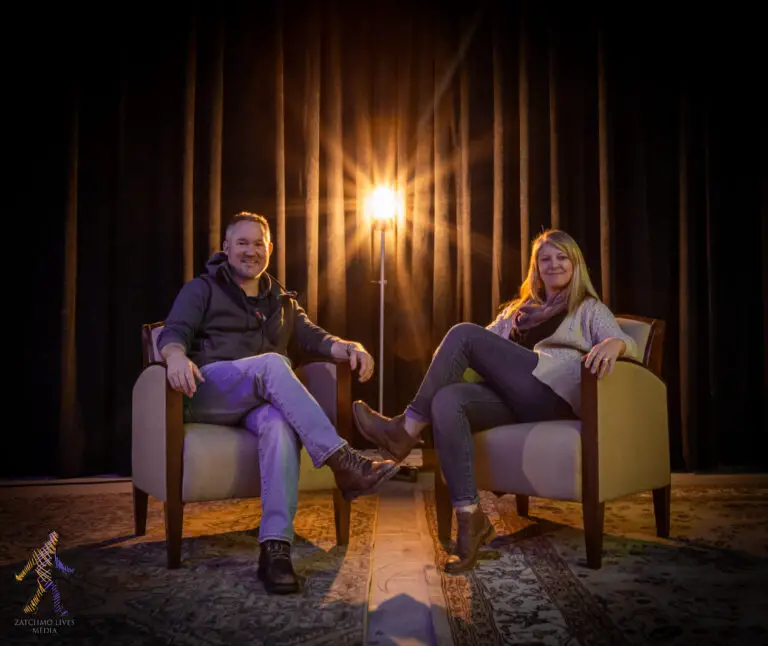 More than just a music venue
Yet with all the history within the walls, Lark Hall will not just be a music venue. The Millers plan to utilize the ample space for meetings, weddings, private shows and birthday parties. The venue's cabaret license will allow for music and events to start as early as Noon, 7 days a week, with shows going as late as 11pm Sunday-Wednesday, and until 2am Thursday – Saturday.
Any event, music or otherwise, will have the benefit of Lark Hall's state of the art sound, lighting and projection system.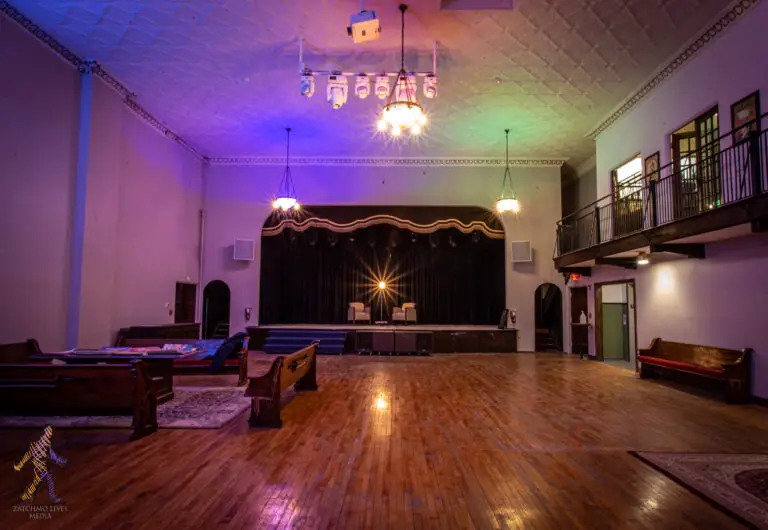 Lighting in the hall features the original fixtures, including five original chandeliers with Edison light bulbs hanging in the room, providing an array of colors to illuminate the room. Kirk Lyons of Lyons Den Entertainment serves as sound and light engineer for Lark Hall, and set up the room so the light rig blends into the ceiling and offers an unobstructed view of the concert. State of the art sound is set up throughout the room, making any event – music or otherwise – capable of having sound on par with the best music venues in the area.
We wanted to make Lark Hall a world class sounding room so I called in a favor from my friend Stan Denis, a Danley Sound Labs dealer. The type of speaker used in the mid-high cabinets is a point-source system that makes it so the sound is almost exactly the same in every seat. Ken Mark of Adirondack Scenic helped us with the giant curtains against the back wall. They are designed to help dampen the audio reflections in the room.

As far as the lighting design goes, I wanted something simple yet effective. I didn't want to change the intimacy of the small theater feel, but needed to add that bright LED 'wow.'

Kirk Lyons, Lark Hall sound and lighting director
Stan Denis of Denis Entertainment Group advised the Millers on their labor of love, and speaks to their commitment to making Lark Hall a success.
So many people who get into this business get hardened very quickly because they are trying to survive as they are growing their company. and they start to lean on artists and support crews and people in a way that is counterintuitive to getting creative art. Justin and Jenn are so passionate about music and the music scene, as well as the quality of the shows they want to produce. They've been asking the right questions since the beginning, with regard to creating the best experience for bands and audiences alike.

Stan Denis
For the full scope of what Lark Hall offers, take a walkthrough tour from Mirth Films.
Neighborhood
Center Square, the neighborhood surrounding Lark Street, is the heart of Albany, a mini Greenwich Village to call our own. Bars, restaurants, small independent businesses, tattoo shops, and bodegas are found in between brownstones and apartments that date back to the late 19th Century.
Local businesses are on board with Lark Hall's arrival, knowing that patrons will be making an evening of a show or event at the new venue. Early arrivals can dine at any number of restaurants on Lark or Madison Avenue, and those wishing to extend the night have plenty of bars to choose from.
Historically music has been a huge part of the fabric of our historic and fabled Lark Street. The opening of Lark Hall heralds the return of the street's heartbeat and will no doubt bring countless new generations to the street. 

Savoy Taproom first brought live music back to Lark Street in early 2016. Lark Hall builds on the foundation we laid by bringing a concert venue to the street, which will bring people – people who will shop, drink and dine on Lark Street.

Jason Pierce, owner, Savoy Taproom
One thing that Lark Street may seem to lack but has quite a bit of, is parking. For those driving to a show, there is the 60-space Trinity Church lot only 50 feet away, and a 200 car lot next to 204 Washington Ave. And of course, there is Washington Park, with ample spaces to park at anytime of day. Considering the distance to walk for shows at The Egg, or at Crossgates Mall, the setting and available parking for Lark Hall is comparable, if not better.
With more parking available than you may realize, the arrival of Lark Hall means local restaurants and bars will benefit from early arrivals and late revelers, tying the community together and giving the neighborhood a centerpiece. Carpooling and ride share are of course options for getting there, as well as the CDTA #13, which stops right outside Lark Hall and runs until late in the evening.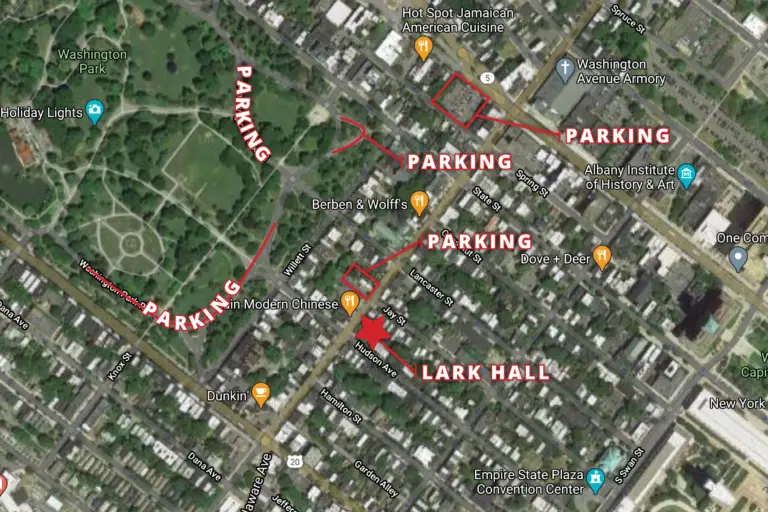 Since taking over the property at the corner of Lark and Hudson (also the name of their two cats), The Millers and their team have been hard at work throughout the COVID-19 pandemic making all needed renovations to get the venue ready for when music comes back, and that time is quickly approaching. When live music and crowds can return safety, bands and fans alike will find an historic room updated for the 21st century, and the Roaring Twenties can kick off once again.
Photos by Zach Culver