Kitsuné Musique, shesaid.so and Bandsintown announces a 24-hour mix in celebration of the International Women's Day on March 8, 2021 starting at 7AM EST until 5AM EST on March 9, 2021. The performances will stream live on Bandsintown's Twitch channel and will be available the next day on Kitsuné Musique's Soundcloud channel.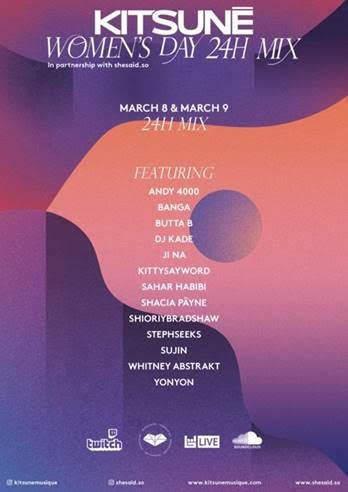 The 24-hour audio mix compilation is an attempt by the companies Kitsuné Musique, shesaid.so and Bandsintown to help empower women all around the world through music for international women's day. Not only will they provide this platform for artists to perform for the celebration but also the shesaid.so x Kitsuné Women's Day Fund was created. 
shesaid.so x Kitsuné Women's Day Fund will provide hardship payments of up to €250 each to freelancers, contractors and artists in the independent music industry whose income has been severely affected due to the coronavirus (COVID-19) crisis. The fund will support creators and executives from the shesaid.so community that have lost committed income or have not been able to secure novel paid work in 2021 due to the ongoing pandemic.
The performance will include appearances from, YonYon, DJ KADE, Banga, stephseeks, Whitney AbstraKt Shacia Päyne Marley, Sahar Habibi, Sujin, Butta B,  ShioriyBradshaw, and JI NA.  Bandsintown's Twitch channel where the live performances will be appearing can be found here on international women's day. The 24-hour audio mix compilation will also be available on Kitsuné Musique's Soundcloud channel at 7AM EST the next day which can be found here.
Andreea Magdalina, Founder shesaid.so. spoke on the event in the press release saying, "We are very excited to partner with Bandsintown who, via their Twitch channel, will enable us to reach an even wider audience at a time when physical gatherings & supporting touring artists is still not possible. With the pandemic disproportionately affecting women and gender minorities in our business, we hope that the funds we raise with our partnership will provide much needed support to the shesaid.so community worldwide." 
Kitsuné Musique is a music label who looks for up-and-coming talents who the label believes are about to break through in music. Over the years, Kitsuné Musique has become first home of now unmissable artists such as Parcels, Two Door Cinema Club, Digitalism, and more. 
Shesaid.so is known as being a global community of women and gender minorities in the music industry. It was built up in London by Andreea Magdalina back in 2014. Since then the company has grown into 12,000+ members around the world across 15+ chapters including New York, Los Angeles, France, Germany, South Africa, and India. 
The Bandsintown is the global hub of live streaming and live music discovery. They have a reach of 220 million monthly active fans globally, 60 million registered users and 540,000 registered artists, Bandsintown has listed and marketed 69,000 live streams since March of 2020. In January 2021 Bandsintown PLUS was launched, a first-of-its-kind live music subscription service offering fans an "All Access Pass" to over 25 exclusively produced live shows per month.
View the full line up bellow: 
7AM – 9AM EST | YONYON
9AM – 11AM EST | DJ KADE
11AM – 1PM EST | BANGA
1PM – 3PM EST | STEPHSEEKS
3PM – 5PM EST | WHITNEY ABSTRAKT
5PM – 7PM EST | SHACIA PÄYNE
7PM – 9PM EST | SAHAR HABIBI
9PM – 11PM EST | SUJIN
11PM – 1AM EST | BUTTA B
1AM – 3AM EST |  SHIORIYBRADSHAW
3AM – 5AM EST | JI NA