First, we would like to congratulate our round two winners, as well as all of the bands who participated. March Madness has a stout lineup and you will not be disappointed. Make sure you give all the bands a listen below. Get sucked in to NYS and see what we've said about bands in round two.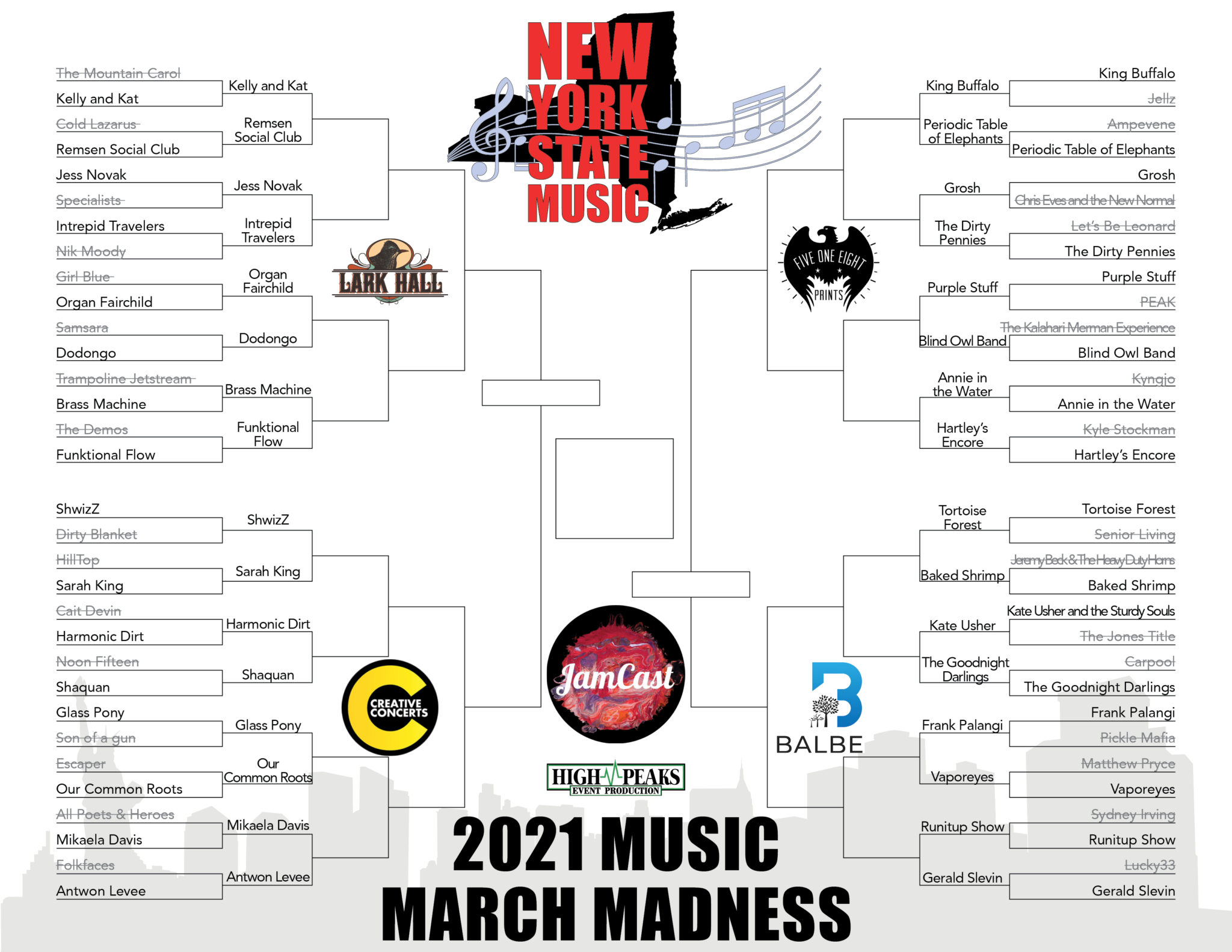 Since 2015, New York State Music has crafted a March Madness bracket delving into the musical harbors of our great state. As fans and musicians ourselves, we spotlight the great talent across New York in friendly competition and discovery. Its furry never looses sight of the underdog, a headliner's humble beginnings, new musical discovery and rolling with the punches in our ever-changing industry.

NOTE: Make sure you vote in ALL matchups for each region. And Vote once per device, duplicate votes will not be counted.
---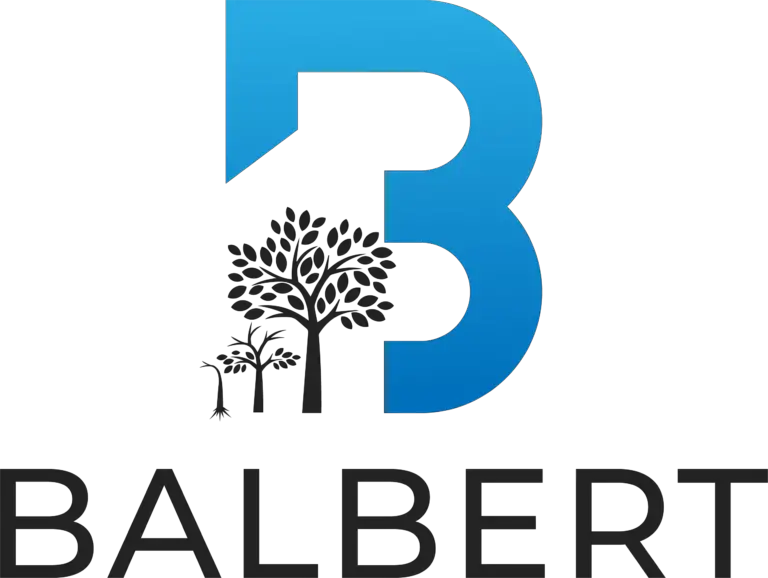 "A mixture of prog with aspects of jam, dub, and jazz give the group an eclectic sound that departs just enough from its classical music roots to create something exciting and new sounding." Tortoise Forest
"An impressive musical and technical feat from start to finish. The opening track, "The Vision That I Can See," is a jaw-dropping epic that really showcases the prowess of this band" – Baked Shrimp 'Bubble Suit'
"oceanside, cozied up in warm vibes with a breeze in your hair. Manifesting in two forms, duo and full band." –Cait Elizabeth
"Bred from Faulkner's 'murder your darlings,' nothing stands on safe ground. At any moment an explosion of creative energy, or sound, propels the band into an epic dance-rock performance." The Goodnight Darlings
"A personality that doesn't give up; no matter what it takes. He fuels a refreshing positive outlook serving up a feeding frenzy of edgy heavy guitars, deep n gritty vocals." Frank Palangi 'Bring On The Fear'
"But before you close your eyes and float away, the band changes things up, shaking the listener from the dream state. On "Donye Wump," Cadley (drums) turns the tempo up and brings everyone along." Vaporeyes 'Cantrips'
"It isn't just the distinctive guitar riffs nor the infectious chorus, but the duo's effervescence throughout the song that will likely coax listeners into joining them in sing-a-longs." – Runitup Sho "Pressure"
"His inspiration came from his 4-year-old daughter during a hike when he saw her look to the sky and blow a kiss. She was blowing a kiss to the future. That accidental yet wholesome moment resulted in the song's creation in 15 minutes." – Gerald Slevin Begins Solo Journey
---
Polls are now closed. Stay tuned for Round 3 voting, beginning Thursday, March 11 at 8am!
March Madness 2021 518 Prints Region:

"The psychedelic rock band with a heavy blues bent delivers heady grooves laden with symbolic imagery. It's the kind of music that is best heard live – but if not live, then on a turntable in a room with curtains drawn and incense burning."
"If there ever was a formula behind the iconic music of the 90s, many would say it would be "Guys with instruments & vocals" + "Guttural feelings" + "Garage." While rock is not as dominant on today's airwaves, Periodic Table of Elephants keep this classic formula alive and well."

"A classic thou hard rock, with influences from band like Led Zeppelin to Rival Sons. Guitar riffing, a present bass and superb drumming, not to mention the powerful voice of Megan Brown" – 'Whether or Not you Know'
"The gritty song features staple driving guitar riffs that the Pennies are known and loved for. It's a more aggressive song…fueled by the times in which we are living." Video Premiere: 'I'm Your Man'
"Prepare yourself for an explosion of improvisational funk that will evoke dance moves you didn't even know you had inside ya." – Prepare for the Purple Stuff
"After harnessing the rawness of traditional bluegrass instrumentation, the band has taken the genre into an entire new dimension. The fast-fingered, high energy, cohesive group explores their live performance with an element of improvisation, gaining energy from their audience." BOB Host a Halloween Bash
"At the intersection of Rock, Reggae, Funk, Blues and Jam written with a conscious dose of positive vibes, unique melodies and down to earth lyrics. The innate ability to fill an entire night with original music or cover in their signature style, fans share extraordinary experiences that can't be seen anywhere else." The Palace Sessions
"One goal in mind: create funky, dance-leaning tracks that leave the live crowd choice but to groove in their immediate proximity. "Take 'Em Down" and "Can't Fake the Funk" are full embodiments of dance anthems, an impressive horn section splashed throughout." 'Hartley's Encore'
---
Polls are now closed. Stay tuned for Round 3 voting, beginning Thursday, March 11 at 8am!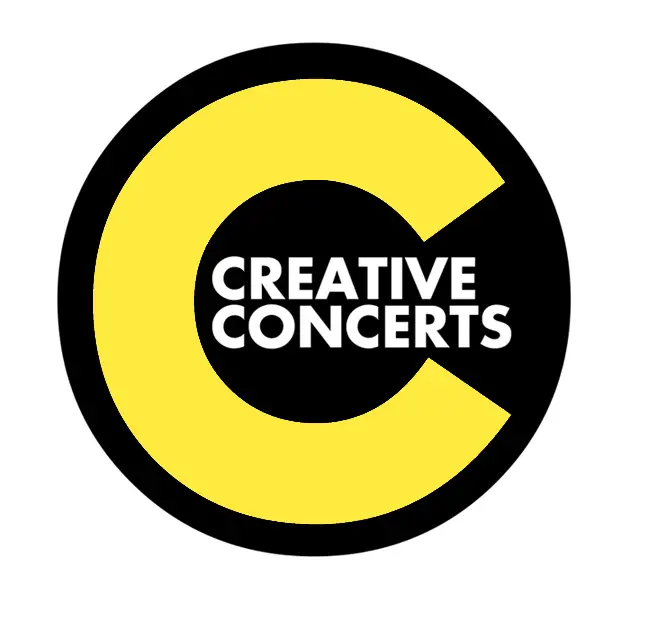 "ShwizZ slams you against the blackboard in awe that all your basic math skills have fleeted. Not only does ShwizZ explore a multi-level, mixed-meter halfway house of genres, but also bulldoze your ear to the other end of the record collection." Chuck DeFilippo on 'Big Things
"On this classic Black Sabbath tune. Sarah King adds to the field of great artists who have brought a twist on this brilliant anti-war song.Sarah King's acoustic rendition is chilling, and cuts to core of the song, a treatment so honest and pure that it is as powerful as the original." Pete Mason on NXNES
"They pull inspiration from Son Volt, Wilco, Neil Young and other heavy hitters of the sixties folk-rock genre. Not many aspiring musicians make music like this anymore. Harmonic Dirt delivers that." – Hearing Aide: 'Anthracite'
Lo-Fi Hip Hop Rap. Sháquan on Soundcloud with "Long Time Coming (Prod. By Krs.)"
"Swing That Maximus" has a full two-minute instrumental intro. With tempo changes up the wazoo throwing the listener from dance-y beats that make you want to get up and boogie, to slow sections you would barely move." Hearing Aide: Glass Pony 'Glass Pony'
Since 2015, Our Common Roots is an alternative rock band bringing a blend of nostalgic blues vibes with a modern rock feel; OCR is committed to providing a fun atmosphere that will keep you dancing through the night.
"The harp has been known since antiquity in Asia, Africa and Europe, early as 3000 BCE. 'Learning Live Dead was really fun and difficult, we rehearsed like twice a week for a month because we really wanted to play through like the record with no stops,'" Mikaela Davis.
"Levee's production is rooted in thumping bass, drum-machine-style loops and carefully developed songs. His compositions only seem simple: Every note, every drum hit, is calculated for maximal impact. He's profane, clever and full of tight flow patterns." Justin Boland, Seven Days, on Antwon Levee
Polls are now closed. Stay tuned for Round 3 voting, beginning Thursday, March 11 at 8am!
---
March Madness 2021 Lark Hall Region: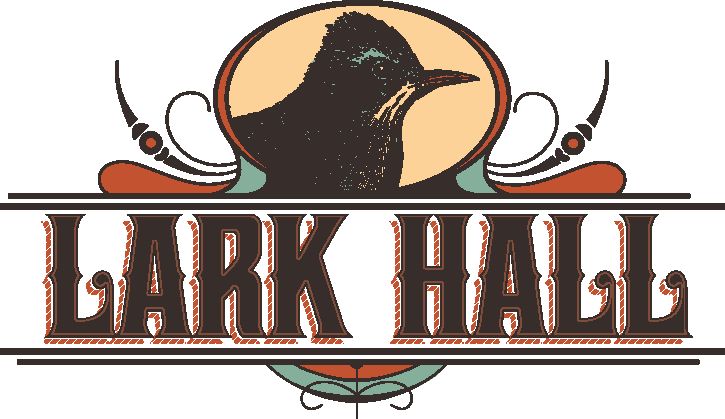 "Elements of rock, pop, and jazz are accompanied by their soft vocals and smooth harmonies. Music has allowed the sisters to form a strong bond." – Kelly and Kat on NYS Music
"Vocals bring something unique with their bluegrass, Americana sound.  Playing a mix of original music, "Stuck In the Middle With You" by Stellars Wheel, they had the crowd wound up." – RSC at Oak Mountain Bluegrass
"Complemented by drums and guitar, the upbeat tempo of "Match" creates an eccentric mood. The beat leaves listeners toe-tapping and wanting to get up and dance. Violins match fast-paced tempo and create a new level of fire through Novak's singing." "Standing Now"
"This recording session was among the most rewarding and creatively fulfilling projects I've ever been a part of – self producing these tracks has the band energized and excited for more!" Adam Bronstein Intrepid Travelers
"Jan. 2021 marks the release of single, "Seepin'," from long-time Buffalo jam band veterans Organ Fairchild. Members have a history on the jam scene dating back 40 years."
Debut Single"Seepin"
Hey! Listen! Dodongo is more than a jam collective. It's a way of life. It's also a lizard-like creature in Zelda. Jams from Brooklyn .
See NYS Music's March Madness shoutout on Dodongo's Linktree.
"Laying down funky New Orleans-style street beats across the United States and Canada. Formed in 2014 at the University at Buffalo, The Brass Machine provides a unique blend of hip hop, funk, and R&B, all in an infectious and energetic package."
"Over a heady Three Heads beer at theirBrewery, we discussed* Flowfest, Night Lights Music Festival, The Great Blue Heron Music Festival and Cobblestone live. Also, birth of the band, their long-term growth and a few influences."
*A "Rochester Groovecast" podcast with tracks, "Back Door" and "Time Will Tell."  – Functional Flow
---
Polls are now closed. Stay tuned for Round 3 voting, beginning Thursday, March 11 at 8am!
Don't forget about our amazing sponsors:
Central New York promoters Creative Concerts bring together fans at venues, stretching from Albany to Rochester and Syracuse to Utica. Lark Hall is the soon to open mid-sized venue in Albany that will host bands of all sizes, events and more. If you need to market your show, event, band or brand, Rochester's Balbert Marketing has you covered. Need merchandise? Homegrown Eastern New York's 518 Prints makes quality goods for local, regional and national bands or tours. High Peaks Event Production is a team with years of experience, aiding in all your stage, lighting and sound demands. JamCast proves high quality streams for bands, podcasts and much more. Between these companies, bands will find a great deal of what they need, and support businesses from across New York and the Northeast.
We're also proud to present a bracket designed by the good folks at Wook+ Media, who have been keeping brackets going strong throughout the year, with unique topics and incredibly artistic designs. Check out the Round 2 graphic below: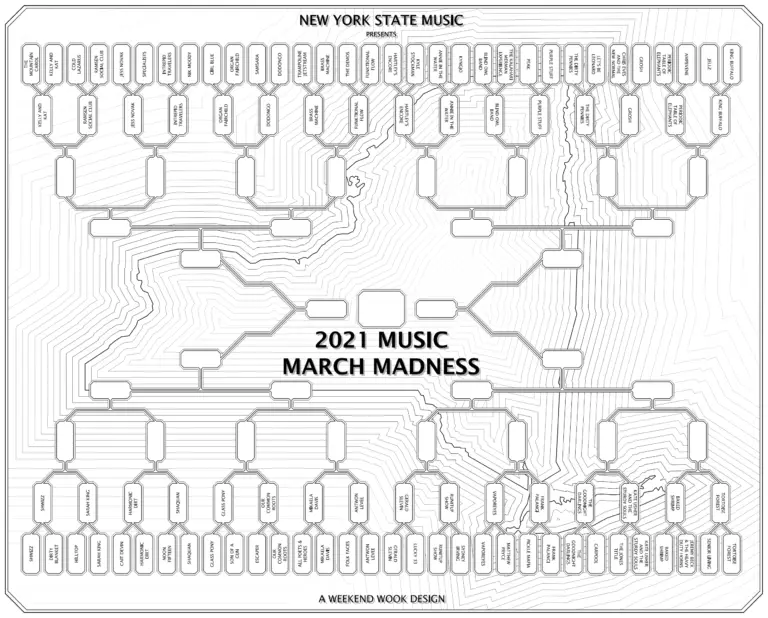 Check out Past Years' NYS Music March Madness Here