On March 3, Govenor Cuomo announced a pilot program to test the Excelsior Pass to begin opening up businesses, starting with Madison Square Garden and Barclays Center. This follows the recent announcement of "NY Pops Up" featuring over 300 free live performances.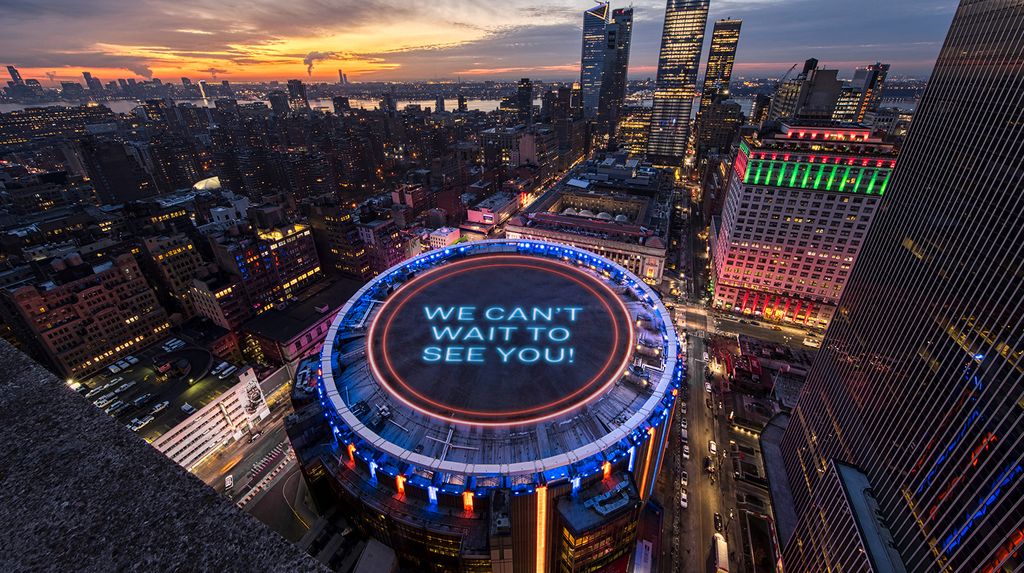 At the Governor's 2021 State of the State Address, Cuomo declared the Excelsior Pass will use proven technology to confirm an individual's vaccination or negative test results for COVID-19. Through confidential data transfer, the Governor is hoping this will help quicken the pace in reopening theaters, stadiums and more in accordance with New York State guidelines. Ticketmaster proposed a similar plan in November.
The state tested the first pilot on Feb. 27 for the Brooklyn Nets game at Barclays Center and the second one on March 2 at a Rangers game at Madison Square Garden. The pass is like an airline boarding pass where the attendee has an app called the "wallet app." There, they can either print it out or have admissions scan the QR code within the app.
We're doing everything we can to vaccinate as many New Yorkers as possible, as quickly as possible, while keeping the infection rate down and reenergizing our economy in a safe, smart way.

Governor Cuomo
The Governor also explained that the Excelsior Pass will get information to venues and establishments quick enough to avoid an outbreak and get more businesses to open their doors.
Since the pandemic shut down the nation a year ago this month, many venues and restaurants have struggled to stay afloat. Although a lot of businesses qualified for the Paycheck Protection Loan and were able to maintain stability, others did not. Now that more New Yorkers are getting vaccinated and COVID-19 cases are decreasing, this is a chance to get those struggling businesses back on their feet.
That app has been tested right now, both at Barclays and Madison Square Garden, and those tests have been successful. So, once we get the approvals, the app will be available for download on both platforms, on Google, on Apple platforms; people download to their smartphones. And that will allow someone to show the result of their test, whether it be a PCR test, which (will be) valid for up to 72 hours, or rapid test, which will be valid for six hours. In addition, though, if you don't want to use an app, you will be able to download a paper result of your test that you can then print out and use that to demonstrate your negative test.

Rob Mujica, New York State Budget Director
The news on the Excelsior Pass was followed up by an announcement that beginning on Friday, April 2, event, arts and entertainment venues can reopen at 33% capacity, with up to 100 people indoors and up to 200 people outdoors. All attendees must present proof of negative test prior to entry, which can lead to a capacity increase of up to 150 people indoors and up to 500 people outdoors.
Social distancing and face coverings will be required by all attendees, as well as strict adherence to all applicable Department of Health guidance.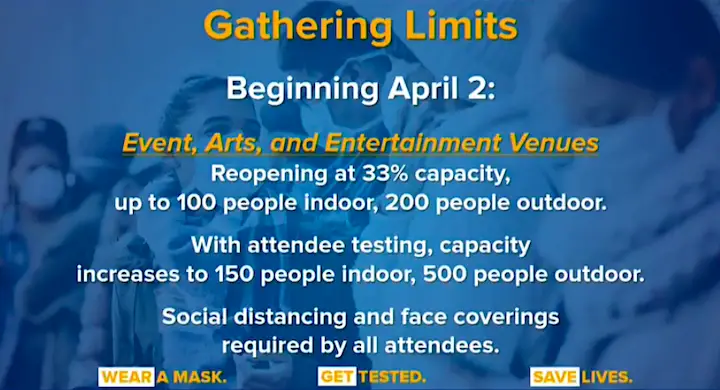 Additionally, Cuomo announced that beginning March 22, residential gatherings of up to 25 people can be held outdoors. Indoor residential gatherings remain capped at 10 people to reduce the continued risk of spread. Also, non-residential social gatherings of up to 100 people can occur indoors and up to 200 people can occur outdoors.
Cuomo isn't the only one who's optimistic about returning the music industry to somewhat of a normal state. Live Nation's CEO Michael Rapino believes outdoor events will be able to achieve an audience capacity of 75 or even 100 percent across the nation.
"We might have certain states that might not be ready, but we have enough states and enough artists willing to play the open slots if we get to that level in the right markets," Rapino said.
For individuals wishing to use the Excelsior Pass, their information will be completely confidential and protect any personal health information. They will have a variety of passes to choose from for their own comfortability.