In February of 2014, Paul Simon and Sting began their 'On Stage Together' Tour in Houston, TX.  The tour traveled across North America, Oceania, and Europe before concluding in Amsterdam in 2015.  I was lucky enough to catch one of the shows on my birthday, March 4, 2014, at Madison Square Garden.  That made this night even more special than it was already set out to be.  The accompanying band was comprised of members of both Simon and Sting's bands respectively.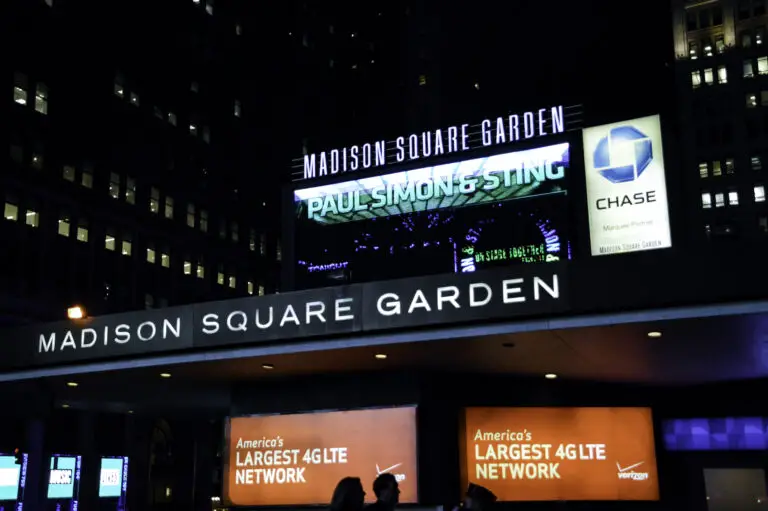 "Welcome to our little experiment" Simon said to the crowd early on.  After performing the first few songs together, the duo took turns alternating throughout the night, but still sprinkled in a few more songs together before they both took the stage once again for the encore.  After the opening duets, Simon left the stage and Sting began his Police heavy solo block with "Every Little Thing She Does Is Magic", Englishman In New York", "I Hung My Head and "Driven To Tears".  He ended his first set with "Walking on the Moon" which transitioned nicely into Simon's "Mother and Child Reunion".  After that, Sting left the stage and Simon began his first solo set with "50 Ways to Leave Your Lover".  The rest of his set were all hits from his solo career like "Graceland", "Still Crazy After All These Years" and "Me and Julio Down by the Schoolyard." 
Before Paul left the stage again, they both did a magnificent cover of Sting's "Fragile" from his Nothing Like the Sun album. Sting started his next set with a stripped down cover of Simon's "America".  "Paul has been my mentor and teacher for many, many years" Sting told the audience.  He then explained that the song reminded him of when he first came to America. Him, Stewart and Andy rented a station wagon in New York and drove across the country playing in dives and staying in shitty hotels. He said "Even though this song was written a decade before, it still reminds me of that time". He then continued his set with some more Police classics like "Message in a Bottle" and "Roxanne" along with more solo hits like "They Dance Alone" and "Desert Rose."
Another highlight of the night is when Simon appeared back on stage and helped end Sting's set with another duet cover of Simon and Garfunkel's "The Boxer".  The two sounded amazing as they harmonized on the song that was recorded over 40 years earlier. 
For his next set, Paul dusted off the title track to his 1983 album Hearts and Bones as well as his 1991's percussion driven "The Obvious Child".  I love this song but for some reason it is not a crowd favorite.  But, needless to say he quickly reengaged the sold out crowd at The Garden with what is probably his most popular solo song "You Can Call Me Al" to end his final solo set.  
The encore began with "Bridge Over Troubled Water" with Sting nailing the high notes on the first verse.  Paul sang the second verse before transitioning right into "Every Breath You Take" as well as a vibrant version of "Late in the Evening". 
At this time the band walked off the stage and it appeared the show was about to end, but Simon and Sting then both picked up acoustic guitars and harmonized once again on the Everly Brothers "When Will I Be Loved" that they dedicated to the late Phil Everly.  
The show was over three hours long and it was so good that I could have watched the entire performance again. This was one of the best collaborations I have ever seen between two iconic performers coming from different backgrounds and styles.  
Paul Simon and Sting, Madison Square Garden, NYC – March 4, 2014
Setlist: Brand New Day@, The Boy in the Bubble@, Fields of Gold@, Every Little Thing She Does is Magic#, Englishman in New York#, I Hung My Head#, Driven to Tears#, Walking on the Moon#, Mother and Child Reunion@, 50 Ways to Leave Your Lover*, Dazzling Blue*, Graceland*, Still Crazy After All These Years*, Me and Julio Down by the Schoolyard*, Fragile@, America#, Message in a Bottle#, The Hounds of Winter#, They Dance Alone#, Roxanne#, Desert Rose#, The Boxer@, That Was Your Mother*, Hearts and Bones*, Mystery Train*, Wheels*, The Obvious Child*, Diamonds on the Soles of Her Shoes*, You Can Call Me Al*
Encore: Bridge Over Troubled Water@, Every Breath You Take@, Late in the Evening@, When Will I Be Loved?@
# Sting
* Paul Simon
@ Sting and Paul Simon