Saturday Night Live welcomed Schitt's Creek star Dan Levy (dad Eugene stopped by too) and musical guest Phoebe Bridgers for the smashing second episode of 2021.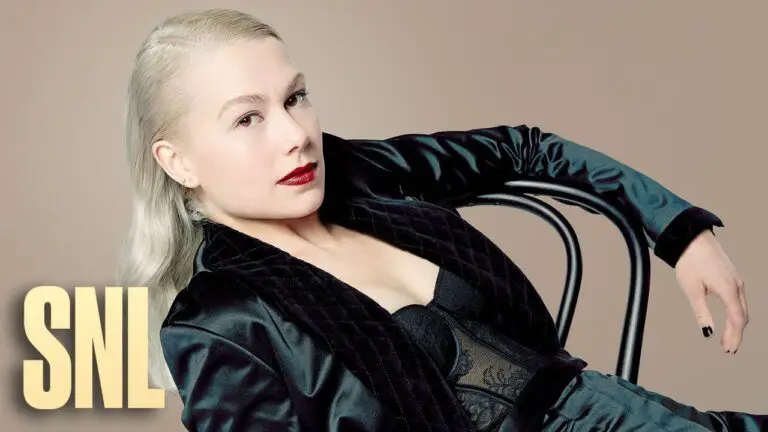 Phoebe Bridgers is without a doubt the year's breakout indie darling. Her 2020 sophomore album Punisher garnered four Grammy nominations, including Best Rock Song and Best New Artist. While there's some stiff competition for the latter, including Doja Cat and Megan Thee Stallion, she's one of the most acclaimed of the eight nominees.
Bridgers is also one third of the supergroup Boygenius, with Julien Baker and Lucy Dacus. On Thursday, February 4, she tweeted in support of Marilyn Manson's accusers after sharing her own experience.
For the night's first song, Phoebe performed "Kyoto," the second single off the emo-folk Punisher, and one of the most upbeat offerings in her catalog. It concerns Bridgers' tumultuous relationship with her father, and dissociating on a trip to Japan she took in February 2019. One of the song's hardest hitting moments is the first line of the chorus, "I'm gonna kill you / If you don't beat me to it." Throughout the set, Phoebe and her band both wore her signature skeleton onesies.
After the more accessible "Kyoto," Bridgers closed the night with Punisher's final track, "I Know the End." The apocalyptic song concluded with calculated cacophony: after her guitar solo, Bridgers yelled into the mic and smashed her guitar, joining the likes of SNL alums Arcade Fire, Nirvana and Cypress Hill.
Tune into SNL next week, February 13, with host Regina King and musical guest Nathaniel Rateliff.