Arlene's Grocery, located on the Lower East Side, has seen many young and well known acts get their start, including Arcade Fire, Lady Gaga, Lana Del Rey and Jim Carrey. You may also recognize Arlene's Grocery from the #SaveOurStages movement, where now Senate Majority Leader, Senator Chuck Schumer, was seen on the street showing his support for the venue.
Due to the unfortunate circumstances that COVID-19 has left indie music venues in, without the support of live music crowds, Arlene's Grocery is in need of funds to remain open.
Fortunately, up and coming indie R&B/Hip-Hop artist, Versa the Band, is putting on a livestream concert benefit on February 9 at 7 PM EST to raise money for the venue. Tickets are $10 with all proceeds going to Arlene's Grocery.
Arlene's Grocery was indeed a grocery, and opened its doors in 1995 in the, then treacherous, Lower East Side. The venue's history begins with upcoming bands that flocked to the neighborhood to experience sounds emanating from the 150-capacity room, which played host to garage rock, punk, and bohemian newcomers, including Jeff Buckley. In the late 1990s, the club branched out into the butcher shop next door and became two rooms under one roof.
As the neighborhood gentrified around them, the Lower East Side became the hub of NYC rock. The club hired a Live Rock n' Roll Karaoke band who became an instant hit in the city, attracting New Yorkers and tourists from all over the globe to catch a glimpse of celebrities, such as Moby, belting out AC/DC. As a handful of live music clubs pop up (and down) around the area, Arlene's holds fast to its intention of nurturing unsigned bands; its attention to the highest quality sound; and remaining an institution in the NYC rock scene.
Originating from Long Island, New York, Versa the Band got its start in 2019 and made it a priority to create music that was genreless; a discography for anyone to listen to, not defined in any one box. The band — which isn't much of a band at all — describes itself as a "Music Collective" of artists who come together to collaborate with founder Ethan Felizzari.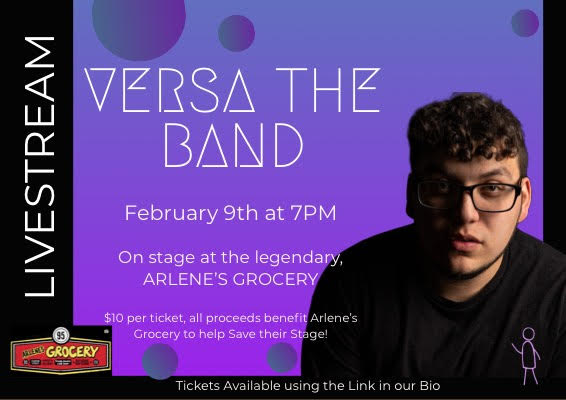 Versa the Band blends alternative and hip hop with traditional pop, elements of jazz, soft rock & more. Influences include artists like Bon Iver, James Blake, Rosalía, and soul legend Sam Cooke. Sharing why this live stream benefit is important to them, and what viewers can expect from their performance, Ethan Felizzari of Versa the Band said:
This event means the world to me. Arlene's Grocery is by far my favorite independent music venue. It's everything NYC underground is about. To perform here and headline our very own event all in benefit for the classic venue is just insane. The fact that we get to help out a small business during this difficult time. That's always been so important to me coming from a family of entrepreneurs. It all starts with small business and indie venues are often forgotten. 

The Livestream is going to be unlike any other VTB performance. I am honored to be performing with three other amazing artists who are just going to elevate this thing to a whole new level. We'll be performing a bunch of originals and some crazy covers. Harry Styles. Ariana Grande. It's gonna be nuts I can't wait.

Ethan Felizzari of Versa the Band
Get tickets to the Tuesday, February 9 livestream, 7pm, HERE.