"Albums Revisited" streaming series hosted by Bardavon Presents has announced their upcoming tribute to Carole King, featuring her album Tapestry on February 10, 2021 at 8PM EST. The headliners of the performance are Annie Lennox and Carly Simon with an all-female lineup joining them.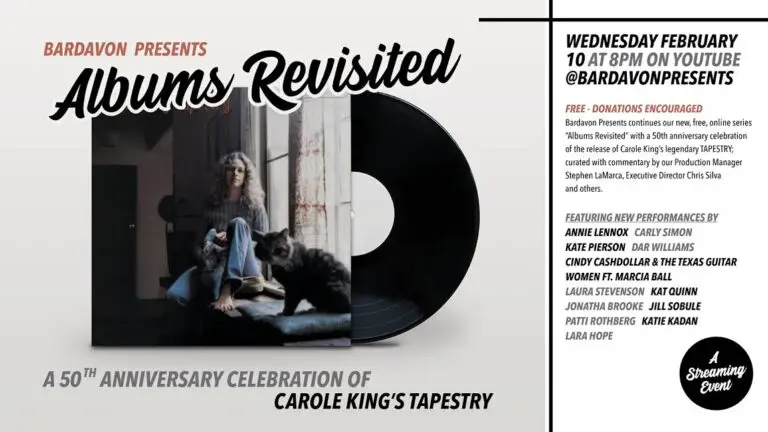 Bardavon is a venue in Poughkeepsie, NY and was founded in 1869. It's owned by the Bardavon 1869 Opera House, Inc. (the Bardavon) which was incorporated in 1976. It's a New York State nonprofit corporation that owns and operates a 944-seat historic theater in Poughkeepsie and the region's premiere orchestra, the Hudson Valley Philharmonic (the HVP). The Bardavon presents arts education programs, music, dance, theater, Live in HD broadcasts, classic films, and as of late, live stream performances. "Albums Revisited" streaming series is being curated by Bardavon Production Manager Stephen LaMarca with commentary by Bardavon Executive Director Chris Silva and others. These live stream shows are free and are being presented on Bardavon Presents YouTube channel.
Carole King is an american singer songwriter who has been an active member of the music community since the 1950's. She is famous not only as a performer but as a writer having written or co-written 118 pop hits on the Billboard Hot 100. Her most well known songs include "It's Too Late" "You've Got a Friend" and "I Feel the Earth Move" all of which are off of her album Tapestry which was released in 1971.
Annie Lennox was named as one of the 100 Greatest Singers of All Time by Rolling Stone Magazine. She is known for her work in the Eurythmics and The Tourists. In the early 90's she went on to establish an acclaimed solo career and is known for songs like "I Put a Spell on You" "Sweet Dreams (Are Made of This)" and "Walking on Broken Glass."
Carly Simon rose to fame back in the 1970's with back-to-back hit records. She started a band with her sister initially called The Simon Sisters' but went solo in 1971 with her self-titled album 'Carly Simon.' She had 13 Top 40 U.S. hits. Her most well known songs include "You're So Vain" "Coming Around Again" and "Nobody Does it Better."
Although the live- stream performance is free, any donations made will have a portion of them benefit People's Place in Kingston & Dutchess Outreach in Poughkeepsie. For more information visit Bardavon's website.
Bardavon Presents these original performances of Carole King classics created especially for the Bardavon set list and performers are listed below:
I Feel the Earth Move – Kat Quinn
So Far Away – Dar Williams
It's Too Late – Jonatha Brooke
Home Again – Jill Sobule
Beautiful – Patti Rothberg
Way Over Yonder – The Texas Guitar Women:
Marcia Ball performing on piano & vocals
Sarah Brown performing on bass
Cindy Cashdollar performing on lap steel
Shelley King performing on guitar & vocals
Lisa Pankratz performing on drums
Carolyn Wonderland performing on guitar & vocals
You've Got a Friend – Carly Simon
Where You Lead – Katie Kadan
Will You Love Me Tomorrow – Laura Stevenson
Smackwater Jack – Lara Hope
Tapestry – Annie Lennox
Natural Woman – Kate Pierson