Goose has announced the release of their latest live album, 2019.11.16 Buffalo, NY, from the Connecticut group's show at Nietzsche's, Buffalo's longest-serving music venue. The release is a newly remastered soundboard recording that is now available on all streaming platforms.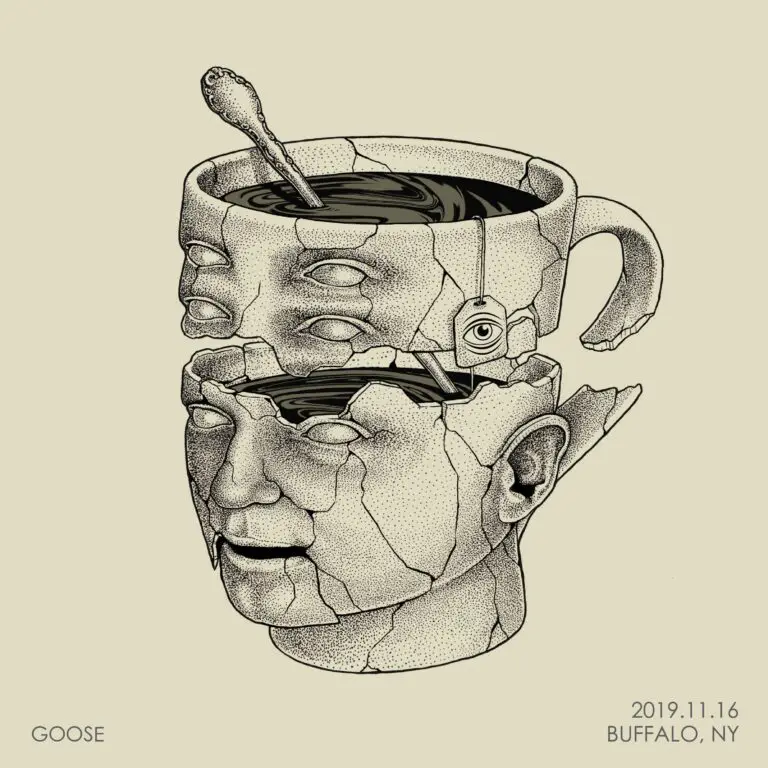 Buffalo was a sure highlight for us in 2019. Like a lot of our Fall 2019 shows, it was our first time headlining in town and the show sold out way in advance, so the energy was through the roof. One of my favorite things to do on that tour was survey the crowd, and that night we had people from all over the place, it was really humbling to see that people had traveled just to see us at this small bar in Buffalo, and it turned out to be an absolutely magical night.

Peter Anspach
In addition to the streaming release, the band plans to press select tracks to vinyl, with a 2-LP, eight-track package available for sale through Bandcamp. Collectors will have an opportunity to purchase regular (vinyl only), deluxe (signed postcard + poster), or test pressings at varying price points.
A portion of proceeds will be donated to Nietzsche's, as the independent venue continues to weather the multitude of challenges presented by the current pandemic.
Without spots like Nietzsche's, we wouldn't have gotten our feet off the ground. You need small venues and local scenes to get started as a band. Even if you're not making much money per gig (which you aren't), playing shows keeps the momentum up, the enthusiasm high, and allows you to grow musically as a band so you'll know what you're doing when and if you make it to larger venues. Let's go Buffalo!

Peter Anspach
The heavy improv of Set 1 features a 14-minute cover of The Wood Brothers' "Atlas," followed by a 20-minute "Arcadia" anbd closed with a 30-minute "Drive." Set 2 kicks off with "Creatures" and includes covers of Otis Day and the Knights' "ShamaLamma Ding Dong" and a-ha's "Take On Me."
Vinyl is now on sale as of Noon ET, Friday, January 8. For more information, visit goose.es/buffalo-vinyl.