New England Musicians Relief Fund (NEMRF) announced its hopes to distribute $300,000 to musicians in need via a new fundraising drive. The funding would apply to any musician in New England and New York's Upper Hudson Valley, facing financial difficulties due to the COVID-19 pandemic.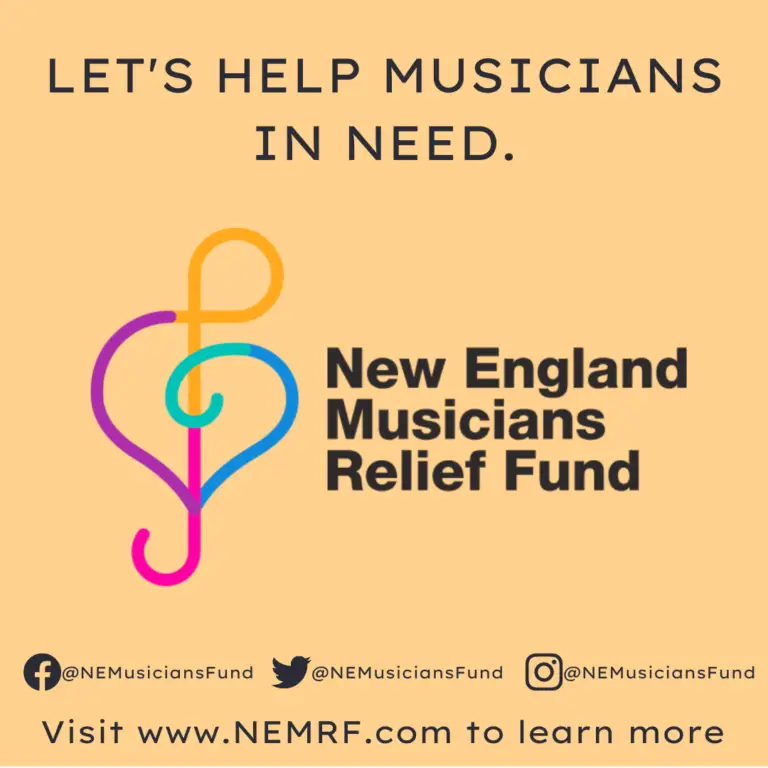 The New England Musicians Relief Fund's mission statement explains that the organization aims to foster long-term security for professional musicians throughout the New England area by providing financial assistance and critical resources as a safety net for musicians experiencing unexpected or catastrophic income loss. The partnership between New England Musicians Relief, Sweet Relief, and NEMRF was able to raise emergency relief funds for musicians in a campaign that ran from July 1, 2020-August 29, 2020 and raised over $20,000. 
The COVID-19 pandemic has been extremely hard on the live entertainment industry. The New England Musicians Relief Fund hopes to help lessen this financial strain musicians are experiencing, especially with money from the CARES Act, which has run out. Additional government support doesn't seem likely, anytime soon. 
"Without assistance, some musicians will leave the industry, which could devastate our once-vibrant New England arts scene. Helping musicians today is an investment in the quality of life we all hope to return to," said Hazel Dean Davis, a horn player and one of the founders of NEMRF. "We created NEMRF to help musicians weather the COVID-19 shutdown, but even as we devote all our resources to this current crisis, we realize the need for a safety net will extend beyond the virus. Whether it is long term side effects from COVID, a car accident, a lost instrument, or another nationwide shutdown, the New England Musicians Relief Fund will be here to support musicians in crisis for years to come."
While New England Musicians Relief's Fund 501(c)(3) status is pending, all donations will be processed by the NEMRF, and will be tax deductible retroactively after the federal approval of their tax exempt status. If people would prefer their donation be deductible immediately, please donate through our fiscal sponsor, Arts and Business Council of Greater Boston.  Money donated to A&BC with the button below will be earmarked for NEMRF. People interested in donating can do so here. Musicians interested in applying for a grant can apply here.
For more information visit New England Musicians Relief Fund's website.