Christmas is here. Which means it's time to deck the halls with bars of the holiday. So grab your cup of eggnog, your Santa hat, and enjoy this list of Christmas raps.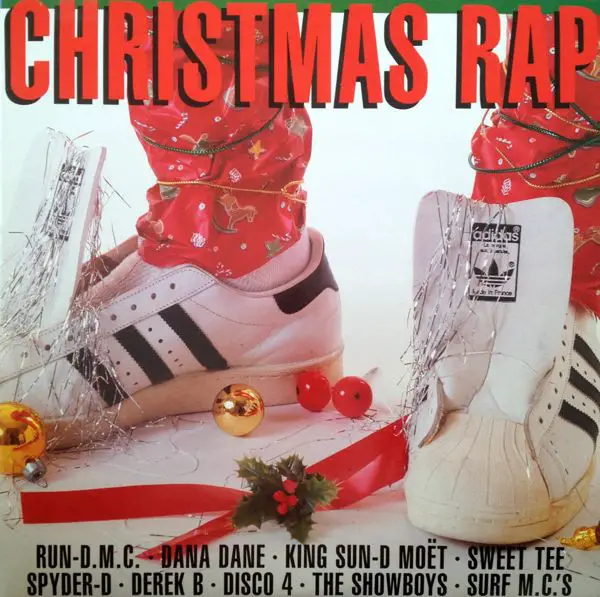 "You're A Mean One Mr. Grinch" by Tyler, the Creator.
Inspired by the music and animation of Dr. Seuss's "How The Grinch Stole Christmas," Tyler took the reigns and composed a soundtrack to accompany the 2018 Universal Studios animated film The Grinch. Although a whole EP full of songs inspired by The Grinch can be found on Tyler, the Creator's Spotify, something about Tyler's typical cartoonishly deep vocal inflections make this song a true holiday standout.
"Christmas in Harlem" by Kanye West featuring Teyana Taylor
There's something almost ironic about how Kanye, a man known for calling himself "Yeezus," would release one of the 2010s most critically acclaimed Christmas songs. Originally released on December 17th, 2010, "Christmas in Harlem" brings us the best of both worlds around the holidays. Produced by Hit-Boy and originally released as part of Kanye's GOOD Music series, "Christmas in Harlem" exhibits the raw talent West possesses when it comes to the meticulous process of arranging music.
"Santa Clause Goes Straight To The Ghetto" by Snoop Dogg featuring Daz, Nate Dogg, Tray Deee, & Bad Azz
Have you ever wanted to hear a gritty, G-Funk Christmas song that simultaneously critiques the modern commercialization of Christmas? Well, "Santa Clause Goes Straight to The Ghetto" is the song for you to hear this holiday season. Again, this song is a perfect blend of Snoop's typical West Coast cool, calm, and collected rap flows while flipping the typical narratives driving Christmas songs. This song is sprinkled with social commentary and full of joyous Christmas cliches.
"Christmas in Hollis" by Run D.M.C.
If there were ever to be a rap song synonymous with Christmas, it would be Run D.M.C.'s "Christmas in Hollis." This song may owe some of its notoriety to the hotly contested Christmas movie, Die Hard (yes, it's a Christmas movie! ). Run D.M.C. trade-off shouted verses about stumbling across Santa in the park.
"Christmas Rappin' " by Kurtis Blow
For the next song on our list, we go back to the early days of rap when its popularity as genre was just becoming mainstream. Curtis Blow's "Christmas Rappin'," was released in 1979 and found instant success, capitalizing on two popular trends, rap and holiday music. "Christmas Rappin'," was a product of two Billboard employees who recognized the potential for a hit song. They then enlisted Curtis Blow as the MC who would deliver this rendition of the Christmas classic "Visit from Saint Nick."
"Merry Muthaf****n Xmas" by Eazy-E featuring Menajahtwa, Buckwheat from the Lil Waskals, Will 1X, & Atban Klann
Eazy-E isn't referred to as one of the kings of gangsta rap for nothing, the twisted spin "Merry Muthaf****n Xmas" takes on Christmas music and is a prime example of E's close ties to gang life growing up in Compton, CA. Everything about this song rings true to West Coast rap: the beat, the lyrical narratives Eazy-E and company explore, and, not to mention, the yuletide sampling and mentions of Santa that classify this otherwise raunchy cut as a Christmas song.
"Nothing For Christmas" by Rae Sremmurd
Rae Sremmurd's "Nothing For Christmas" is the first song on our list that takes all the tropes and clichés of Christmas music and combines them with all the lackluster components of trap instrumentals. In a way, this song gives birth to a new musical genre – trap-mas music. And that alone gives this song an immense amount of bragging power.
"Chi-Town Christmas" by Chance, The Rapper
The most recently released song on this list, "Chi-Town Christmas" is perhaps one of the most emotionally potent tracks from Chicago-born artist Chance, the Rapper. Chance released a whole album's worth of original Christmas music this past month featuring longtime collaborator Jerimiah. In "Chi-Town Christmas," Chance once again takes center stage as the rap game's family man and recites verses depicting a lowkey Christmas in Chicago. This isn't the first time we've seen Chance dabble in Christmas music. However, this is by far his most organic attempt.