written by Matthew Romano
Live music venues in New York such as the Capitol Theater in Port Chester, State Theater in Ithaca and Tralf Music Hall in Buffalo started 2020 with great lineups for the year to come. While walking through Times Square on March 12, however, came the first of many announcements of the Coronavirus and its restrictions that affected every aspect of society since.
Take the 2020 Love Rocks NYC event at the Beacon Theater, for example. The marquee annual music event raises money for a common goal: to help feed New Yorkers who are too sick to cook or shop for themselves and do it through the healing power of live music. With emerging news of COVID-19, the sold out theater restricted attendance to press and artists only, capped at a 300-person maximum. Ticket holders who could no longer attend would use a link to stream the show, a familiar practice that, with the pandemic taking hold, would be the only way to see live music in the foreseeable future.
Love Rocks NYC featured various artists and actors including Rochester, New York native Steve Gadd (Eric Clapton, Paul Simon) on drums for all performances. Highlights of the star-studded evening included special guest performances by Derek Trucks, Warren Haynes, Dave Matthews, and The Black Crowes. Before closing his three-song set, with Peter Gabriel's classic "Sledgehammer," Dave Matthews told everybody, "Now after tonight I have to remind y'all to go home and stay by yourselves, wash your hands, and don't listen to the President."
Being inside the theater that night to see the most special guest, Mr. David Letterman, who reunited with Paul Shaffer for the first time since the Late Show ended in May 2015, was a treat for all. Letterman made light of these newly presented restrictions for the live music entertainment world, quoting Tom Petty's song "Letting You Go." "It's a restless world, uncertain times you said hope was getting hard to find."
Letterman elaborated, "after listening to that song, tonight it occurs to me that when things are hard, harder than they've ever been, even more troubled, you have got to look for something positive and one of the great gifts, one of the great blessings of life, honest to God, is live music." These words continued to echo across the Beacon Theater, and worldwide to this day, as major live music performances have no definitive return.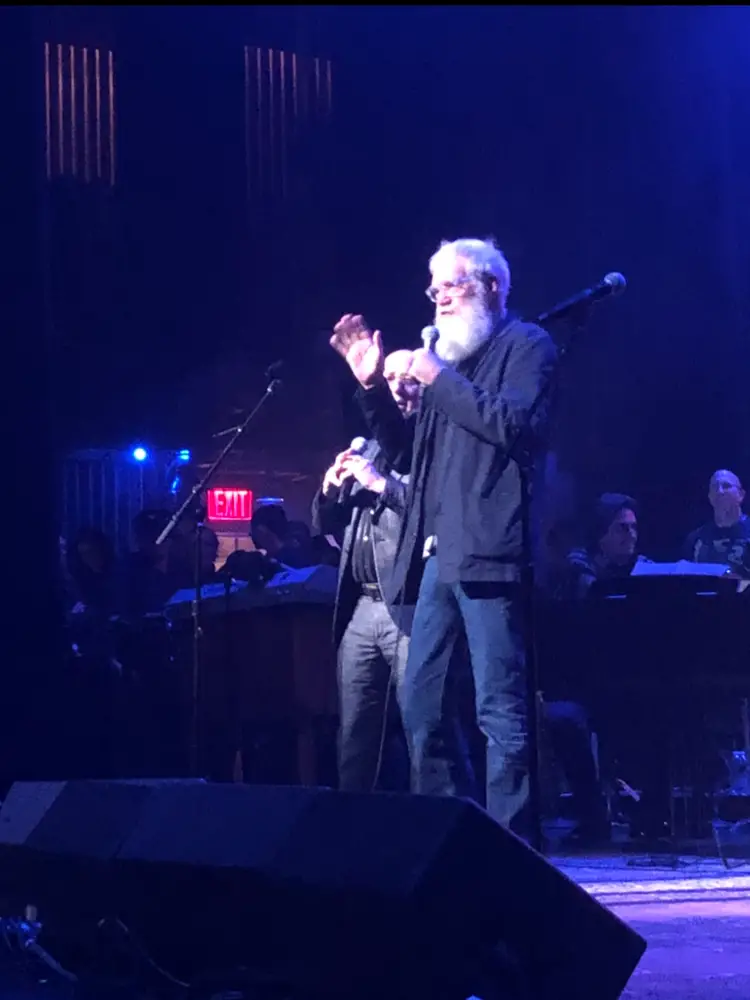 New York State has a rich, vibrant live music scene that immediately reacted to the cancellation of the year's major music events. Local artists across the State have since found ways to fill the void. Central New York's John McConnell immediately took to Facebook Live offering interaction with his audience. As McConnell reflects on the overall changes in live performances, he says, "There was a time where you could play a soulful song in a venue and open your eyes to something other than a cell phone in your face. Wallpaper gigs help pay the bills, but do not always feed the soul."
Another immediate stand out is Jess Novak, who utilized the streaming app Twitch to bring AM and PM live music to the quarantined masses. Some of us found our silver lining at The Gear Factory in Syracuse, being able to collaborate at the creative space with musicians like Ben Shearer, who would normally be on the road. Even though large live music events remained out of question, New York's outdoor landscape in the spring and summer allowed Colloca Estate and Grace Tyler Estate Wineries to act as venues, so McConnell and Novak could still perform to a live audience, until temperatures brought in the impending "Frost."
To offset the eventual change in weather, which would end live music outdoors, many local and major musicians alike continued with virtual options, some with a simple twist of fate. In Spring, Phish started "Dinner and a Movie," a free weekly streaming event. Each week featured an archival release of a live Phish concert with the goal to raise money for their non-profit, The Waterwheel Foundation, towards a food empowerment project. In late September, the Dinner and a Movie series ended with the announcement of Trey Anastasio's "first-of-its-kind" eight week virtual residency called "The Beacon Jams" at the Beacon Theater.
All eight weeks were free to stream on Twitch and encouraged viewers to donate to the Divided Sky Fund that will focus on delivering quality care and compassionate treatment for those suffering from addiction. Trey has been a major advocate for progressive treatment of addictions since his personal struggle and subsequent recovery in Upstate New York, culminating in this Divided Sky Fund. The community responded by raising over a million dollars, many donors will even receive an autographed print of the event by Artist Jim Pollack and Trey Anastasio. A total of 5,300 copies were signed.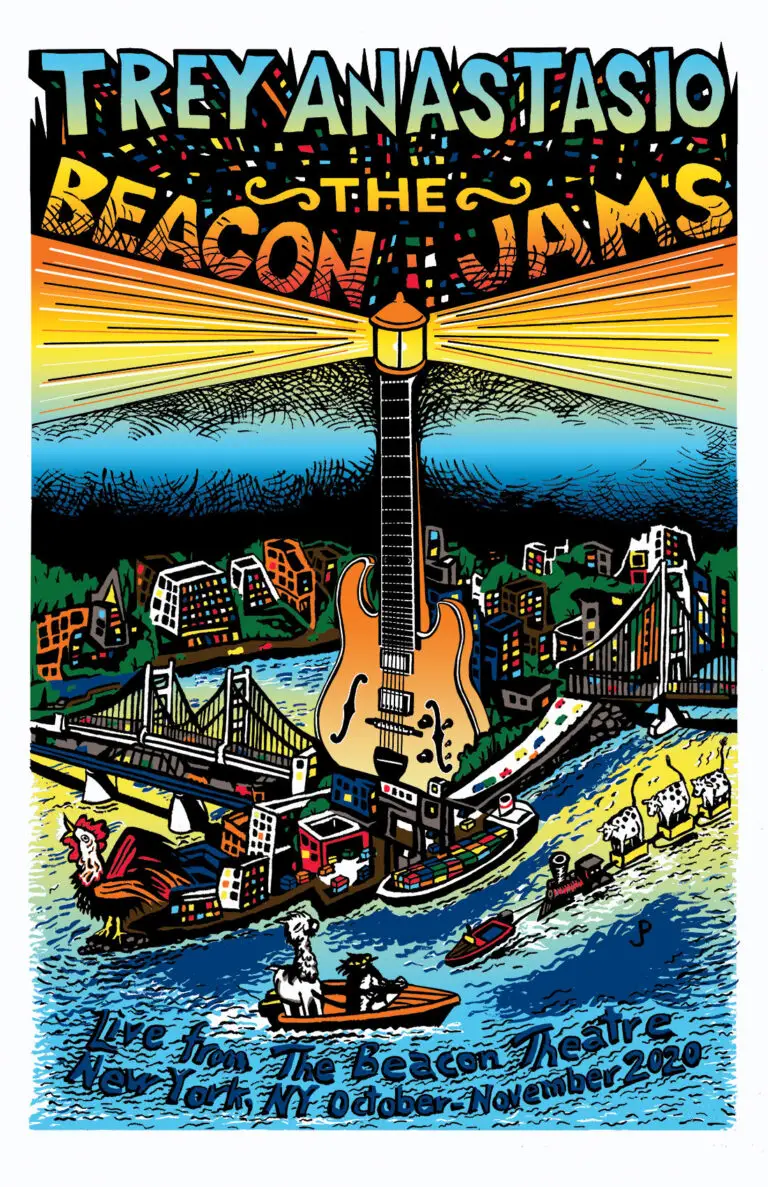 To paint the picture of what has occurred inside the Beacon Theater during its residency you, have to go to Rochester's live music photographer, Jake Silco. Silco captured the essence of every night with its lit up backdrop in all of its glory – with the band facing brick, opposite of where the crowd would normally be. The empty Beacon Theater seats were alive with full stage lighting intertwined. A new face on screen from Buffalo, NY was pianist Jeff Tanski, he helped Anastasio rehearse for over 150 hours for the Grateful Dead's "Fare Thee Well" shows in a Manhattan Studio in 2015.
Now to the rhythm section that was on site every week who has collaborated with Trey since 1999: Tony Markellis (Bass), Russ Lawton (Drums), Ray Paczkowski (Keyboards) and Cyro Baptista (Percussion, Paul Simon) helped kick the nightly grooves off. It was only appropriate that the whole residency started with an Anastasio solo song titled "Corona," with its lyrics shouting: "When Corona touches oceans and the judgement comes at last, when all of this over and the truth meets the past."
The song ends appropriately with a reference that all of us want right now, reiterating "when all of this is over." As if this wasn't enough to start the October residency, there was a Sinatra/Beatles studio-like string section who assisted from weeks two through eight. Named on the spot as the "Rescue Squad Strings," the quartet was comprised of Anja Wood, Rachel Golub, Katie Kresek and Maxim Moston.
During week five, Syracuse native and drummer, Jon Fishman, came down to help resurrect Anastasio's Ghosts of The Forest composition with Jennifer Hartswick (TAB), Celise Henderson (Lizzo), and Jo Lampert (Joan of Arc, David Byrne) on backing vocals. Ghosts was written as a tribute to Chris Cottrell, Anastasio's life long friend.
The final musicians that joined for weeks seven and eight were Natalie Cressmann (TAB) on trombone and James Casey (Lettuce) on saxophone, who made the trip to New York from Kauai, Hawaii.
Attached to the Theater at The Beacon Hotel was where I was able to stream the shows as close to the source as possible, with the floor vibrating beneath you. Just as the same Times Square I walked through the day of COVID-19's arrival, this same city has been subject to a "Story of the Ghost" [town] since. The Upper West side that would usually be flooded with 2,001 fans before and after the show was desolate and many of the performers could be spoken to after each night's gig. Gone are the days in front of the State Theater in Ithaca being able to speak to Anastasio about his old club dates at The Haunt.
After the October 23 Beacon Jam, I spoke briefly with Anastasio, 6-feet away via a mask of course, on the Broadway street corner about the great Jazz musician Theloinus Monk. I had enveloped a copy of Monk's Tips For a Gig: 20 Gig Tips From One Of The Greatest Jazz Masters Of All Time by Thelonious Monk for the occasion. When presented with it and his knowledge of Monk he exclaimed," Yes, of course! Oh I love it!, I will read it! I'll put it up and tack it on the wall for the next show, alright see ya later"
The following week October 30, to help create a festive vibe of Halloween weekends past on the empty Upper West side a Halloween PhanArt Card.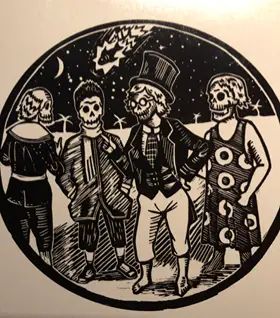 A quick "Happy Halloween buddy!" to which Anastasio replied on the go, "Thank you my friend!" Jon Fishman also received some PhanArt, with a request if he was planning on staying in NYC for a cover of Derek and the Dominos "Got to Get Better in a Little While." Fishman's Facebook posts will show his active political engagements and how in his home state of Maine he has been elected for two three-year-seats on Lincolnville's Board of Selectmen.
One of Monk's tips "a genius is the most like himself," immediately dismisses a request for a cover song, but it could have been appropriate for the band and soulful backing singers to rejoice on Eric Clapton's lyrics: "Revolution all across the land, just like Sly, You got to take a stand, please don't hurt nobody, don't knock nobody down, give them a helping hand to get up off the ground"
Italian illustrator, Moreno Chiacchierra who composed Frank Zappa's comic art work in 1982 during a tour of the country inspired the art exchanges with Jon and Trey. In the just released What Calls You Home documentary, Anastasio comments on his relationship with Fishman. "So um, I count every minute playing with him as a blessing , I hope it's me , if one of has to go first, because I don't want to be on earth without having him to play music with."
Monk's tips are debatable as an influence over the course of eight Fridays, "In Rounds" where the band performed more than 150 different songs without a single repeat and not one cover. One major influence on Anastasio is Frank Zappa, especially after the just released 2020 Documentary Zappa. Trey produces the same non-stop work ethic in various compositions. New solo material produced during quarantine at his Upper West Side apartment, just blocks from the Beacon, called Lonely Trip was incorporated in the residency. He also helped The Roots come back to life on the Tonight Show. Anastasio was Jimmy Fallon's first in studio musical guest since the lock down at Rockefeller .
When Jon Fishman accepted his local Syracuse "SAMMY Lifetime Achievement Winner Award" in 2015 at the Dinosaur BBQ he referenced sneaking out of his Halton Rd. house to make the short trip down "the errant path" to Manley Fieldhouse to see Zappa perform live.
Fishman was spotted last fall in attendance at a metal band show for Cattle Decapitation at Wescott Theater in Syracuse. Now, The Errant Path is a weekly radio show announced by Jon Fishman on Sirius XM. After hosting Bootsy Collins on air in November, his latest December episode amongst various jazz tracks included Frank Sinatra's "Drinking Again" and John Lennon's "Mind Games."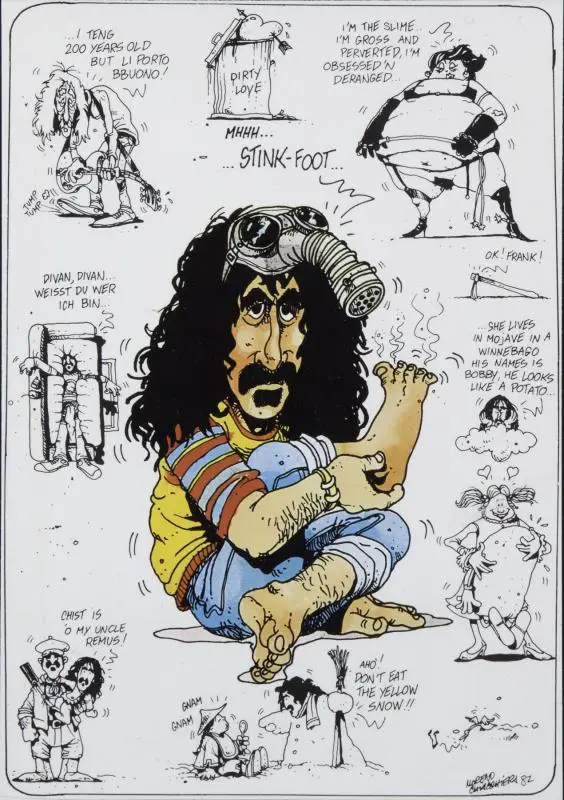 At the 2017 SAMMY AWARDS CNY local, Megan Voss, was the only woman to be honored in its Hall of Fame. She brought her husband, producer, Eric Clapton and drummer Steve Jordan to the event. Like Anastasio who teamed with Relix for Beacon coverage, Jordan just participated as the musical director with them for America's "Bird Calls" benefit concert – a virtual celebration of the life of Charlie Parker that raised money for the Jazz Foundation of America.
Watch Steve Jordan & Trey Anastasio with Herbie Hancock Here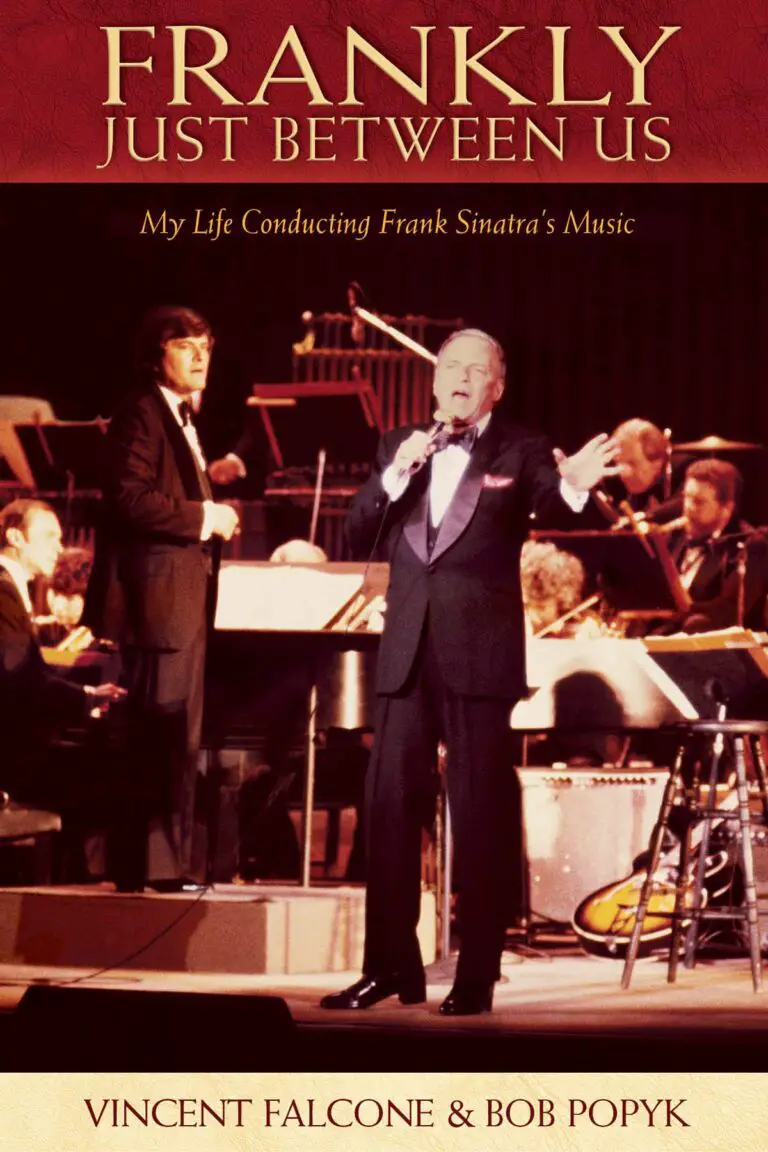 A New York City native, Jordan will be the musical director for the upcoming Play On CBS music special, benefiting racial justice and hunger across the nation. A quick nod to another Syracuse native and fellow Lifetime Achievement award winner in 2017, and Frank Sinatra's conductor for 10 years, Vincent Falcones. His arrangements have been revisited.
Fishman and Anastasio, alongside other members of Phish, sang acapella on Sinatra's "Send in the Clowns" during the final moments before midnight at Madison Square Garden, where the band rang in the New Year to start 2020 with its appropriate closing lyrics "Well, maybe next year."
My grandfather Frank Romano (Falcone Cousin) remembered seeing Vinnie perform in 1948 at the Inn Between Restaurant in Camillus, New York with, "Vinnie on piano, Norm on Bass, and Sal the saxophone player." Frank (Romano) reflected on Sinatra's and Falcone performance at Saratoga Performing Arts Center on August 25th, 1975 as well.
Speaking with Saratoga Springs native, Tony Markellis, outside the Beacon Hotel before making the trip back upstate that day, about an infamous Utica gig from the past. I got his input on Monk's Tips as well.
Markellis, who in his lifetime has seen Jimi Hendrix perform twice in New York State – once at Buffalo City Memorial Auditorium on March 23, 1968 and the other at the Singer Bowl in Flushing Meadows, New York on August 23, 1968, delivered his esteemed thoughts.
We immediately switched gears to talk about Ray Paczkowski's playing on the keyboards every night, Markellis said, " He's brilliant, I mean his playing is so unlike anybody, he's kind of playing like Monk in a rock setting that nobody does and he makes it work."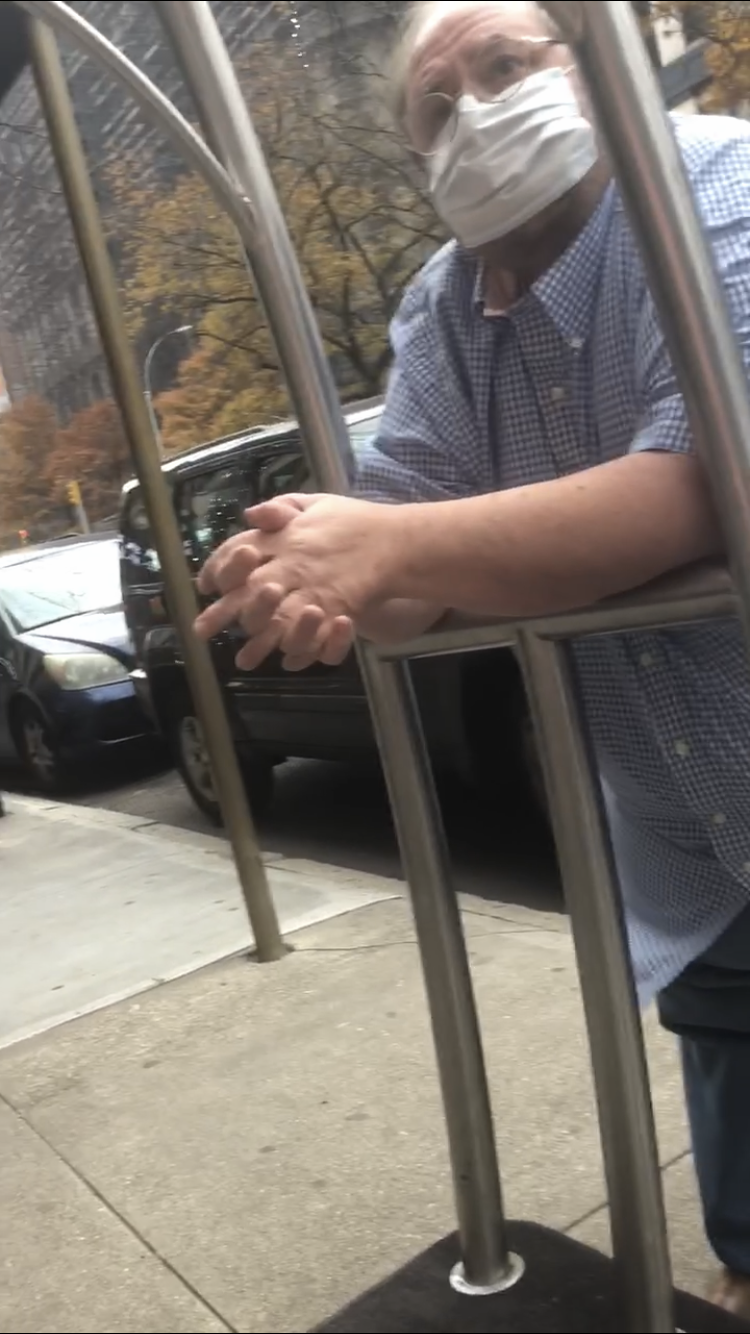 A brief conversation happened with Paczkowski outside the Beacon, just minutes before he casually walked in and performed on the Phish Classic "You Enjoy Myself." We spoke about drummer and producer Brady Blade. Packowski played with Brady, Trey, Tim Reynolds, and Tony Hall under the Dave Matthews and Friends Arena tour, that came through Rochester and New York City in the December of 2003. He referenced how great it was collaborating with Brady, but went on to quickly say, "His brother Brian Blade, is a whole 'nother trip"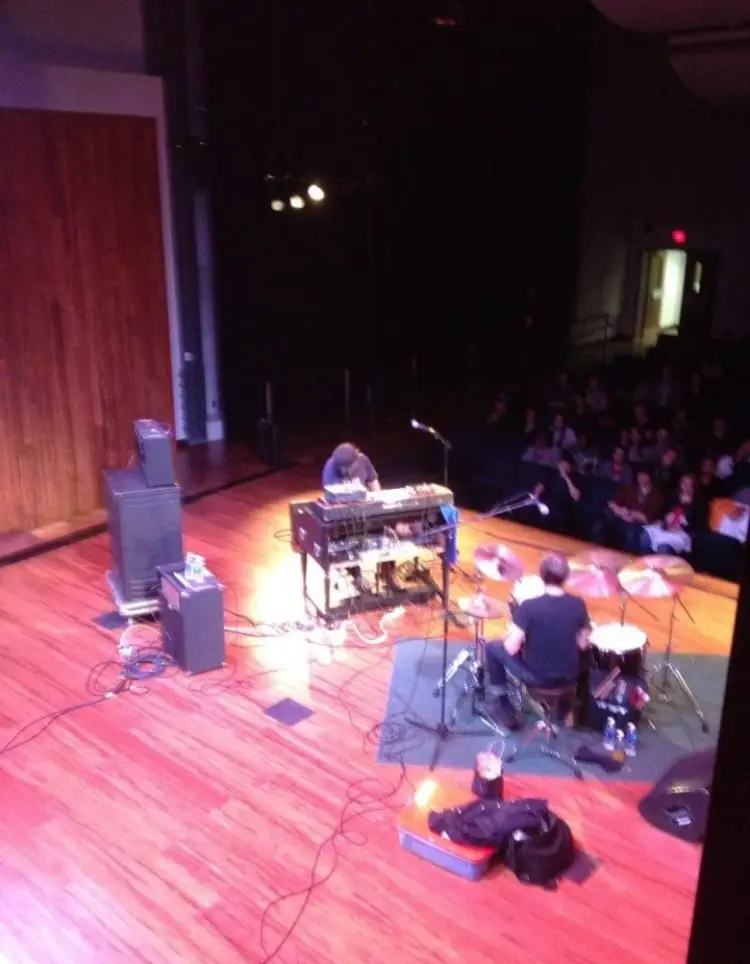 Well, Ray certainly knows his stuff because just last week Brian Blade along with Christain McBride and Chick Corea were nominated for Best Jazz Instrumental for a 2021 Grammy. Like Chick Corea, who performed at Onondaga County Community College's "Legends of Jazz Series" in September 2014, Ray Paczkowski and drummer Russ Lawton have also performed at the Frederick Marvin & Ernst Schuh Recital Hall back in November of 2013. The duo performed outside of the Trey Anastasio Band under the name Soule Monde that operates as a highly funky, Afro beat improvisational keyboard and drum performance.
When James Casey was asked about his interpretations of Thelonius Monk's tips, he said it was required reading in college. As a drummer I stated "make the drummer sound good" in turn Casey replied "that's what it's all about."
On top of his studies at Berklee was saxophone player Sam Kininger, out of Utica, New York, who was referenced under the Beacon Marquee as well. "I'd watch Sam play every Sunday and Tuesday night, never, ever making my 9 a.m. class on Monday or Wednesday because we were all out there until 2:30, taking it all in. I had learned my vocabulary there." Markellis also commented about "Uticat" Kininger. "Of Course I know Sam! He's one of the greats!" Sam Kininger started 2020 live and funky in front of crowds in January and February at Putnam Place in Saratoga Springs. He also performed with Lettuce on November 20, 2019 at the Stanley Theater in Utica.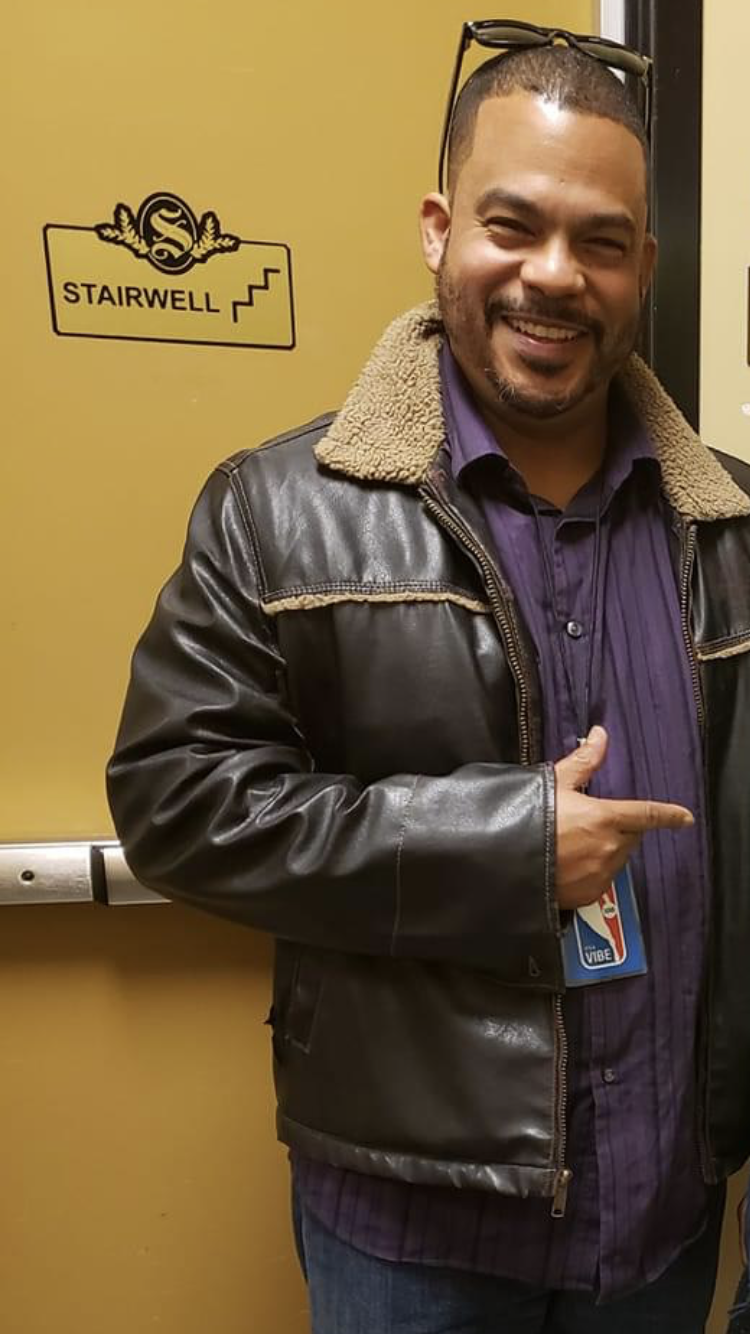 On the final evening of The Beacon Jams in Upstate, NY from October 25, 2002 at the Stanley Theater was reminisced by everyone on stage. Anastasio plays off the band, of a great night where "the plaster fell from the ceiling," the band was booming and the unison of the crowd "was rocking to the beat of the humanity."
Via Eliza's production assistance and the Twitch live stream to an empty theater, under the name "romanoorange," I was able to get feedback on a night that all of us from Liverpool, NY were in attendance can still remember, the balcony "pulsating to the music." Drummer Russ Lawton touched on Monk's Tips and Utica by saying, "Thanks for passing the tips on to me, so great. Of course I love the tip that if you're not a drummer you still need to count. When you have people grooving with you it's the best,.UTICA, best rocking show ever!!!"
In light of the trend to give back during COVID-19, perhaps Phish could release the show as an archival release with proceeds going to the Stanley Theater? After all, don't they owe them for structural damage?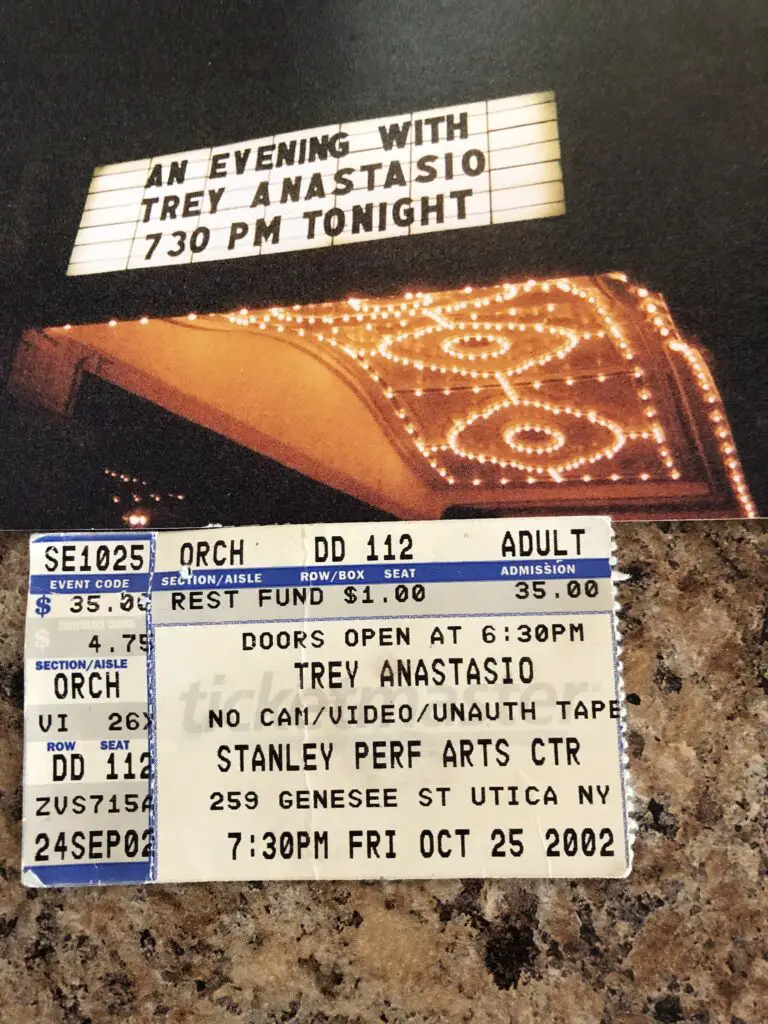 Before heading back Upstate for the winter, just a couple blocks from the 1929 palace for motion pictures and vaudeville (Beacon Theatre), The New York Historical Society is currently running a live exhibit Bill Graham and the Rock & Roll Revolution on Bill Graham, one the most influential concert promoters of all time. What would he propose for how live music should be viewed going forward? Maybe testing around the corner at the West 69th Urgent Care that offers three forms of walk in tests for COVID-19 before being able to enter the Beacon? What would the artists who make up the exhibit say?
After Beatlemania, John Lennon celebrated his 31st birthday at The Hotel Syracuse on October 9th 1971, his final live on stage performance was with Elton John at Madison Square Garden on November 28, 1974 He also found a silver lining in his "isolation" only releasing material from The Hit Factory and his home at the Dakota Building.
Roger Waters, who carried on touring to bigger venues like the Carrier Dome created "The Wall" between him and his audience making the restrictions as part of the performance. Perhaps we could utilize the size of the newly redone Carrier Dome with its 50,000-person capacity for a socially distant live concert or continue with the virtual options to help raise money for a cause by revisiting Paul McCartney's infamous performance at the Carrier Dome on September 23, 2017.
Bruce Hornsby just helped honor our front line workers at Upstate Hospital in Central New York with a virtual concert that raised more than $500,000 in donations. Upstate Foundation reimagines gala with virtual Upstate Strong COVID Relief Benefit Concert featuring Bruce Hornsby and the Noisemakers Dec. 4.
Maybe the cosmos have the answer, where live performances have never stopped.
"The Sky Church is still here, as you can see," according to Hendrix at Woodstock. On December 2, 2020, a meteor crashed into Earth's atmosphere above Central New York where dogsledder captures the meteor on video after an 'explosive' boom. The next show at Tully Lake on December 21, Jupiter and Saturn will form "Christmas Star" the first visible "double planet" in 800 years. Like Little Feat's lyrics "So it seems that the world keeps on turnin' but so what I don't doubt it, it just keeps on the move."
We all have to keep moving to the beat of humanity into 2021.