It's somewhat surprising that during the storied touring career of Phish, they've only played five shows in the City of Binghamton. The last one of these took place 25 years ago today, on December 14, during a time that's now looked back upon in deep reverence. December of 1995 was one of the band's most formative and successful eras. In fact, tonight's show at the Broome County Veterans Memorial Arena was deemed worthy enough of being the first official live release from Phish's extensive live catalog. With a couple of classic song selections and some jams that are truly definitive of the band's ascent, it's not hard to see why.
"Suzy Greenberg" starts off the show before a lively Binghamton crowd in grand fashion. Baby grand, that is, as Page McConnell takes a couple of spirited piano solos to the delight of all during this old school Phish favorite. The "Llama" that immediately follows sees him deftly shift over to the organ early on for a few more harrowing runs. Trey then quickly assumes command on guitar and leads throughout the rest of the way on the A Picture of Nectar classic that's executed to perfection.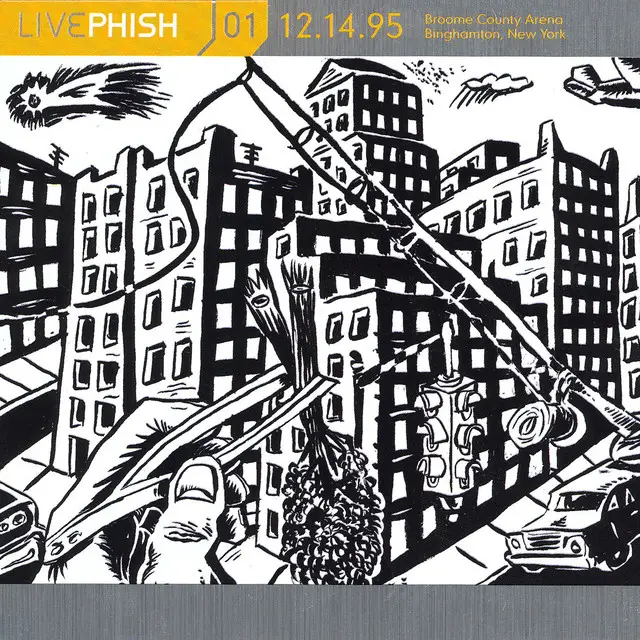 This opening pairing is followed with another in the "Horn" > "Foam" sequence that comes next. "Horn" is played with no frills. But the "Foam" provides the first real chance for the band to stretch out a little, thanks to some exploratory solos from McConnell and Anastasio that do just that. These lead to a short but ever so powerful jam that culminates in a beautifully sustained guitar note atop the classic relentless rhythm of Mike Gordon on bass.
"Makisupa Policeman" then produces one of the all-time most bizarre "keywords" from Trey, a reference about smoking a joint with Khaddafi in bed.
While the "Policeman" doesn't really do much, the "Split Open and Melt" that proceeds it certainly does. Jon Fishman pops right away on this one, delivering the signature opening drum beat, and doesn't let go. He nails the song's odd time signature and lays the groundwork for a pulsating, driving jam that eventually shifts into Type II territory before re-entry. It's the first real extended jam between all four musicians and a sign of things to come.
"Tela" then takes everyone on a quick excursion to Gamehendge, with McConnell handling the lead vocals and Anastasio providing the fiery guitar finish as usual. "Taste That Surrounds" provides a glimpse into the evolution of a Phish song. Now simply known as "Taste," this is a primitive version that would be one of the last ones ever played before being further modified. Its song history provides full details.
After a move by "Dan from Binghamton" in the ongoing "Band vs. Audience" chess match featured that tour, Phish's second set begins. "The Curtain" is a more than apt opener that displays the technical wizardry and seamless cohesion that are staples of December '95. Without even pausing for a moment, "Tweezer" starts up as soon "The Curtain" goes down. This serves as the meat of the second set, and the show really, with a jam that patiently builds and includes a distinct "Slipknot!" tease.
Before it can fully bloom, though, Trey suddenly begins strumming an entirely different melody altogether and redirects the rest of the band through "Timber." This is cast aside fairly quickly. Not long after the final "Timber" lyric, the "Tweezer" jam reemerges and Phish jumps back on it in a seamless merge through musical traffic.
Fishman drives the tempo to a near-insane pace at one point which, when combined with Trey's wailing guitar sound effects, give this one a true feeling of a train about the run off the tracks. As "Tweezer" comes to a surprisingly gentle landing, "Keyboard Army" emerges. This 1995-era special features all four band members on a different instrument at McConnell's keyboard rig. Until it was recently dusted off at Dick's in 2015, tonight's performance in Binghamton was the final one played.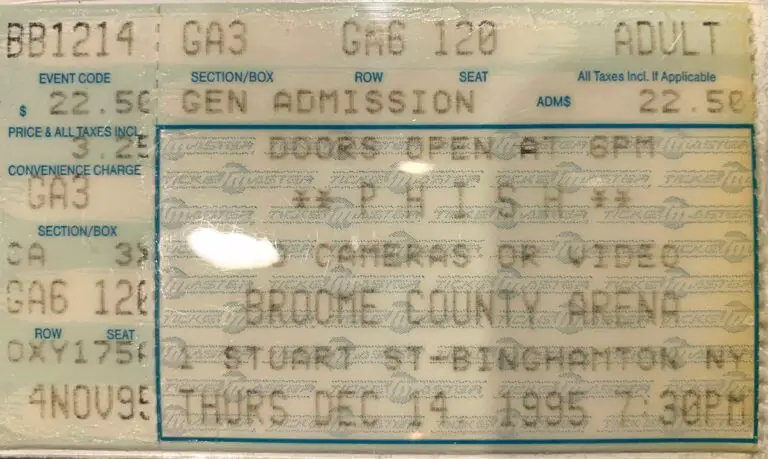 "Halley's Comet" begins the landing sequence for tonight's show and features a sneakily impressive jam that revolves around an infectious Anastasio-created melody. Phish collectively toys with the tempo, once again ramping it up to extreme levels and stretching the first ever jammed out "Comet" to almost twelve minutes. A rare, late-show "NICU" then emerges from the ska-like outro jam and, with it, another mesmerizing improv-heavy jam on the tail end that takes it from a standard to a stellar version.
"Slave To The Traffic Light" serves as a proper close to a set full of both patient improvisation and hard rock. And, after noticing a request for it displayed on a fan's sign, Trey notes it's "one they want to play" and leads the band through a show-closing take of Jimi Hendrix's "Bold As Love." Phish left it all out on the table this evening in, remarkably, their final Binghamton show to date.
Phish Broome County Veterans Memorial Arena – Binghamton, NY 12/14/95
Set 1: Suzy Greenberg > Llama, Horn > Foam, Makisupa Policeman > Split Open And Melt, Tela, Taste That Surrounds, My Sweet One, Frankenstein
Set 2: The Curtain > Tweezer -> Timber (Jerry the Mule) -> Tweezer -> Keyboard Army, Halley's Comet -> NICU -> Slave To The Traffic Light
Encore: Bold As Love Phish Binghamton