From La Bamba to Kiko, having gone Disney and recording a holiday album, Los Lobos has been around for nearly half a century and continues to break new ground with their blend of Tex-Mex, country, R&B, rock and roll, and traditional Mexican songs. Louie Pérez, drummer, guitarist and lyricist for Los Lobos has faced the struggle of the music industry shutdown, but looks forward to "Still Home for the Holidays" livestream from Belly Up Tavern in Solana Beach, CA on Friday, December 11 at 10pm ET/7pm PT.
In 2019, Los Lobos released Llegó Navidad, a Latin Christmas album recorded in Los Lobos' home in East Los Angeles, featuring Spanish-language holiday songs. Translating as "Christmas in here," the first holiday release from Los Lobos continued to demonstrate the versatility of a band well-versed in mixing rock n' roll with blues, folk, soul and traditional Mexican music. Instead of relying on over-played seasonal standards for Llegó Navidad, Los Lobos and friends researched and collected nearly 150 different traditional (and not-so-traditional) Christmas songs from North, Central and South America.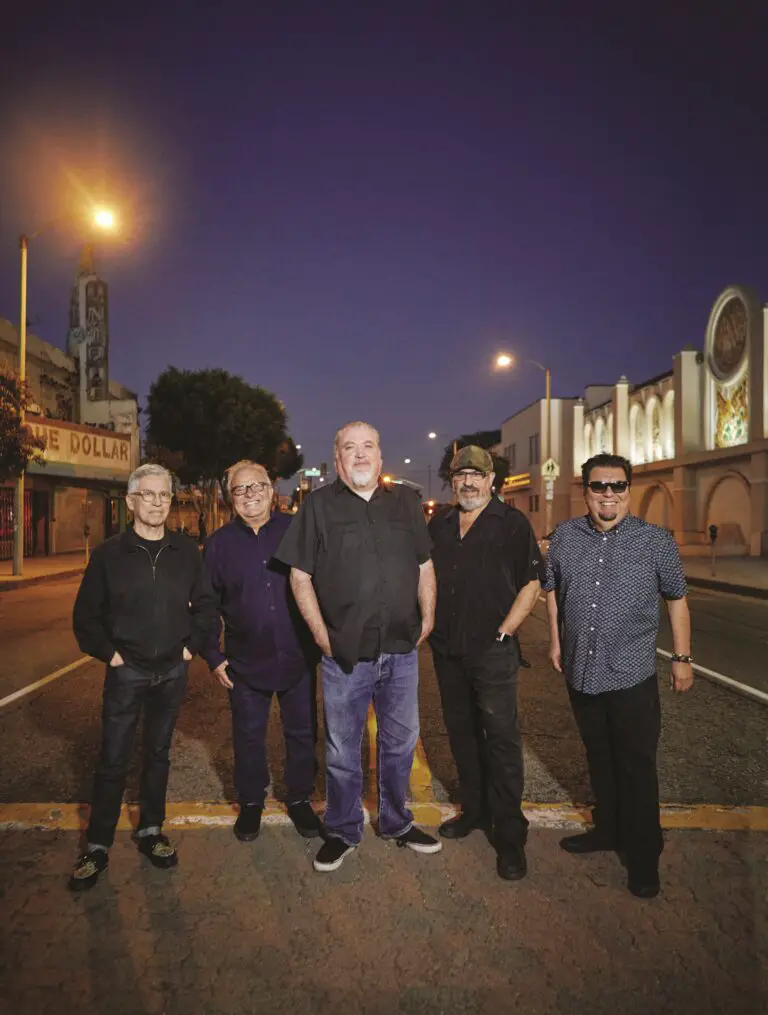 Pérez talked with NYS Music over the weekend about the current state of writing with bandmate David Hidalgo, how venues and bands are faring at this time, and the legacy of Ritchie Valens.
Pete Mason: Louie, thanks for speaking with NYS Music today. How have the past nine months been for you and Los Lobos?
Louie Pérez: We're just kind of dealing, have had quite a break you know, I guess this break is kind we've all been needing for a while, but what a terrible way to get it.
I'm dying to get back on the road again, but it's just kind of very surreal at this point. It seems like a life I had a long time ago. It's only been seven or eight months now I guess. I don't know what to expect, that's another conversation we can have another time, but I don't know what the future of live music is going to be. It can be different that's for sure. I'm hoping that we can still get some solutions for next year so that we can get back to live music, especially because there's only so much we can stream, I think, at the end of the day.
I don't know what the future of love music is going to be really. Nobody's got an answer yet and hope we have some in the spring because with a vaccine out there, there's got to be some ways we can have shows. I don't really know what the face of live music will look like in the future. I can't see it being back to our old normal. 
There's love for the musicians out there, I think their careers evaporated overnight. For myself, I was leaving on a Friday morning for Colorado, we were gonna do a run of shows for a week there. And at 10 o'clock in the evening my wife walked in and says "I've been watching the news all night. You better check with your roadmaster but look what's going on." I was scheduled to leave at 6 in the morning so I called our booking agent and he called back and it all went away. It was all gone. That was the last thing I heard about that.
When something like this happens, it feels so cataclysmic, you can't help the banality of the whole vibe as just so, so strange. It just feels like it's the end of a time concert, especially for musicians. It's been really hard time for a lot of musicians, we're okay, we're getting by, we're all right, and I'm glad my wife and my kids are safe. And, and that's all we can do at this point. 
PM: Working with up and coming musicians from across New York State, we see it, we hear it and know the reality some bands are facing: looking into other alternatives, taking studio time, hoping to stay afloat, until we can have music back.
LP: Yeah, it's good to know that the community, the sense of community is there for musicians. I think all of us in general, we just put our nose to the grindstone. We do what's right in front of us, as musicians, we get a gig here, a musician gets a studio gig, or a guy gets a road gig for a couple of weeks. However it works, we do what's in front of us, and there's some crosstalk obviously, between us, but to know that when things get as bad as it has gotten, that there is a community that we can look to and there is support among all of us to try to help each other out. That's the good thing, the only thing that I think that we can skim off the top of this pandemic, is that we realize that, that there is that sense of family and community. Especially at a time where we're united, it's just so at risk of disappearing lately. Let's see what happens after, after February.
PM:  I'm hopeful for what happens in January, because we'll be able to get some relief. So we have that and a lot of local music venues are going to be able to breathe a little bit easier with the passage of the RESTART Act, but they're not out of the water even then. Hopefully there's more long term change. So all the local musicians can make it because big bands don't become big bands overnight. They start out small.
LP:  Yeah, that's right. I was just reading a pretty interesting piece. Not a lot of revelations and things that we know as musicians. This is a piece in The New Yorker a couple months ago that is a pretty good piece to talk about, art in the digital age and really kind of the nuts and bolts of what really goes on in the gig economy as far as musicians go, and how really, a lot of us are very fortunate and a lot of us are just in there just trying to get by. 
PM: So with your holiday stream on Friday, Los Lobos researched the songs to include on your holiday album Llegó Navidad. How did the Christmas album come together and what will we hear on the stream this week? 
LP: Well, it's the first time we've ever done a Christmas record. In all of the years that we've been together. We just celebrated this past Thanksgiving 47 years as a band. So the first time we ever can say, 'Well, this is way overdue.' And then in looking around for a studio to record it in, we discovered a studio in East Los Angeles where we grew up. So we're really going home for the holidays on this record, which would throw a really interesting spin on this thing, and we spent a good part of a few months in the studio in East Los Angeles, literally around the corner from where my mom would pay our utility bills at the 1st Street grocery store. That's how personal it was, and it was great.
We had a couple people, one on the East Coast and one on the West Coast, do a search and curate so we can get all the songs together. We spent a few days just going through material and ended up with the songs, it's a Pan-Latin record. At first I gave this a lot of thought of all the Mexican Christmas songs but it just was stunning how many songs and Christmas music there is all over the place, all over Latin America so we have quite a few to choose from. and that's how it went together and it was really well received and we toured behind it around the holidays last year.
We just got this idea that everybody's been doing these festivals online and we've thought 'Well, let's do one ourselves.' We got all our friends together and we'll put something together and we'll have a bunch of bands contribute songs and it'll lead to us headlining the live stream. We'll do a lot of the Christmas songs so we can pepper in a lot of popular songs as well from throughout the catalog. 
It's quite a lineup. We've got Southern Avenue, John McCauley of Deer Tick, Greyhounds, and Los Cenzontles, which is a great group from the Bay Area. They have a cultural center where a lot of young kids come to learn about music with their culture, which is Mexican culture so they're going to do some traditional songs. So we got all this rock music, we get some traditional music thrown in there, and we have a group that is going to be doing some traditional music but more electrified, so it's a great mix. A friend of ours, Gilbert Guerrero, he's going to be our emcee. They're really looking forward to it. It's been fun putting it together, and of course I have to mention that it had some hair pulling, and here we are down to the wire. It's gonna be fun.
PM: For Eastcoasters, where is Solana Beach in relation to Los Angeles?  
LP: South L.A., on the way to San Diego, it's a great vibe. It's kind of a roadhouse venue. And it's where people just kind of show up. The Rolling Stones actually did an unannounced show there a few tours back. It's a really great room that people love and it sounds great. We did one there and they have a good crew and facility that worked with our people to get this livestream happening and try to make it as seamless as possible, because it is not easy doing these live streams. And if they're live, if you get some kind of dropout somewhere, there's nothing you can do about it live, like live television used to be in the '50s 
PM: There's a raw aspect to it that I enjoy because we see a lot of local bands that are attempting it, and I think they were the first to jump in because they were more needed, and the bands that are up a level and more established, they have their cache of videos they can they can air and plan something more professional and take care of more folks because they can bring in lighting and sound.
LP: These gigs that we've been doing virtual, we've been doing some since July. We did Philadelphia Folk Festival, Hardly Strictly Bluegrass, and it's a weird thing. We show up at the studio, we do a 45-minute set for this gig, and then we do 30 minutes separate for some other gig, and then we do four songs for this; we pretty much work from two o'clock in the afternoon to eight or nine o'clock in the evening. And by that time we've already done half a dozen gigs. Then we just set them all up. We used to joke about phoning it in and that's exactly what we're doing now. That's what everybody's doing. 
PM: You've been writing with David Hidalgo since high school. How has your writing evolved, particularly in the last year, given that you may not see him as often. Has there been any alteration to your writing method? 
LP: As far as the pandemic is concerned, in COVID times, it just doesn't exist, we haven't really worked on anything. To begin with because we work and tour so much, we work on so many other different projects that we can write on demand when we have a new record, then at that point, we go into writing mode. I'd like to say we're writing all the time, but the fact that we work so much, the notion of going back to the hotel room to write a song, it's just nuts. You can't do it. And then to get home for such a short amount of time, we just completely immerse ourselves in family and things that we need to do. So we rarely get a chance to write songs when we're not making a new record.
But in the years since How Will the Wolf Survive?, the idea of sitting together in a room and writing together, it just doesn't happen that way, we do it by correspondence now. It's just unnecessary because of the fact that our time is at such a premium. I am the lyricist and he's the musical component; yes, we split up the chores that way, but there's more dialogue than that. To call him just the musical side and my separate lyrical side, that would be discounting ourselves, because we are songwriters any way you look at it, and ultimately we do go through everything, before we present it to the band. That's the only thing I think that's changed over the years, it's just a logistical thing because we just don't have the freedom of time. I can't think of anything that I enjoy more than sitting down and working on a song and writing, but you just can't get to them. 
PM: I did want to ask about La Bamba, because I, like many others, discovered you because of the movie. I think what caught me off guard more was not only that Ritchie Valens was so young, but he was very influential and you guys really kept his voice alive. I don't know if we'd be listening to his music as much if the movie hadn't been made, since for a generation, that was the first introduction to his brief but important career. Los Lobos continue to celebrate his music and Chicano music. How do you look at Valens after all this time?
LP: Rolling way back to when we were kids, we were into music. We would buy 45s and I just remember that "La Bamba" was always part of that stack of 45s that showed up at like a backyard party or something. I didn't really understand as a young kid or an early teen the importance of who this was, until probably about the time the band formed in 1973. He went hand in hand with this Mexican-American renaissance, a Chicano movement of us Mexican-American kids who grew up here, were born here and pretty much homogenized to American culture, that we had this renaissance, where we all kind of discovered our culture. 
Ritchie Valens was the musical thing that just goes along with the traditional Mexican music and floated to the top, so everybody discovered a lot of things about musical heritage. He was an important figure then, and after about 10 years of being a band that played traditional Mexican music, we found ourselves playing electric music again in the punk rock clubs in Hollywood, and "Come on, Let's go" and "La Bamba" were no brainers, they just became part of the set. Of course, when we would play it back then, in punk rock clubs in basements of Hollywood neighborhoods, we'd crank it up and we played it way too fast. 
What finally happened was, we got offered by Ritchie Valens' family, they presented the idea of making a biopic movie on his life. They asked for us and we said OK, we went into the studio and the rest is history – a traditional Mexican song became the number one hit around the world. It's quite a statement, and at the same time, that your band became a household word. Now Ritchie is where he deserves to be and what we all continue to do is try to keep that legacy alive. He's as important a figure as Elvis, Chuck Berry, Buddy Holly, all of those; he just fits right into the short 17 years that he lived.