Phish and the City of Albany have always had a cozy relationship. Going to back to 1989 and their first gig at Pauly's Hotel, Phish has played a total of 17 shows in Albany during the course of their career. Shows in the early 90's at the Palace Theatre helped establish their Upstate New York following. So it would come as no surprise when their 2003 20th Anniversary Tour rolled around that Albany would be one of the stops. This would only be a short, four-show trek around the Northeast, culminating in the "anniversary" of their first ever show on December 2.
The first two shows of the tour did not disappoint at all. Special guests like the Dude of Life popped out for the encore in Long Island on November 28, and Tom Marshall joined in on a classic version of "Buffalo Bill" the night before in Philadelphia. Now it was Albany's turn and the band went even further back in their history for tonight's guest selection.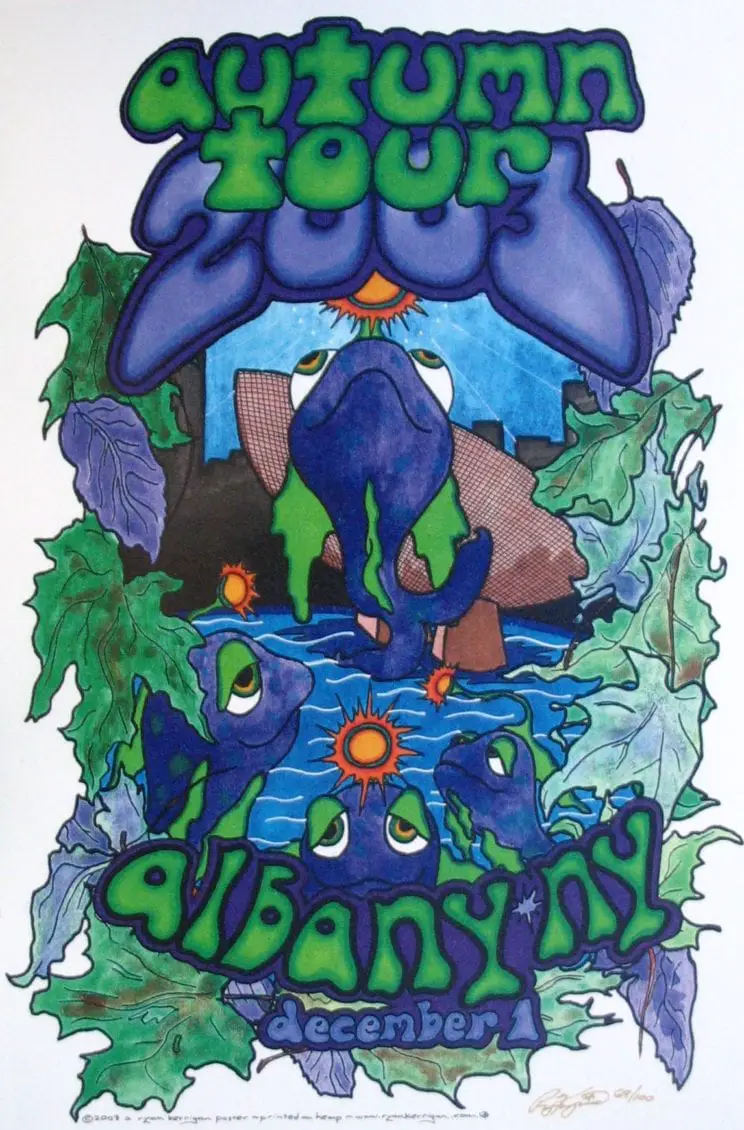 Picking up on the palpable December pre-show energy, the show begins with a "Chalkdust Torture" that ramps it up even more. The entire Pepsi Arena crowd seems to join in on the "Can't I live while I'm young" line. A blistering guitar solo from Trey Anastasio highlights this one before all is said and done. The "Stash" that comes next allows for plenty more audience participation. It eventually develops into a dark, yet fairly uneventful jam. A standard run-through of "Guyute" then follows, with the Albany crowd audibly loving every minute of this first set Phish staple.
An interesting little juxtaposition of both styles and song histories then proceeds this. The delicately mellow "Thunderhead," from 2002's Round Room release, makes a rare appearance. It's only the sixth live performance ever of this song. And, to date, it has yet to be played a seventh time. After a tidy little jam that gradually picks up in intensity, "Sparkle" emerges. The high pace, first set romper dates all the way back to 1991 and has been played hundreds of times.
"Wolfman's Brother" finally gives the band a chance to stretch things out a little again. Aside from "Stash," this is really the only other true "jam" of the first set. Mike Gordon's aggressive bass play provides the fuel for this one and dominates throughout. Gradually, the rest of the band seems to catch up in this "Wolfman's" that easily glides past the 15-minute mark after an exuberant finish. "Good Times Bad Times" then puts a cap on a rockin' but relatively quick first set. Perhaps this was done to allow some additional set break practice time with the still-TBA special guest.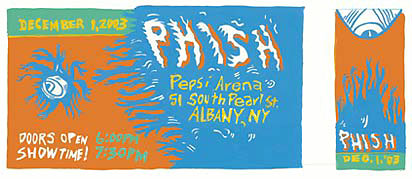 Before said guest would be revealed, there was still some business to tend to first. Phish would grace the Albany crowd with three classic songs sure to make any show memorable. "Tweezer" promptly begins the second set. It sees more inspired guitar play from Anastasio atop the funky rhythms generated by Gordon and drummer Jon Fishman. The jam continues to ascend accordingly until about the ten-minute mark, when it takes an ambient hard left turn. The music continues to devolve and get spacey for another few minutes before Fishman slyly increases the tempo and the band is off and running with the instrumental "Also Sprach Zarathustra" aka the theme to Stanley Kubrick's 2001: A Space Odyssey. Keyboardist Page McConnell takes control early on with his standard electric keyboard fills complementing Anastasio's iconic guitar riffs.
Before the last remnant of "2001" even finish echoing, Phish launches into "You Enjoy Myself," further delighting the Albany faithful with an epic start to the second set. There's no issues with this version at all as the band rips through the composed sections with ease. Then another cohesive, psychedelic jam emerges with McConnell continuing to dazzle on piano.
Finally, it was time to reveal tonight's special guest. It would be none other than Jeff Holdsworth, one of the original members and co-guitarists of Phish from its inception in 1983. Jeff would eventually leave the band before they gained much notoriety. Tonight marked the first time he played with Phish since a gig on May 17, 1986 at Goddard College in Plainfield, VT. As befitting for an anniversary run, they would play a few of the songs he wrote that are still regular fixtures at Phish shows to this day.
The first of these was "Camel Walk." Holdsworth seems to have a little issue with the lyrics early on, but manages to keep it together for this longtime favorite. Trey then gives him proper thanks for writing that song as well as the next one, "Possum." Despite some feedback issues, they manage to maneuver through this Phish classic as well, with Anastasio doing a lot of the heavy lifting.
Jeff stays on stage and even takes lead vocals on the first song Phish ever played as a band, a cover of The Hollies' "Long Cool Woman In A Black Dress." Understandably, he seems to be a little more comfortable singing on this one than the Phish songs he hadn't played in more than 17 years.
"Run Like An Antelope" would then go on to close the second set. While Holdsworth would remain on stage to play guitar, he must have been turned down fairly low in the mix. This also gave Phish one last chance to surprise the Albany crowd. Longtime lyricist and friend of the band Tom Marshall emerged to deliver the song-ending vocals. One last cover, Jimi Hendrix's "Fire," would complete one of the more interesting and memorable Phish show in Albany's rich history.
Check out the full audio below, or go here for track-by-track selections.
Phish – December 1, 2003 – Pepsi Arena – Albany, NY
Set 1: Chalkdust Torture, Stash, Guyute, Thunderhead -> Sparkle, Wolfman's Brother -> Good Times Bad Times
Set 2: Tweezer -> Also Sprach Zarathustra > You Enjoy Myself, Camel Walk, Possum, Long Cool Woman in a Black Dress > Run Like an Antelope
Encore: Fire
Note – Camel Walk through Fire with Jeff Holdsworth on guitar